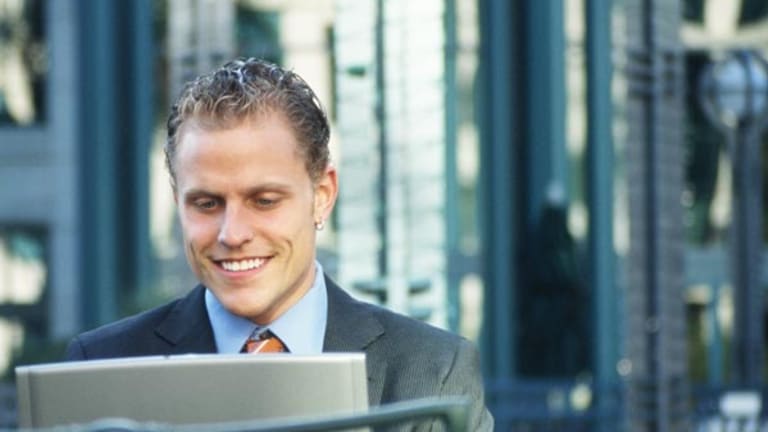 For Growth, Dell Must Look Abroad
The company has many things to fix, and its international business is a big one.
This column was originally published on
RealMoney
on June 5 at 3 p.m. EDT. It's being republished as a bonus for TheStreet.com readers. For more information about subscribing to
RealMoney,
please click here.
Following
Dell's
(DELL) - Get Report
May 31
earnings report, I had a couple of people ask whether there weren't "other things" that needed to be fixed at the company.
I'm certain there is a long list of areas to be fixed, adjusted, changed or junked, but I'm also quite certain that the company's long-term future rests in its ability to develop the organization into a global player.
"Surely he jests," you're probably thinking right now.
Dell is already a global brand and successful global organization.
Let's look at some facts. Did you know that Dell, a current holding of the
Telecom Connection Model Portfolio, is about the same size as
IBM
(IBM) - Get Report
and
Hewlett-Packard
(HPQ) - Get Report
-- domestically, that is?
Chart 1 below shows the domestic revenue for the three for the fiscal year ended closest to December 2006.
They're essentially within 10% of one another. But look at chart 2, which adds on the international revenue. IBM and Hewlett-Packard dwarf Dell.
Going Global
Investors are strongly encouraged to diversify portfolios as a means of reducing risk and leveraging the performance of multiple sectors and asset classes. The same is true of building a company for the long term.
Dell diversified its product lines into notebooks, servers and peripherals as those product segments became viable. But the same needs to be true for geographic diversification. Unfortunately, it appears that international operations were little more than a checklist item, rather than the focus, of the company's expansion plans. It's like that one patch of grass in your backyard that the sprinkler doesn't quite reach. It survives, despite the lack of attention, but doesn't really thrive.
While one would expect Dell's international revenue to be growing at a faster rate than IBM's or Hewlett-Packard's (it is), it is still dwarfed by the level of offshore business being added by the other two.
On Chart 3, you can see the total increase in international revenue among the three companies over the last five years. Yes, you can argue that IBM and Hewlett-Packard have been active acquirers of other companies over the years, but nothing was stopping Dell from doing that. The important point is that Dell needed to expand distribution, not just indirect vs. direct, but to a far greater degree within Europe as well as the emerging economies of Asia, Africa and Latin America.
Losing Their Religion
The reality is that Dell had a singular focus: milking its domestic revenue base. That objective was achieved in spades. However, as incremental growth has increasingly shifted to other geographies and domestic capital spending has slowed, Dell has suffered due to a real lack of strategic effort beyond our borders.
Michael Dell has recently been quoted as saying that the direct model, which he introduced, is not a religion. Maybe that's a realization the company has today, but I've often wondered exactly how well the direct model translated in other countries and cultures. Is it possible that blind belief in the direct model bolstered by its extraordinary domestic success colored the attitudes and assessment of the offshore operations? Go back and look at the commentary about Europe and Asia from four to five years ago. What happened to the metrics about Dell units growing at three to four times the market? Where did all that momentum go?
We won't know the answers at this juncture, but we do know that Dell needs to generate big-time growth from its European and Asian operations. Dell's 100% growth of its European business since 2002 may sound good, but it's pathetic when compared to
Acer's
331% growth. Averaging 21% annual growth in the Asia/Pacific region over that same five-year period is nothing to cheer about either.
The problem for Dell is that its competition is far stronger today than five years ago. But Dell may also be much hungrier, as well as newly cognizant of its own mortality and lack of invincibility. The talk of $100 billion in Dell sales has long since subsided. Now maybe the discussion will be refocused where it needs to be -- on building a truly international business, in every sense of the word.
(Interested in more writings by Bob Faulkner? Check out his newsletter,
TheStreet.com Telecom Connection
. For more information,
.)
Bob Faulkner has been in the investment business for 18 years with an exclusive focus on technology stocks. Under no circumstances does the information in this column represent a recommendation to buy or sell stocks. Faulkner appreciates your feedback;
to send him an email.
Interested in more writings by Bob Faulkner? Check out his newsletter, TheStreet.com The Telecom Connection. For more information,
.