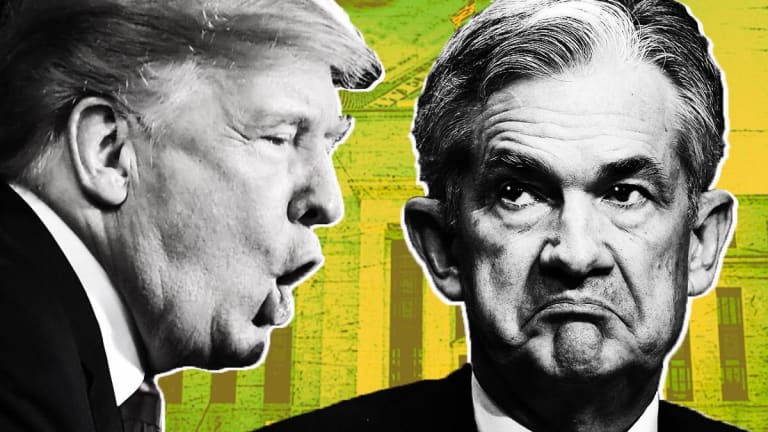 For Federal Reserve, Inaction Is Best Policy as Economy Nears Juncture
The Federal Reserve, led by Chairman Jerome Powell, is widely expected to leave interest rates unchanged at its meeting this week.
Sometimes doing nothing is better than something. That's especially true when the stakes are high and nobody really knows what the future will bring. Preserve the optionality, as it were, in trader-speak. 
The Federal Reserve, which tries to regulate the speed of the economy by raising or lowering U.S. interest rates, finds itself at a crossroads, with President Donald Trump's administration insisting that his tax-cut-fueled growth will continue apace for years to come while a majority of economists now see a recession as inevitable within the next three years. 
So what will the U.S. central bank do as its rate-setting Federal Open Market Committee prepares to meet this week? As little as possible, according to economists with the German lender Deutsche Bank.
"Monetary policy is currently in a good place, and with various crosscurrents buffeting the outlook, the committee will remain patient in assessing the need for any further adjustments to the policy stance," Deutsche Bank economists wrote in a report last Thursday. "The March FOMC meeting should reinforce this now-familiar message."
Translation: If you have no clue, sit on your hands.
Since 2015, the Fed has raised interest rates from near zero to a range between 2.25% and 2.5% in an effort to "normalize" monetary policy compared with the unprecedented steps taken to heal markets and the economy following the financial crisis of 2008. 
But a 0.25-percentage-point increase by the Fed in December, the fourth rate hike of 2018, sent U.S. stock markets reeling amid concern that the higher borrowing costs might prove too burdensome for households and businesses, thus ending the current economic expansion, already one of the oldest in history at nearly 10 years.
Fed Chairman Jerome Powell and other officials have since shifted their tone, pledging "patience" on any future rate increases -- essentially waiting until signals break one way or the other. 
It's a reprieve for Trump, who last year repeatedly criticized Powell -- his own appointee to head the central bank -- for raising interest rates too far, too fast, and unnecessarily threatening an economy the president has called the "greatest" in history.
Joe Lavorgna, chief Americas economist at the French bank Natixis, said last week that by some measures the Fed's recent spate of monetary-policy tightening exceeds the interest-rate-hiking cycle of the mid-2000s.
That episode burst the bubble in U.S. home prices, leading to a rapid rise in mortgage defaults and eventually triggering a financial crisis that would have caused nearly all the largest U.S. banks to collapse were it not for the combined trillions of dollars of bailout money from the Treasury Department and Federal Reserve.
Powell himself acknowledged earlier this month that just as there was no precedent for the central bank's post-crisis response, there's little precedent for the "normalization." 
"We have adapted our approach along the way," Powell said. The Fed meeting is scheduled for Tuesday and Wednesday, with Powell scheduled to lead a press briefing after the Fed's announcement at 2 p.m. ET on Wednesday.
In essence, the Fed's preferred strategy for now is to do nothing, wait for something to happen, and then do something. If nothing happens, do nothing; then wait a bit longer for something to happen. 
U.S. growth has slowed to a crawl in the first few months of this year. A computer-based economic estimator published by the Federal Reserve Bank of Atlanta currently projects first-quarter growth at an annual rate of 0.4%, down from a full-year pace of about 3% in 2018.
That's despite an unemployment rate of about 3.8%, close to the lowest in half a century, with rising worker wages that typically portend robust retail sales and faster economic activity. 
But Trump's trade battles with China and the recent U.S. government shutdown have rattled the confidence of investors, business executives and households, while severe weather in the northern U.S. embodied in the notorious "polar vortex" has hampered consumer spending.           
The Fed's recent promises to hold off on further interest-rate increases -- for now -- have helped to revive markets, and growth is expected to accelerate later this year. Yet if that happened, inflation would likely accelerate from the current pace just below 2%, possibly forcing the central bank back into action, with more rate increases.
According to Deutsche Bank, the biggest signal likely to emerge from next week's Fed meeting is a revision to the "Summary of Economic Projections," in which individual officials' forecasts for future interest rates are combined into a single chart known as the "dot plot."       
The last dot plot, released in December, revealed an average expectation of two quarter-point rate increases during 2019. Next week's release will likely reveal a downgrade to just one quarter-point hike this year, the Deutsche Bank economists wrote.  
"We expect a major capitulation by the more hawkish-leaning Fed officials," according to the report. "Moreover, the number of officials anticipating no rate hikes this year is likely to rise appreciably, from two in December to likely five or six next week."
Contrary to the expectations of some Wall Street analysts, Powell probably won't announce immediate steps to taper the ongoing efforts to shrink the central bank's roughly $4 trillion balance sheet, the economists wrote.
The central bank's assets swelled following the 2008 crisis as former Fed Chairman Ben Bernanke sought to flood markets with fresh money. Since 2017, the Fed has been gradually reducing its massive holdings of U.S. Treasuries and mortgage-backed bonds, but recently officials have begun to reconsider that plan.  
A decision on the balance sheet will likely wait till the next monetary-policy meeting, set for April 30-May 1, according to the Deutsche Bank report. 
"Our expectations are that the rolloff will end sometime around the end of the third quarter of this year," the economists wrote. 
By that time there should be more clarity on the economy's trajectory -- and maybe some action from the Fed. 
Read what Real Money's Jim "Rev Shark" has to say about how the stock market usually reacts to Fed announcements here.
How Much Money Will I Need to Retire?
Want to learn about retirement planning from some of the nation's top experts? Join TheStreet's Robert "Mr. Retirement" Powell live in New York on April 6 for our Retirement Strategies Symposium. For a limited time, tickets are available for $99 for this full-day event. Check out the agenda, learn about the speakers and sign up here.