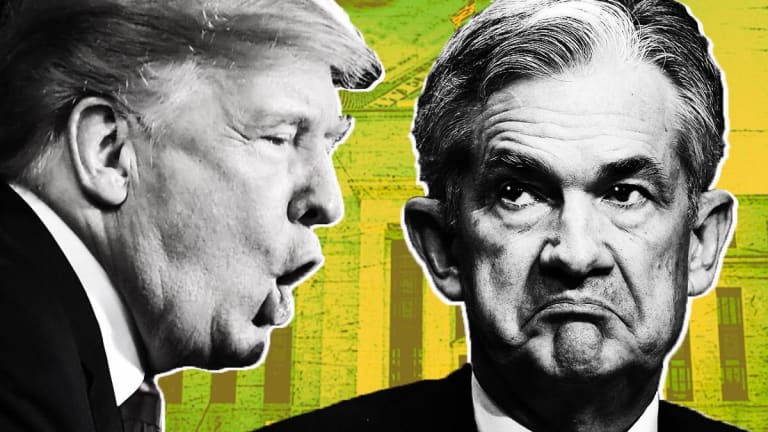 For Federal Reserve Chair Powell, Nothing Is the Only Thing to Do
The Federal Reserve, led by Chair Jerome Powell, is unlikely to make any changes to U.S. interest rates or broader monetary policy at its meeting Wednesday and probably won't even hint at future changes. With growth on a solid footing, unemployment close to a half-century low, inflation practically nonexistent and President Donald Trump carping at Powell's every move, there's no rational motive for the central bank to intervene.
The Federal Reserve has zero reasons to raise interest rates at a meeting that concludes Wednesday. It's because inflation is literally zero.
That means that the Fed, led by Chair Jerome Powell, is unlikely to make any changes to U.S. interest rates or broader monetary policy at the meeting. And traders agree: Fixed-income markets are pricing in a 98% chance that rates will remain on hold, based on an analysis by the data provider FactSet.
U.S. gross domestic product surged by 3.2% in the first quarter, faster than economists had predicted, and ahead of President Donald Trump's goal of at least 3%. Typically, a hot economy leads to higher inflation, especially when unemployment rates are low, leading to an acceleration in wage gains. Under such conditions, Fed officials usually raise rates -- their primary tool for regulating the economy's speed -- to keep consumer prices from spiraling out of control. 
But a separate report recently showed that the Fed's preferred measure of inflation -- the government's price index of personal consumption expenditures, excluding food and energy items -- registered zero in March. Even over the past 12 months, the index is up just 1.6%, below the Fed's target of 2%. 
Powell has pledged to be "patient" -- an indication that no more rate hikes are likely until signs appear that inflation is on the rise. It doesn't help that Trump has criticized Powell, his own appointee to lead the central bank,  for raising interest rates too far, too fast. 
Trump on Tuesday even called for a one percentage point cut in the Fed's main rate, which central-bank officials had boosted in recent years as part of an effort to "normalize" monetary policy. The benchmark rate currently is set in a range between 2.25% and 2.5%.
"Our Federal Reserve has incessantly lifted interest rates, even though inflation is very low," Trump tweeted.  
The president's tax cuts in late 2017 stimulated the economy and helped push the U.S. unemployment rate to 3.8%, close to the lowest in a half century. They also pushed the federal government's annual budget deficit to nearly $1 trillion, forcing the Treasury Department to sell more bonds to cover the gap; the national debt is projected to swell from its already-lofty level around $22 trillion. 
Powell has promised not to bow to political pressure when setting monetary policy. And with the economy running hot, central bank officials say inflation could accelerate quickly and without much warning.
"There's certainly no cut expected," said Dan North, chief economist for North America at Euler Hermes, a unit of the German financial giant Allianz that insurance companies globally against defaults on trade-related claims. "That's just not going to happen."