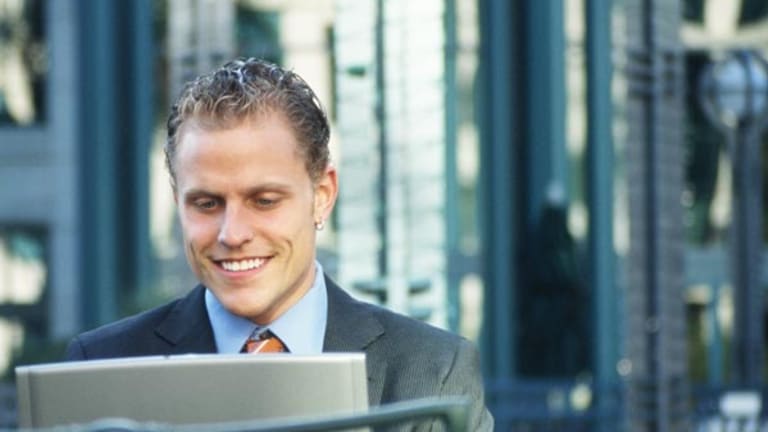 Following Up on Oil and Gold
In spite of short-term volatility, higher lows usually lead to higher highs.
This column was originally published on RealMoney on Nov. 29 at 8:07 a.m. EST. It's being republished as a bonus for TheStreet.com readers. For more information about subscribing to RealMoney, please click here.
As I reviewed my notes yesterday, I found that I had written very little down. I made comments on my notepad like "volume same as Monday," "put/call ratio fell" and "we bounced off the uptrend lines."
That isn't much to note after a day like Monday. In fact, the only thing I found surprising was the drop in the put/call ratio. That tells me sentiment is not yet bearish enough for a good rally.
However, we are heading into the end of the month. As I said yesterday, the
VIX got jumpy, and the
Nasdaq
is heading toward an oversold reading. Therefore, I foresee another "
Fed
is done" rally ahead of us. (Notice how
Bernanke's comments barely bothered the bonds.) So, a rally? Yes. A good rally? Not likely.
Away from stocks, I've received a few emails from readers asking for a follow-up on my thoughts on oil and gold. I'll cover that today.
First, I know many of us have been enjoying balmy, spring-like weather, but that is about to change -- big time. This morning, Weather.com has a headline proclaiming: "Strong Cold Front Slams Door on Warmth." Yet I find it odd that no one is discussing this, and the oil markets have not reacted to this "good" news. Perhaps everyone is too busy enjoying 75-degree warmth to realize that 30-degree temperatures are on their way.
Just take a look at the chart of heating oil. It has higher lows and is on the verge of breaking out.
If it does cross that downtrend line, it measures to $2. I'm sure the bulls will tell us this is good for retail sales, as people will run out and buy sweaters. And I'm sure the bears will tell us this is bad for retail sales, as people will then spend more money heating their homes.
Crude oil itself still has a critical level at $62.50; crossing that will get it out of the woods. Yes, I still believe it will cross that level sooner rather than later, but my patience is wearing thin! However, the oil stocks have far outperformed the commodity.
Speaking of the commodity vs. the stocks, gold has far outperformed most gold stocks. My target on gold was in the $650 area. It is a good "first" target. That head-and-shoulders bottom measures there.
For a long time, a strong relationship did not exist between the dollar and gold as it should have, but lately we have seen the correlation return. I suspect that $650 target on gold correlates strongly to the target near 82 I have for
the dollar index.
However, in the longer term, the gold chart actually measures to $730-ish, although I can't imagine it will get there without a correction of some magnitude in between. But if this gold-and-dollar relationship has returned, then a target of $730 on gold would suggest the dollar will eventually break to new lows.
Finally, let's review the chart of natural gas. It isn't the same as heating oil on the upper trend line, but it too has a series of higher lows. It also is on the verge of a breakout. A move through that breakout would measure to $9.50-ish.
In sum, I'd say the inventory numbers in the next two days might jerk oil and gas around a bit, but higher lows usually lead to higher highs.
Overbought/Oversold Oscillators
For more explanation of these indicators, check out The Chartist's
primer.
At the time of publication, Meisler had no positions in any of the stocks mentioned in this column, although holdings can change at any time.
Helene Meisler writes a daily technical analysis column and TheStreet.com Top Stocks. For more information,
. Meisler trained at several Wall Street firms, including Goldman Sachs and SG Cowen, and has worked with the equity trading department at Cargill. Under no circumstances does the information in this column represent a recommendation to buy or sell stocks. She appreciates your feedback;
to send her an email.