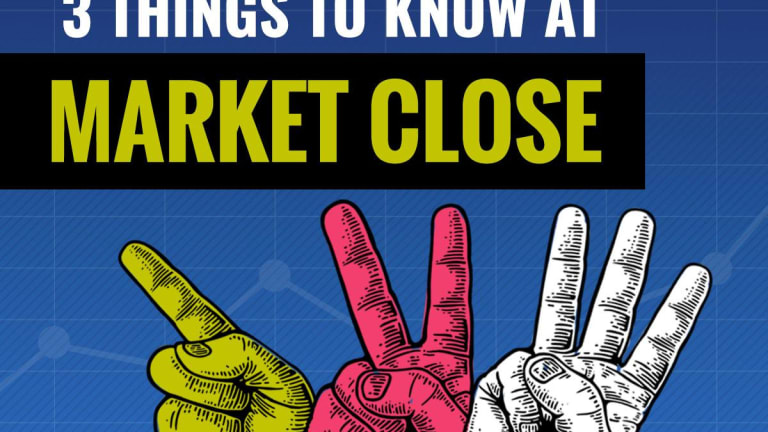 Flashback Friday: Johnson & Johnson Hits Take Historic Plunge
Johnson & Johnson precipitous fall and Netflix challenges ahead in 2019 are just some of the top stories on TheStreet on Friday.
Happy Fri-yay!
I know you all are itching to kick off the weekend, so let's wrap up this week with a market recap.
The Dow Jones Industrial Average fell 497 points, or 2.02%, to 24,073, the S&P 500 fell 1.9%, and the Nasdaq tumbled 2.26%. The S&P fell to 2,600, a key point of support for the wide-ranging index.
Johnson & Johnson Plunges
Johnson & Johnson (JNJ) - Get Report shares dropped the most in more than 15 years Friday following a Reuters report that said the company knew for decades that its iconic baby powder sometimes contained asbestos and failed to alert authorities.
Johnson & Johnson reportedly knew both its raw talc and finished powder tested positive for traces of asbestos, a carcinogen, citing documents linked to a court case that saw a jury in Missouri award $4.7 billion to 22 women who said that the products contained asbestos and caused them to develop ovarian cancer. Reuters also said the company tried, unsuccessfully, to influence plans by U.S. regulators to reduce the amount of asbestos that could legally remain in some cosmetic talc products.
"The Reuters article is one-sided, false and inflammatory," Johnson & Johnson said in an emailed statement to TheStreet. "Simply put, the Reuters story is an absurd conspiracy theory, in that it apparently has spanned over 40 years, orchestrated among generations of global regulators, the world's foremost scientists and universities, leading independent labs, and J&J employees themselves."
"We note that all issues reported were previously disclosed as part of talc litigation discovery. As we think about the risk to JNJ here, we see today's move as an over-reaction, especially from a longer-term perspective," said JPMorgan analyst Chris Schott. "At the same time, talc does not seem to be an issue that is going to resolve quickly for JNJ and we would expect shares to trade at a lower multiple pending further clarity on the company's exposure to this issue (which could be an extended period of time)."
Since the publication of the Reuters story, Johnson & Johnson lost all of the stock's year-to-date gains and wiped out $39.5 billion in market value, reported TheStreet's Martin Baccardax.
When the market closed, the company was down over 10% to $132.86 a share. 
Netflix Is Going to Face Some Challenges in 2019
TheStreet's Annie Gaus took a deep dive into the challenges that the streaming company will face going into 2019. 
Netflix's (NFLX) - Get Report stock is up 36% despite a precipitous tumble since July, when a subscriber miss provoked a negative turn on the stock that has persisted for months. But some of the core challenges facing Netflix have the potential to intensify in 2019, even though its shares are trading at a level that some consider cheap (others, of course, are not so sanguine).
New subscriber growth is still an obsessed-over data point for Netflix investors, however -- and it could remain vexing as Netflix continues its aggressive charge into international markets. Subscriber growth is a hard-to-forecast metric because of the number of relatively new Netflix markets and its partial reliance on the viral success of its shows, as Moody's Neil Begley explained to TheStreet in an interview: "In many of these countries they launched only a year-and-a-half ago, and a lot of the success is in how aggressively they market, and word-of-mouth," he said.
Content doesn't come cheap in any case, and that's another potential risk factor that could keep Netflix investors up at night in 2019. As pointed out by Pivotal in a recent research note, Netflix has north of $19 billion in spending commitments on content and is losing money -- and it has to demonstrate it can keep growing subscribers at a rate that's commensurate with the spending.
"The future for the industry is likely to be even more crowded and the winners are still unknown," said Deana Myers a research director at S&P Global Market Intelligence.
That could put further pressure on costs even for licensed content, as evidenced recently by the $100 million that Netflix reportedly paid to renew its licensing of 'Friends' through the end of 2019 -- up from the $30 million it had paid previously.
Netflix closed down 3% to $266.84.
Trading Strategies: How to Play Next Week
Okay, let's look forward for a second to the week ahead. 
TheStreet's London Bureau chief Baccardax discussed the possibility of a Santa Claus rally, the outcomes from the Federal Reserve decision--which takes place on Wednesday, Dec. 19. 
He believes that the market has already baked in a rate hike. However, if there isn't a rate hike, then the market may just rally. He thinks that the Dow could even jump 300 or 400 points. 
Baccardax also breaks down how consumers can play the Fed's decision--or how they shouldn't play it.
Johnson and Johnson is a holding in Jim Cramer's Action Alerts PLUS member club.
Alright y'all, see you on Monday.