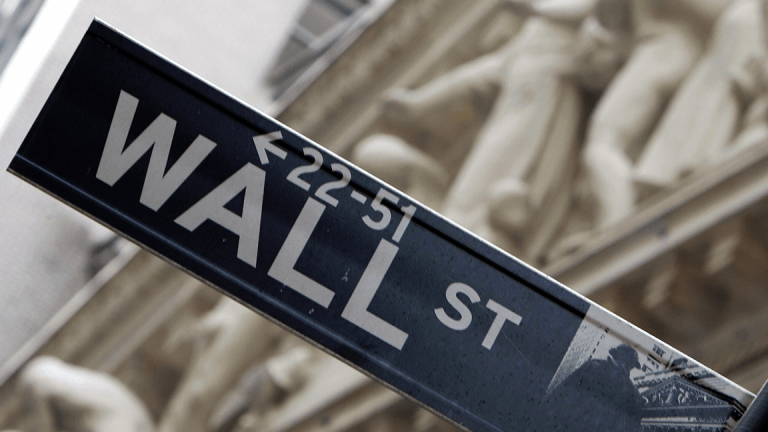 Energy Stocks Rally While Sears & Amazon Join Forces - 5 Things You Must Know
U.S. stock futures are higher as President Trump continues in the geopolitical spotlight. Meanwhile, Sears and Amazon are joining forces and RBS readies for a multi-billion-dollar Justice Department settlement.
U.S. stock futures are higher as President Trump continues in the geopolitical spotlight. Meanwhile, Sears and Amazon are joining forces and RBS readies for a multi-billion-dollar Justice Department settlement.
Go figure, Sears and Amazon are getting closer.
1. -- Stocks Narrowly Rise as Trump Welcomes North Korean Prisoners
U.S. stock futures were slightly higher Thursday, May 10, as Wall Street watched President Donald Trump welcome three Americans held hostage in North Korean back onto U.S. soil ahead of a groundbreaking summit between the president and North Korea's Kim Jong-un.
Contracts tied to the Dow Jones Industrial Average I:DJI  rose 0.07%, those linked to the broader S&P 500 I:GSPC  gained 0.17% and Nasdaq Composite  I:IXIC futures climbed 0.21%.
President Trump met with the three hostages, Kim Hak-song, Kim Sang-duk and Kim Dong-chul, after their release was brokered by new Secretary of State Mike Pompeo in a visit to Pyongyang this week. Kim Dong-chul, a 60-year old pastor, was arrested in 2015 and charged with 10 years' hard labor for spying. The other two men, both teachers at the Pyongyang University of Science and Technology, were arrested last year on suspicion of "hostile activities" toward the regime.
"These are three great people," the President said on the tarmac of Andrews Air Force Base greeting the men and Pompeo. "Frankly we didn't think it was going to happen and it did and we're proud of this achievement, but the real victory will be when we are able to denuclearize the entire [Korean] peninsula. I think he [Kim Jong-un] did this because he really wants to do something ... to bring his country into the real world."
The U.S. economic calendar on Thursday includes core consumer pricing. Analysts expect a core CPI increase of 0.2%, in line with last month. Amid signs of growing inflation at packaged good companies like Tyson Foods (TSN) - Get Report , the CPI will be more closely watched than the norm. Also on Thursday, Wall Street will watch for the federal budget expected at 2:00 p.m. ET.
Earnings reports are expected Thursday from Action Alerts PLUS holding Nvidia Corp. (NVDA) - Get Report and fresh-to-the-market Dropbox Inc. (DBX) - Get Report , which will report after the market close.
Roku's (ROKU) - Get Report Chief Financial Officer Steve Louden struck a very bullish tone with TheStreet's Executive Editor Brian Sozzi after earnings Wednesday evening. 
If you'd like to receive the free "5 Things You Must Know" newsletter, please register here.
2. -- Energy Stocks Lead Market Charge Despite Unrest in Gulf
Energy stocks continued to rally in early Thursday trading, sustaining momentum from earlier in the week. 
The rally comes on the heels of President Trump's decision to exit the Iran nuclear deal, which had eased sanctions on Iran in return for the country agreeing to scale back its nuclear program. With the U.S. out of the deal, economic sanctions against the top oil-producing country are back on the table.
With the prospect of a supply shortage in the Middle East looming, crude prices skyrocketed to three-and-a-half-year highs. On Thursday, West Texas Intermediate crude futures for June delivery rose 0.59% to $71.56 per barrel, while global benchmark Brent crude futures gained 0.25% to $77.40.
The Energy Select Sector SPDR fund (XLE) - Get Report surged 2.04% Wednesday and rose 0.34% in premarket action Thursday. Chevron Corp. (CVX) - Get Report closed higher 1.7% Wednesday and rose 0.14% Thursday ahead of the opening bell. Exxon Mobil Corp. (XOM) - Get Report rose 2.36% Wednesday and continued higher 0.1% Thursday morning. Occidental Petroleum Corp. (OXY) - Get Report was among the top performers in the S&P Wednesday, up 5.4% by the closing bell. Shares were higher 0.42% Thursday morning.
While stocks were rising stateside, reactionary unrest continued overseas.
Israel and Iran traded rocket fire overnight near Golan Heights on the Syrian border in some of the most intense fighting in the region in several years. The Israel Defense Forces said it intercepted several rockets fired from Syria, which it said were launched by the elite Quds Force division of the Iranian Revolutionary Guard.
White House Press Secretary Sarah Sanders told Fox News that the clashes were a "further demonstration that the Iranian regime cannot be trusted and another good reminder that the president made the right decision to get out of the Iran deal."
3. -- Sears Announces Tire Tie-In With Amazon
Sears Holding Corp. (SHLD) announced at its annual meeting that Sears Auto Centers will join forces with Action Alerts PLUS holding Amazon.com Inc. (AMZN) - Get Report to offer consumers full-service tire installation and balancing, "rolling out to customers across the U.S. over the coming weeks."
"With this collaboration, Sears Auto will become the first nationwide auto service center to offer Amazon.com customers the convenient Ship-to-Store tire solution integrated into the Amazon.com checkout process, which is easy and convenient," Sears said. "Amazon customers simply select their tires, the Sears Auto location and their preferred date and time for the tire installation. Sears Auto Centers then contacts them to confirm their appointment."
Sears stock soared 16% on Wednesday following the announcement. Shares rallied 1.25% premarket Thursday.
The deal comes as Sears continue to do battle against a barrage of online and eCommerce threats to its core business. The 125-year-old company has watched its sales decline for years as online offerings from Amazon and others have eaten into its business. 
Sears already sells Kenmore home appliances on the Amazon platform.
4. -- RBS to Pay $4.9 Billion in DOJ Settlement
Royal Bank of Scotland Group plc (RBS) - Get Report  will pay $4.9 billion in a settlement with the U.S. Department of Justice over its role in selling toxic mortgage-backed securities, the bank said Thursday. 
The $4.9 billion payout comes as remittance for RBS' role in issuing and underwriting the mortgage-back securities in the U.S. from 2005 to 2007. The settlement will be paid as a civil monetary cash penalty. RBS said that about $3.46 billion of the payment will be covered through existing provisions, while about $1.44 billion will be taken as a charge to the bank in the second quarter. 
RBS stock climbed 2.76% in premarket trading Thursday. 
5. -- Ford Slashes F-150 Production in Wake of Fire
Ford Motor Co.
(F) - Get Report
announced late Wednesday that the fallout from a May 2 fire at a Michigan supplier plant is expected to halt production of the popular F-150 trucks and potentially other vehicles. Ford didn't offer a specific timeline, but said the production cut could last days or weeks. 
Ford leaders said they don't expect the fire and resulting production halts to have any effect on sales to customers or to necessitate a change to Ford's full-year earnings guidance of $1.45 per share to $1.70 per share. The company did say it will see a near-term financial impact from the incident, but would not quantify the impact for media representatives on the Wednesday call.
The cut to F-150 production comes just weeks after Ford announced it plans to all but totally abandon car production to focus its efforts on expanding its lineup for the ever-popular F-series trucks and SUVs.