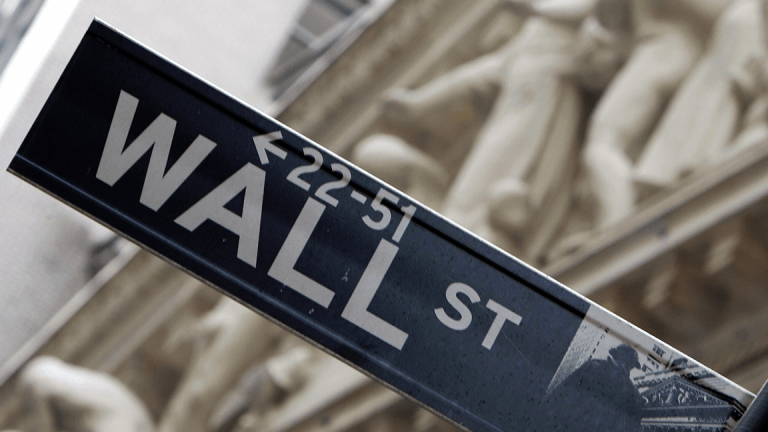 Keep an Eye on These 10 Stocks Monday
Here's what you need to know before heading into Monday morning trading.
Here's what you need to know before heading into Monday morning trading.
In comes a new week where a meandering market is overdue to break out of its trading range, either up or down.
After a slew of mixed headlines led markets both into the red and the green last week, Wall Street is readying for another action-packed five trading sessions. Dow Jones Industrial Average I:DJI futures rose 51 points on Monday as of 5:40 a.m. EST., S&P 500 I:GSPC futures gained 7 points, and Nasdaq Composite I:IXIC futures popped 41 points.
Here's what investors should know before the opening bell Monday.
Warren Buffett Watch
Berkshire Hathaway's (BRK.A) - Get Report annual meeting on Saturday lacked its usual big headlines, except for Warren Buffett's bestie Charlie Munger shooting back at Tesla (TSLA) - Get Report CEO Elon Musk for his dislike of corporate moats. Musk responded to Munger's criticism via Twitter. 
The most noteworthy takeaways from Berkshire's weekend:
Buffett remains bullish on Wells Fargo (WFC) - Get Report and CEO Tim Sloan despite its spate of scandals.
A CEO for Berkshire's healthcare initiatives with JPMorgan & Chase (JPM) - Get Report and Amazon (AMZN) - Get Report is expected to be announced in a few months. 
Both Buffett and Munger continue to think valuations on potential targets remain too high.
Keep an Eye on PayPal
PayPal (PYPL) - Get Report is due for a good session on Monday after CEO Dan Schulman gave a bullish 45 minute interview with Jim Cramer at TheStreet's Investor Boot Campconference on Saturday. Schulman easily downplayed the threat of Amazon in mobile payments.
Watch a clip of the interview below. 
Earnings Season Winds Down
According to FactSet analysis, 81% of companies on the S&P 500 have reported earnings for the first quarter of the calendar year. About 78% of those that have reported have earned positive earnings surprises, while 77% have beaten expectations for sales. If 78% is the total share of companies that beat expectations, it will be the highest reading in history since FactSet began tracking thee data in the third quarter of 2008.
For the first quarter, the blended earnings growth rate for the S&P is 24.2%, which is the highest growth rate since 2010. Ten of the 12 S&P sectors have higher growth rates today than they did at the end of the quarter due to the high volume of earnings beats.
There are 972 companies scheduled to release earnings reports next week.
On Monday, T-Mobile U.S. Inc. (TMUS) - Get Report will report earnings fresh off announcing a merger with rival Sprint (S) - Get Report . (watch TheStreet's interview with both CEOs after the deal was announced below). Tuesday, Action Alerts PLUS holding Cimarex Energy Co. (XEC) - Get Report reports after the market closes. On Wednesday after the closing bell, Twenty-First Century Fox Inc. (FOXA) - Get Report will report financials. Thursday, fresh-to-the-market Dropbox Inc. (DBX) - Get Report will report after the market close.
On the Economic Calendar
On Monday at 3:00 p.m. ET, the Federal Reserve will release March consumer credit data. Analysts polled by FactSet are expecting a reading of $15.6 billion in credit extended, up from the previous month's $10.6 billion.
On Wednesday at 8:30 a.m. ET, monthly producer pricing is expected for April. FactSet economists forecast a 0.3% producer price index increase, in line with the previous month.
On Thursday at 8:30 a.m. ET, consumer pricing statistics are scheduled for release. Analysts expect a core CPI increase of 0.2%, in line with last month. Also on Thursday, Wall Street will watch for the federal budget expected at 2:00 p.m. ET.
North Korea Update
President Donald Trump said at the end of last week that a time and place for his highly anticipated meeting with North Korean leader Kim Jong-un had been decided and will be disclosed soon. The president has already suggested the demilitarized zone between North and South Korea, plus the possibility of Singapore has been floated.
Late last week, North Korea took another step toward mending its relationship with South Korea in changing its time zone to match its southern neighbor's. This week, the World Food Programme and its executive director former South Carolina Governor David Beasley, will visit North Korea.