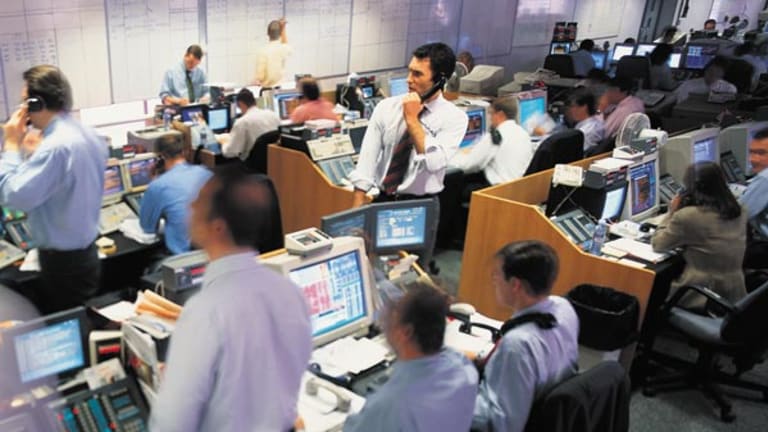 Five Stocks Swim Under a Choppy Sea
The market's big-cap surface is troubled. Look to stocks that trade for less than $5.
This column was originally published on RealMoney on March 10 at 1:00 p.m. EST. It's being republished as a bonus for TheStreet.com readers.
What do we do in a volatile, choppy market full of fake-outs and unsustainable moves? There are just so many crosscurrents and hidden forces out there that it's easy to get hurt.
But what if we can find a more predictable market within the market, a market that isn't subject to the same dynamics as the large-cap, high-priced stocks that get so much coverage by
CNBC
,
The Wall Street Journal
and others?
Low-priced stocks, those that trade for less than $5, are worth a look. Most stocks under $5 are ignored by the majority of investment firms; there just isn't much demand for these shares. (Could it be any other way? If demand was widespread, the stocks would be trading at higher prices.)
Think of these low-priced stocks as the subsurface ocean water during a big storm. The surface is turbulent and choppy. But underneath this mess, the sea is calm and more predictable.
The forces of supply and demand still control the price action, but these low-profile stocks have less of a tendency to trade in sync with the market. They also can produce sizeable gains.
After all, a $2 stock that advances 50 cents produces a 25% gain. But a 50-cent decline -- entirely possible with the members of this more volatile group -- puts a 25% dent in your account.
The trick to trading these little guys is to focus even more on the best entry. Be more selective about buying right at support, with a tight stop. Avoid blindly buying a breakout, because a sharp reversal can result in a significant loss.
Let's look at some sub-$5 stocks that are on the move.
This bubble baby had been down for the count until last September. Since that sharp breakout, the bulls have been driving
JDSU
(JDSU)
higher.
Earlier this month, JDSU once again broke higher after trading in a tight range for several weeks. The current trading range is 50 cents -- that's a big number for a $3 stock. If you buy a breakout above $4, how do you control losses? Any pullback could indicate that you were early rather than wrong. As such, I'd rather buy on a test of $3.50 support, with a stop just beneath that level.
Generex Biotechnology
(GNBT)
is forming a bullish pennant pattern. This series of lower highs and higher lows can't last much longer. The stock will break out of the trading range as soon as the profit-taking is complete. At that point we'll know whether ample demand exists to push the stock higher. If the bears push the price below $2, that high-volume test of $2.50 at the end of February could turn out to be the end of the advance. So I'd keep a tight stop just beneath $2. After all, a drop to $1.50 is more than a 50-cent decline -- it's 25%!
Avanex
(AVNX)
is consolidating after an almost vertical advance, trading within a 50-cent range. Any test of $2 would be a low-risk buying opportunity because of the proximity of the stop -- right around $1.90.
Transmeta
(TMTA)
has struggled to move above $1.75 for the past several months. The relative strength index is moving higher along with the price action, but demand continues to overwhelm any buying interest. A tag of $1.50 also would test the middle Bollinger Band, and that's where I'd look to buy. As with Avanex, I'd put a stop just beneath support to control risk. After all, a fall beneath $1.50 just puts the stock back into established congestion. No sense getting caught up in a sideways trend.
Stratex Networks
(STXN)
had been on an impressive run for the past five months. But March has seen significant selling interest -- at least until Thursday. Over the past several days, profit-taking has weakened the uptrend, finally culminating in a test of the $4.50 level, which briefly acted as resistance in early February. Strong demand resulted in a close near the top of the intraday range. Thursday's advance was also encouraging, though the close near the middle of the range implies a bit more weakness than I'd like to see. The low-risk trade is to wait for a retest of $4.50, with a stop just beneath that level.
What if the bulls continue to push Stratex higher from here? Then the only way to reduce risk will be with a scaled entry. That way, you can participate in further upside without risking a big loss on a breakout failure.
Be careful out there.
Please note that due to factors including low market capitalization and/or insufficient public float, we consider Generex Biotechnology, Avanex, Transmeta and Stratex Networks to be small-cap stocks. You should be aware that such stocks are subject to more risk than stocks of larger companies, including greater volatility, lower liquidity and less publicly available information, and that postings such as this one can have an effect on their stock prices.
P.S. from TheStreet.com Editor-in-Chief, Dave Morrow:
It's always been my opinion that it pays to have more -- not fewer -- expert market views and analyses when you're making investing or trading decisions. That's why I recommend you take advantage of our
to TheStreet.com's
RealMoney
premium Web site, where you'll get in-depth commentary
and
money-making strategies from over 50 Wall Street pros, including Jim Cramer. Take my advice --
Dan Fitzpatrick is a freelance writer and trading consultant who trades for his own account. His columns focus on quantitative strategies for trading and investing. Fitzpatrick has lectured throughout the U.S. on the proper use of technical analysis and options trading. At the time of publication, Fitzpatrick held no position in any stocks mentioned, though positions may change at any time. Under no circumstances does the information in this column represent a recommendation to buy or sell stocks. While Fitzpatrick cannot provide investment advice or recommendations, he appreciates your feedback;
to send him an email.