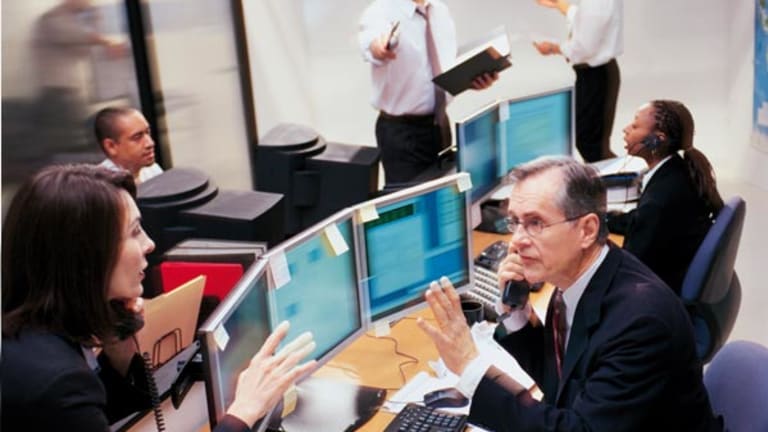 Five Reader Picks for Tech's Next Big Thing
Ultracapacitors, new memory chips and power converters just might reshape the future.
A little more than a month ago I wrote a column on MSN Money about finding "the next big thing" in technology. The next big thing, I argued, would be a disruptive technology that changes the existing game and sends rivals to the scrap heap.
I picked seven "next big things":
The "Cell" microprocessor
The home-entertainment gateway
The home-entertainment hub
Internet telephony over mobile phones
Electronic networked health care records
Mapping everywhere
Batteries
And I suggested that readers send me their own picks for the next big thing. If I got enough, I'd put them together into a follow-up column.
A Deluge of Entries
Well, of course, the shrinking violets they are, Jubak's Journal readers buried me with heated nominations that often began "How could you leave out ... " Here are the best of the bunch from that reader mail -- five more, to be exact.
I have not vetted any of these ideas, and readers should certainly not regard them as picks in any way. I see this effort as brainstorming.
I have, however, checked to make sure that there is a public way to invest in each idea, and that none of these stocks are such micro-caps that a mention from me here would be easily manipulated by speculators. Lastly, I have provided some basic information that you might need to begin your own research.
The ideas offered here and in the earlier column are intended to spark creative thinking that will lead to more ideas and, finally, after research and due diligence, to a stock or two you might want to buy. This column, like the earlier one, is just the first step in that process.
The ultracapacitor: "A good candidate for a disruptive technology is the ultracapacitor. Take a look at Maxwell Technologies (MXWL) . Maxwell is a member of the Hybrid Consortium, and Maxwell is included in the PowerShares Wilderhill Clean Energy ETF (PBW) . Ultracapacitors are replacing or supplementing batteries in many applications from hybrids to fuel cells to automatic meter-reading devices." -- Joe.
Ultracapacitors are devices that store energy in much greater quantities than batteries. Maxwell Technologies began life in 1965 as government contractor Maxwell Laboratories. The company, headquartered in San Diego, now generates all of its revenue -- $45 million in 2005 -- from commercial customers. The stock has a market capitalization of $330 million.
Nanotube memory chips: "I'd submit the following disruptive technology. I'm in the semiconductor business, and I think the upcoming bottleneck out there is memory. Nantero is a company that has found a way to use existing semiconductor manufacturing processes and add carbon nanotubes to create a memory device that is three times more dense than any existing technology. It is like flashing memory (like the little USB "thumb" drives), but with storage sizes 1,000 times larger than existing hard drives. It is also nonvolatile, meaning it does not need to have constant power applied to it to maintain the memory states. To complete the scorecard, it is also as fast as existing DRAM memory technology." -- Mike.
Nantero is still a private company, but investors can own a piece of it through the publicly traded
Harris & Harris Group
(TINY)
nanotech portfolio (market capitalization $290 million). Nantero has so far raised $31 million in private investment from venture capital firms that include Charles River Ventures and Draper Fisher Jurvetson.
High-density power converters. "I have a potentially disruptive technology company for you to look at. Vicor (VICR) has come out with a new power converter that converts and manages electric power more efficiently and with higher power densities than ever before. Sonyundefined has licensed the technology from Vicor, and, I believe, the technology is also being used in conjunction with the new Cell microprocessor that is being made by IBM (IBM) , Sony and Toshiba." -- Fletcher.
Vicor, based in Andover, Mass., recorded $180 million in sales in 2005, and the company will earn 34 cents a share in 2006, according to the consensus of the three analysts who follow the stock. The stock has a market capitalization of $830 million. That may seem steep for a stock with $180 million in annual sales, but the analyst consensus is projecting 50% annual earnings growth for Vicor over the next five years.
Global positioning on silicon: "Before anyone can use the map produced by Tele Atlas and Navteq (NVT) , one needs to know its current location. I believe SiRF Technology Holdings( SIRF) is the only GPS technology enabler in this field." -- Amin.
For those who don't know what SiRF Technology does, let me paraphrase the company description on
MSN Money
: SiRF Technology Holdings is a supplier of global positioning system (GPS) semiconductor solutions designed to provide location-awareness capabilities. The company's chip sets and software use the GPS satellite system in orbit around the earth to tell products such as cell phones and cars where they are on Earth. The chip sets can include two integrated circuits, a radio-frequency integrated circuit and a digital-signal processing circuit -- and standard embedded GPS software.
Founded in 1995, the San Jose company now has a market capitalization of $1.8 billion and had $170 million in sales in 2005. The nine analysts who follow the stock project 32% annual earnings growth over the next five years. Those same analysts project that the company will earn 83 cents a share in 2006.
Organic light-emitting diodes: "Here's another one: OLEDs (organic light-emitting diodes) replacing LCD (liquid crystal displays) in all devices and creating entirely new display and lighting product categories. Such new categories might include ruggedly flexible (display wrapped around consumer products), transparent (windows during the day become bright advertising panels by night) and task and room lighting panels. Companies with significant patent portfolios are Universal Display (PANL) , Eastman Kodak( EK) and Cambridge Display Technology (OLED) ." -- Larry.
Universal Display is a so-far unprofitable Ewing, N.J., company with 2005 sales of $10 million. The stock has a market capitalization of $430 million. Cambridge Display Technology is headquartered in the other Cambridge, the one in England. The company recorded $18 million in sales in 2005, and the stock has a market capitalization of $180 million.
Two Private Companies to Watch
A couple of other potentially disruptive technology companies didn't make this list of five because they are still private. Financed at this stage in their growth by private pools of venture capital or by corporate partners, these companies are intriguing, but there isn't any way at this point for individual investors to put a single dollar into them.
In a former life, I covered the world of venture capital investments and venture-capital-funded companies, and two of the companies that readers nominated stand out to me for the quality of the investor groups backing them at this stage. That's no guarantee that these companies will succeed in bringing a single product to market, but it is enough for me to note and file away the names for the future. These two private companies to watch are:
inPhase Technologies, a holographic data storage company with an investment group that includes New Venture Partners, Hitachi( HIT), Bayer MaterialScience and Nanotech Partners, an investment pool founded by Mitsubishi.
A123 Systems, a battery technology spinout from the Massachusetts Institute of Technology backed by Motorola( MOT), Qualcomm (QCOM) and venture capitalist Sequoia Capital.
Thanks to Keith and Dave, respectively, for nominating these still-private companies that bear watching.
At the time of publication, Jim Jubak owned or controlled shares of the following equities mentioned in this column: Navteq and Tele Atlas. He does not own short positions in any stock mentioned in this column.
Jim Jubak is senior markets editor for MSN Money. He is a former senior financial editor at Worth magazine and editor of Venture magazine. Jubak was a Bagehot Business Journalism Fellow at Columbia University and has written two books: "The Worth Guide to Electronic Investing" and "In the Image of the Brain: Breaking the Barrier Between the Human Mind and Intelligent Machines." As an investor, he says he believes the conventional wisdom is always wrong -- but that he will nonetheless go with the herd if he believes there's a profit to be made. He lives in New York. While Jubak cannot provide personalized investment advice or recommendations, he appreciates your feedback;
to send him an email. Please note that due to factors including low market capitalization and/or insufficient public float, we consider MXWL, PBW, TINY, PANL, OLED to be small-cap stocks. You should be aware that such stocks are subject to more risk than stocks of larger companies, including greater volatility, lower liquidity and less publicly available information, and that postings such as this one can have an effect on their stock prices.