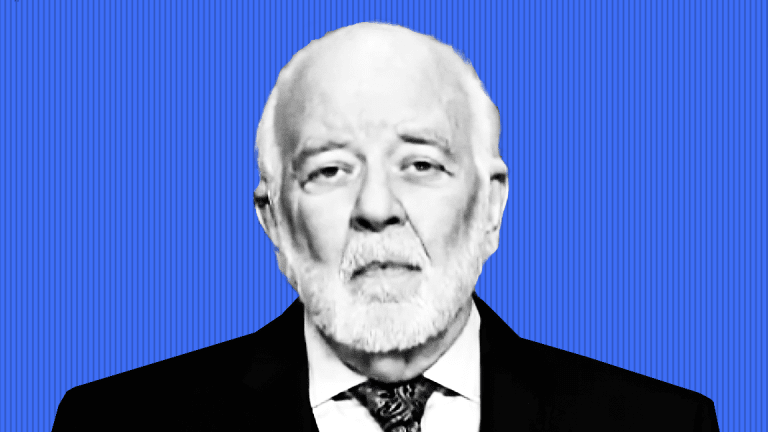 For more than five decades, Wall Street analyst Dick Bove has needled CEOs of big banks like Bank of America Corp. (BAC) - Get Bank of America Corp Report , Citigroup Inc. (C) - Get Citigroup Inc. Report and Goldman Sachs Group Inc. (GS) - Get Goldman Sachs Group, Inc. (GS) Report over what he considers perennially foolhardy strategies and wrongheaded investor-relations narratives.
Citigroup and Goldman are Action Alerts PLUS holdings.
Now, at age 77, he's starting a new career - as a money manager, buying stocks in comparatively tiny banks from places like Kalispell, Montana.
In March, Bove quit his job with Vertical Group - his 14thbrokerage firm since 1970 - to become chief strategist of Hilton Capital Management LLC, a Garden City, New Jersey-based firm with $1.3 billion of client assets under management.
Hilton Capital, a unit of family-owned Rafferty Holdings LLC, recruited him to help manage its Financials Opportunity Strategy, which targets stocks of smaller banks that are trying to super-charge growth by buying other banks and ramping up loans. The strategy has paid off, he says, with a track record that has consistently outperformed not only big-bank shares but the broader Standard & Poor's 500 Index of large U.S. companies.
Covering big banks as a stock picker - and getting paid via often an often-negotiated share of ever-shrinking trading commissions paid by the big investors he advised - had become a drag, Bove says. Not only are most big banks heading in the wrong direction, but he was becoming exhausted by having his investment opinions overwhelmed by those from a herd of rival analysts he considers gullible and too focused on short-term gains. 
The white-bearded Bove, never one to mince words, says his new job is a welcome change from covering the big Wall Street firms, which he says have become foolishly obsessed with buying back their own stock while wrangling with regulators over arcane asset ratios, stress tests, endless rules imposed by lawmakers and strict limits on their ability to acquire competitors.
"There's a chance to make a lot more money for myself, and for other people, and to do it in a much more congenial environment where you're not arguing over all this arcane bullshit all the time," Bove said in the phone interview from his home office in Lutz, Florida, where he says he typically works 14 hours a day while caring for his blind and paralyzed but happy and mentally healthy wife of 52 years.
Bove's career spans a long history of ups and downs for banks, so despite a reputation as a sometimes cantankerous maverick, his experience is hard to replicate; Citigroup nearly collapsed twice over the period, he's quick to point out.
He said he's spent his first two months at Hilton preparing an 87-page report on the financial industry, replete with economic analysis, a dissection of regulatory trends and charts illustrating long-term changes in the money supply -- and the correlation with stock prices. The conclusion? There are at least 100 small and medium-size banks with the potential to trounce the big Wall Street firms on stock performance. 
Consider Glacier Bancorp Inc. (GBCI) - Get Glacier Bancorp, Inc. Report , a Montana-based bank with $11.7 billion of assets, or 0.5% the size of Bank of America. It's one of Hilton's top picks. Glacier has made at least nine acquisitions since 2005, according to database provider FactSet.
And over the last 15 years, Glacier's shareholders have more than quintupled their money including dividends, for an average annual total return 12.3%. That beats the 9.3% average return for the S&P 500 as well as Goldman Sachs's 8.7% return. Bank of America returned an average 0.9% during the period, while Citigroup shareholders lost an average 9.5%.
"These smaller banks have been using their capital to expand their business, they've been aggressively making acquisitions, and it's been a grand-slam home run," Bove says. "Unlike the days of old when you looked to buy the acquired bank, now you should be buying the acquiring banks, because they're the ones producing the most impressive results."
Of course, Bove faces the usual hazards of actually managing money versus merely getting paid to proffer investment advice: Sometimes an investor can understand a stock better than anyone else -- along with all the big-picture elements like economic trends, changing consumer preferences and the direction of political winds -- and still make the wrong call.
There's also the unanticipated developments; as a stock analyst, Bove was known to occasionally change his investment recommendations, sometimes overnight and radically, based on a surprising headline. Money managers' track records aren't forgotten as quickly or easily as a two-month old report.
Bove says he's ready for the challenge - if for nothing else to have his career less hinged to Wall Street banks run by executives he says don't seem to understand how the banking business works.
One of the most infuriating trends of recent years, he says, is the inclination of big bank CEOs and CFOs to try to juice their earnings per share in the short term by buying back their own stock. Such moves reduce the capital a bank has to invest in new loans or make acquisitions, the ultimate source of long-term growth and stock outperformance, he argues.
The Wall Street firms are essentially giving money back to shareholders at a time when the economy is growing and the money supply is shrinking - a dynamic that will pay off for banks that have, well, lots of money on hand. As the segment of the population aged 25 to 44 grows after a long period of decline, more people will need home loans. And the U.S. government will need lenders to cover its ever-growing federal deficit.
"You're looking at a squeeze, and when you're looking a squeeze, you want to be with the guy who's got the money," Bove says.
When it comes to the big banks, on the other hand, "You're dealing with losers, and you're dealing with strategies that make no sense for long-term investing," Bove says.
Oh, also -- Bove says he got a big pay raise. He's a money manager now, after all.