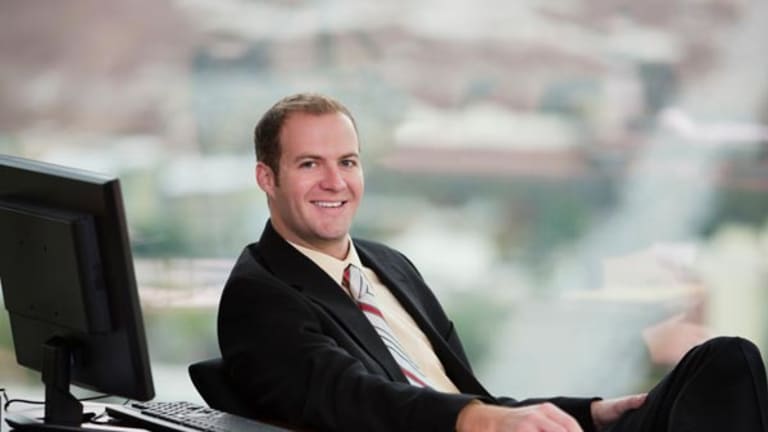 Finding the Right Entry
Buying into a decline requires a different strategy than buying into a move up.
This column was originally published on RealMoney on April 6 at 12:10 p.m. EDT. It's being republished as a bonus for TheStreet.com readers.
It's always tough to find the right entry on a trade. Lots of traders will buy into a decline, even at the risk of catching a falling knife. I'm not very good at this. I don't believe in averaging down. I know that some traders will use this tactic to lower their cost basis in a stock that they really like. It may work for savvy investors, but it's a problem when you average down simply to be "less wrong" by getting bigger.
The thinking is, if you want to avoid being wrong, you can buy more stock at current low prices to bring your average cost closer to the current price.
However, all you've really done is take on an inordinately large position that's still a loser. You've traded one sin (failing to cut losses short) for another (taking an oversized position that imposes too great a risk to your account). Either way, you're dancing too close to the fire.
Instead, think about waiting for decisive evidence that the decline is over before you buy. Wait until the price stabilizes at a point that enables you to clearly define risk. You want to be able to set a stop reasonably close to your entry, yet far enough away that it will be triggered only if the downtrend continues.
Novavax
(NVAX) - Get Free Report
provides an illustration of how to define risk.I last featured Novavax
a few weeks ago when it first broke above $6. After the stock ran up to $8, the bears took the stock clear down to the breakout point.
Three days of heavy selling appear to have culminated in Tuesday's high-volume decline to $6. Wednesday's wide-ranging action, with a close at the high of the day, gives a clear signal that this downtrend probably has ended.
If you set a stop below Wednesday's low, you'll be taken out of the trade only if the bears sum up enough strength to surpass Wednesday's decline.
Now, let's look at a few other stocks that define the other type of entry: buying into an uptrend.
This weekly chart of
PMC-Sierra
(PMCS)
shows a stock that has finally reversed a multiyear downtrend. The price is as high as it's been since mid-2004, so I really don't believe there is much overhead resistance; anybody who has been holding this stock from higher levels is not likely to sell into this advance. After all, if you are willing to hold a stock through a 50% retracement, you probably like pain too much to close the position. Let's look at the daily chart to select a stop.
PMC-Sierra's daily chart shows a solid breakout Wednesday with three times average volume and a wide-ranging trading day. With a close at the top of the range, the bulls appear to be firmly in control. I'd put a stop just below recent consolidation, right below $12.
Wednesday a reader emailed me and asked if I was still bullish on
GlobalSantaFe
(GSF)
, a stock I featured
last week. I liked the stock then, and I like it now.
Look closely at the past several days of trading action and you'll see that the stock broke above resistance at $61, then fell back for a couple of days. And just when the selling looked ready to accelerate, in came more buyers. This is what strong stocks do. Any pullback attracts more buying rather than flushing out the weak hands that panic and perpetuate the selling pressure. GlobalSantaFe looks like it has further to go, but I'd still keep a stop just beneath support, around $60.
I've featured
Tenaris
(TS) - Get Free Report
twice in as many months (
earlier this week and in
late February), and the uptrend just keeps going and going. If you're long, the closest stop is clear down below the breakout level. That's a long way to fall, so remember that position size adjustments are another way to control risk. But if it ain't broke, why fix it? I'd just keep a trailing stop in place to take advantage of this strong trend.
I featured
Weatherford
(WFT) - Get Free Report
last week, noting that the stock was ready to move higher on a breakout above $45. We're seeing this advance now. But if the stock were to fall back into congestion, I'd probably close the position and move on.
Be careful out there.
Please note that due to factors including low market capitalization and/or insufficient public float, we consider Novavax to be a small-cap stock. You should be aware that such stocks are subject to more risk than stocks of larger companies, including greater volatility, lower liquidity and less publicly available information, and that postings such as this one can have an effect on their stock prices.
P.S. from TheStreet.com Editor-in-Chief, Dave Morrow:
It's always been my opinion that it pays to have more -- not fewer -- expert market views and analyses when you're making investing or trading decisions. That's why I recommend you take advantage of our
to TheStreet.com's
RealMoney
premium Web site, where you'll get in-depth commentary
and
money-making strategies from over 50 Wall Street pros, including Jim Cramer. Take my advice --
Dan Fitzpatrick is a freelance writer and trading consultant who trades for his own account in Encinitas, Calif. He is a former co-manager of a hedge fund and teaches seminars on technical analysis, options trading and asset-protection strategies for traders and business owners. Fitzpatrick graduated from the McGeorge School of Law and was a fellow at the Pacific Legal Foundation, a nonprofit public interest firm specializing in constitutional law. He also practiced law in the private sector before pursuing trading as a full-time career. At the time of publication, Fitzpatrick held no position in any stocks mentioned, though positions may change at any time. Under no circumstances does the information in this column represent a recommendation to buy or sell stocks. While Fitzpatrick cannot provide investment advice or recommendations, he appreciates your feedback;
to send him an email.