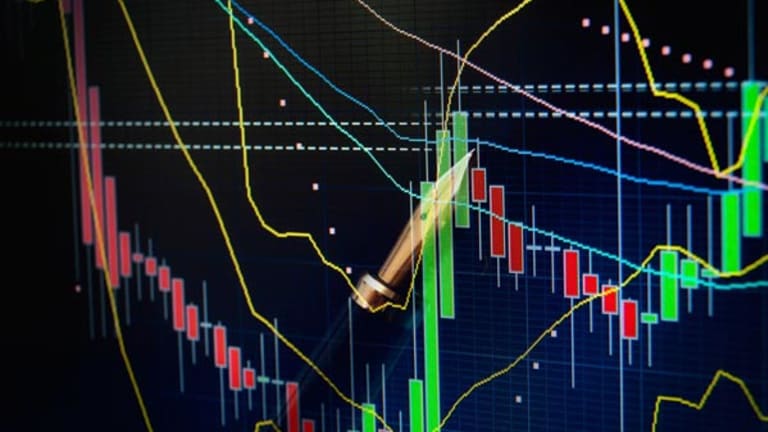 Finding GILD in Biotech Rubble
Amid the tortuous selloff in its sector, this stock screams out.
This column was originally published on RealMoney on May 5 at 11:08 a.m. EDT. It's being republished as a bonus for TheStreet.com readers.
The health care sector has been a whipping boy of late.
Since March 1, biotechnology stocks have done particularly poorly, down nearly 10% as measured by the
Nasdaq
Biotech Index, which is dominated by the large biotech companies. Only the HMOs have fared worse since then, down about 11% per the Morgan Stanley Healthcare Payors Index.
With all the carnage in the sector, it requires nerves of steel to start buying. Well, if you are up to the task, it is time to consider
Gilead Sciences
(GILD)
.
Bitter Biotech
The poor health care performance has been warranted, for sure, especially in the biotech group. After having a fantastic run in 2005, many of the big-cap stocks carried all-time-high valuations. Fundamentals looked fantastic in the rearview mirror, supporting the group's pristine pricing.
A few factors are to blame for the rotation out of biotech. First and foremost, the March quarter's earnings reports left a lot to be desired, weakening confidence across the group.
Amgen
(AMGN)
,
Medimmune
undefined
,
Genzyme
(GENZ)
and
Sepracor
(SEPR)
, to name a few, missed expectations. Even though
Genentech
(DNA)
put up a solid quarter, longer-term growth-rate assumptions for it were put to the test.
In addition, the interest rate bogeyman has finally reared his head. Academically, biotech's expected earnings are further in the future relative to other stocks in general, and higher interest rates should impact their stock prices disproportionately (higher convexity, in a sense) as a result.
Then there is the future of the U.S. medical system. No one knows where it will go, but we do know that medical-care prices are rising faster than the government can pay for them. This is aculprit frequently associated with declines.
Below is a representative sample of performance of stocks from March 1 through May 5:
Why Gilead? Fundamentals and A Strong Pipeline
So why is Gilead the solution? Because it generates earnings and cash flow
today
.
The company's fundamentals are still solid and will continue to be, as Gilead captures more of the HIV market with Truvada, its once-daily combination pill. And it will further extend its lead when its triple-combination pill with
Bristol-Myers Squibb
(BMY)
is launched later this year.
Unlike the other big-caps, Gilead does not face competition from other drugs or generics, and its drugs are not in the crosshairs of regulators for excessive pricing.
Finally, expectations are still low, and about a third of the analysts who cover the stock rate it neutral. My estimates for this year, $2.33 a share, and next, $2.75, exceed consensus estimates of $2.13 and $2.46, respectively. This continuing outperformance should support the stock.
Of course, the company's relatively early pipeline remains under the microscope, as its success will ultimately dictate longer-term growth.
Gilead is moving its integrase inhibitor for HIV to Phase 2 testing. In addition, a recent $25 million investment in privately held Corus Pharma gives Gilead the option to buy Corus at a prespecified price after Phase 3 data is released later this year for Cayston, Corus' inhalable antibiotic used to treat infections in cystic fibrosis patients.
Gilead's novel protease inhibitor for hepatitis C is moving into human testing as well.
These drugs are at a relatively early stage for such a large company, but I am confident that Gilead will eventually find success from its pipeline.
Some observers continue to worry that the company will embark on a large, dilutive acquisition. I am comfortable that Gilead will take no such step, and any buy the company might make will likely be very prudent..
I last wrote formally about Gilead
in December, and the stock closed at $53.58 that day. While I expected continued strength from the franchise, I believed that the valuation left relatively little to gain over the next year.
Since that time, Gilead's HIV franchise has performed better than I expected, and the outlook has improved, with rapid market-share gains. My valuation approach remains similar today.
Free cash flow in 2007, net of interest income and $200 million of pretax "excess Tamiflu royalties" from stockpiling, should approximate $2.50 a share. Gilead will hold about $5.25 in net cash per share by the end of 2006, and I expect about 50 cents of aftertax Tamiflu-stockpiling royalties to continue to accrue to shareholders.
Summing the three figures leads me to a $68.25 price target by the end of 2006, more than a 20% return.
As it turns out, this price target is roughly 25 times my 2007 GAAP EPS estimate of $2.75. The average 2007 price/earnings multiple of the profitable biotech companies listed above (Amgen,
Biogen Idec
(BIIB)
,
Celgene
(CELG)
,
Cephalon
(CEPH)
, Genentech, Genzyme, Medimmune, and Sepracor) is 24.9, and given its likely outperformance, a premium seems warranted.
P.S. from TheStreet.com Editor-in-Chief, Dave Morrow:
It's always been my opinion that it pays to have more -- not fewer -- expert market views and analyses when you're making investing or trading decisions. That's why I recommend you take advantage of our
to TheStreet.com's
RealMoney
premium Web site, where you'll get in-depth commentary
and
money-making strategies from over 50 Wall Street pros, including Jim Cramer. Take my advice --
At the time of publication, Ferayorni was long Gilead and Medimmune, although positions may change at any time.
Justin Ferayorni, CFA, is the founder and principal of Tamarack Capital Management and was an analyst and portfolio manager at Bricoleur Capital. Under no circumstances does the information in this column represent a recommendation to buy or sell stocks. Ferayorni appreciates your feedback;
to send him an email.