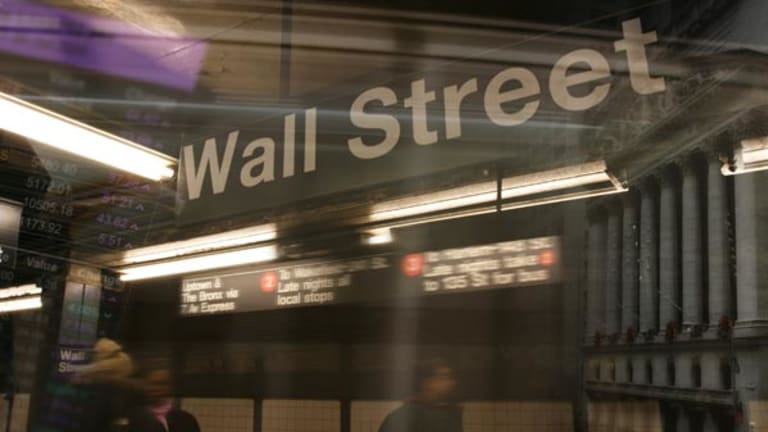 Financials, H-P Send Stocks Higher
Oil resumes its rally and closes at a record $101 a barrel.
Updated from 4:19 p.m. EST
Stocks in New York overcame an early data-inspired selloff and rose Wednesday amid a rally in financials and buying in computer-related shares.
The
Dow Jones Industrial Average
closed up 90 points to 12,427, and the
added 11 points to 1,360. The
Nasdaq Composite
rose 21 points to 2,327.
Helping the market rise was a gain of 2.5% in the computer hardware index, led by a 7.9% advance in
Hewlett-Packard
(HPQ) - Get Free Report
.
Following the last close, H-P posted a fiscal first-quarter profit that rose 38% from a year ago, topping estimates, and offered encouraging guidance. H-P's climb was also reflected in the Dow, where it's one of the 30 components.
Chip stocks were among the winning sectors, with the Philadelphia Stock Exchange Semiconductor Index jumping 2.7%. Also in the green was the NYSE Financial Sector Index, up 1%, and the Amex Securities Broker/Dealer Index, better by 2.3%.
Paul Mendelsohn, chief investment strategist with Windham Financial, noted the firming of the energy and financial sectors, which will often send the market higher. He also pointed out that "we're undoing a lot of the damage that was done yesterday afternoon," when the major averages had a big drop late.
Breadth was positive. About 3.84 billion shares changed hands on the
, and about 2.29 billion on the Nasdaq, with advancers beating decliners by about a 3-to-2 margin on each.
Initially, equities had opened lower after the Labor Department said the consumer price index was up 0.4% in January, while the core rate, which excludes food and energy, climbed 0.3%. Both were ahead of consensus expectations.
Traders are jittery about any economic numbers that could give the
a reason to pause its easing campaign, but the latest data, in isolation, probably wouldn't prevent an additional cut in interest rates.
Ian Shepherdson, chief U.S. economist at High Frequency Economics, pointed out that one month doesn't make a trend, and that "we remain of the view that a sustained period of soft demand will bring core inflation down, as it always does. But right now the optics are unfavorable and this report will make it much easier for the Fed to ease only by 25 basis points."
He also said, though, that the year-over-year core increase of 2.5%, the biggest reading in nearly a year, was "a bit disconcerting."
Also on the economic docket,
the Fed released the minutes from its most recent meeting on Jan. 29-30, which resulted in a 50-basis-point cut of the fed funds rate to 3%, the lowest level since 2005. The discount rate was also cut by half a point.
The Fed, in its minutes, indicated that many of its previous concerns remain, namely regarding the health of the credit market and the housing sector. Also, in a nod to the predicament the Fed finds itself it, the central bank cut its economic expansion target for the fourth quarter, but raised its expectations for consumer price growth in 2008.
The minutes said that while the functioning of money markets had "improved notably" since December, "strains remained evident in a number of other financial markets, and credit conditions had become generally more restrictive. Against this backdrop, participants expected economic growth to remain weak in the first half of this year before picking up in the second half, aided in part by a more accommodative stance of monetary policy and by likely fiscal stimulus."
Officials at the meeting predicted that the economy would continue to pick up gradually next year and in 2010.
With regard to the latest rate reduction, most of the voters felt that "a further significant easing in policy was warranted at this meeting to address the considerable worsening of the economic outlook since December as well as increased downside risks." Most members believed the easing "would likely not contribute to an increase in inflation pressures" -- and, in fact, that inflation will likely moderate in coming quarters -- "given the actual and expected weakness in economic growth and the consequent reduction in pressures on resources."
The Fed decided the cut would help the economy expand at a "modest pace" but "agreed that downside risks to growth would remain even after this action," since there are still no signs of a stabilizing housing market and that broad financial conditions remain erratic.
However, the bankers "were also mindful of the need for policy to promote price stability, and some noted that, when prospects for growth had improved, a reversal of a portion of the recent easing actions, possibly even a rapid reversal, might be appropriate." The FOMC will meet again on March 18.
Elsewhere on the economic front, the Commerce Department said housing starts edged up 0.8% to a 1.012 million annual rate last month, following an almost 15% plunge in December. Despite the increase, analysts were looking for a slightly more pronounced rebound of 1.4%, according to a
Dow Jones
survey.
"This rally started because the Fed minutes keep the flood gates of monetary policy open," said Art Hogan, chief market analyst with Jefferies. "The Fed is basically saying that the path of least resistance is to the downside for interest rates. With no other negative news in the Fed minutes, we saw some aggressive buying swoop in."
Energy-related names turned around at midday, supporting the major averages' move higher, as crude oil topped $101 a barrel for the first time ever and ultimately closed at that price.
Exxon Mobil
(XOM) - Get Free Report
reversed early losses and was higher by 1.3%
Chevron
(CVX) - Get Free Report
climbed 1.8%.
"Energy companies certainly benefited from oil's rise above $101 a barrel," said Edgar Peters, chief investment officer with Pan Agora. "Those companies pushed the indices higher, similar to yesterday's action."
In the financial sector, activist investor Bill Ackman put out the
latest proposal to break up troubled bond insurers
Ambac
( ABK) and
MBIA
(MBI) - Get Free Report
. Ambac ended flat at $9.94, while MBI added 4% to $12.18
Ackman's proposal comes after a
similar one last week from New York Insurance Superintendent Eric Dinallo.
Treasury prices were rising. The 10-year note was up 1/32 in price to yield 3.89%. The 30-year bond was adding 29/32 in price, yielding 4.61%.
Overseas markets were uniformly lower. Hong Kong's Hang Seng lost 2.2%, and Japan's Nikkei 225 eased 3.3%. In Europe, London's FTSE 100 shed 1.2% and Germany's Xetra Dax both was off 1.5%.