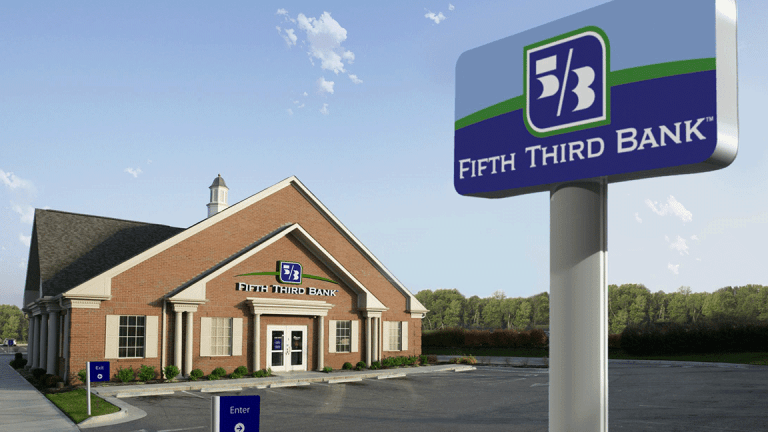 Fifth Third Bancorp Shake Off Non-Bank Lenders' Threats
Bank stocks have been crushed this year, and the outlook isn't rosy. But one bank seems it is defying the rest of the sector.
Fifth Third Bancorp. (FITB) is wriggling free of a threat that has become a thorn in the side of the banking sector. 
Non-bank lenders like debt investment funds and insurance companies have been taking market share from banks. TheStreet's Jim Cramer wrote in late November that non-bank lenders have enjoyed about 50% of the U.S. mortgage market since the Recession. This has intensified of late. Firms like Fortress Financial have launched credit funds that not only buy existing debt, but also lend directly to borrowers.
"On the illiquid side of things, we can be a direct lender," Fortress' website said. And as the Federal Reserve hikes interest rates, whether there are four or fewer hikes in 2019, the last thing U.S. banks need is another headwind to loan volumes. 
But there's good news for Fifth Third. "On the issue of commercial and CRE loan competition from nonbanks (i.e., debt funds, capital markets, and insurance companies), management is not seeing the nonbanks get incrementally aggressive in 2018 vs. prior years," Morgan Stanley analysts wrote in a note to clients Thursday. This could prove to be a competitive advantage for Fifth Third.
The bank's apparent resistance to nonbank lending "stands in stark contrast to what we have heard from its peers," the Morgan Stanley analysts said. "A number of FITB's peers have attributed slowing loan growth to nonbank competition," the analysts wrote. 
As for Fifth Third's loan-growth situation, analysts said they are raising their EPS expectations on stronger 2019 non-deal related loan growth. The bank raised its 2019 guidance on loan growth to a 3.5% year-over-year rate. Morgan Stanley raised its earnings-per-share estimates by 1.5% to $2.77. Meanwhile, the stock was down 2.09% to $25.54 a share Thursday afternoon. 
Many have been awaiting the breakout of U.S. bank stocks, but the group has performed overwhelmingly poorly this year, with the SPDR S&P Regional Banking ETF (KRE)  down 12.63% this year. Goldman Sachs Group Inc. (GS) is down 28.87% this year. Citigroup Inc. (C) is down 21.11% this year. 
And while Fifth Third seems comparatively well positioned for 2019, stocks in the entire sector may not really get going until the yield curve steepens out, JJ Kinahan, chief market strategist for TD Ameritrade told TheStreet. 
GS and C are holdings in Jim Cramer's Action Alerts PLUS member club. Want to be alerted before Jim Cramer buys or sells those? Learn more now.