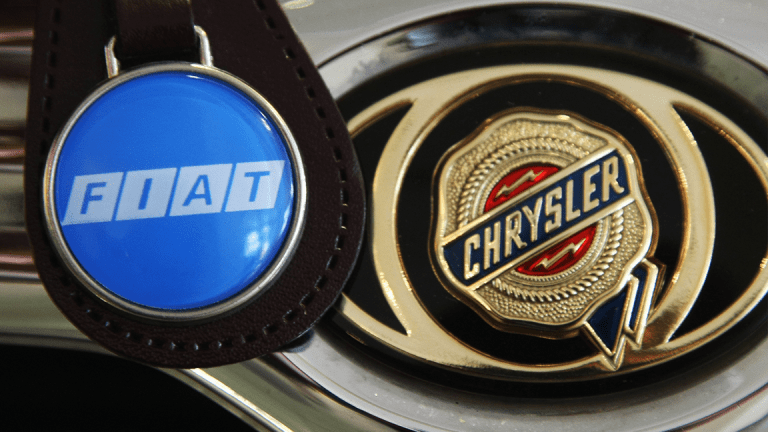 Fiat Slides After CEO Sergio Marchionne Leaves Automaker Amid Failing Health
Sergio Marchionne, who has led Fiat Chrysler since the U.S. division emerged from bankruptcy in 2009, has stepped down from his role as group CEO after falling seriously ill over the weekend following undisclosed complications linked to a previous surgery.
The transition begins, quicker than most thought.
Fiat Chrysler Automobiles NV (FCAU) - Get Stellantis N.V. Report shares were indicated sharply lower in pre-market trading Monday after long time CEO Seriog Marchionne was forced to step down over the weekend following serious medical complications that may have been linked to previous shoulder surgery.
Marchionne, who had planned to leave the group next year, was admitted to hospital in Switzerland following the undisclosed complications, and remains in serious condition Monday. Fiat Chrysler, which announced Marchionne's failing health on Saturday, has named the head of its JEEP division, Michael Manley, to succeed Marchionne as CEO of the world's eighth-largest automaker with a 236,000-strong workforce.
"The Board of Directors of FCA, meeting today, firstly expressed its closeness to Sergio Marchionne and his family and underlined the extraordinary contribution, both human and professional, that he has made to the Company in these years," the company said in a statement. "The Board resolved to accelerate the CEO transition process that has been proceeding over the past months and named Mike Manley as CEO. The Board will therefore propose to the next Shareholder Meeting, to be called in the coming days, that he be elected to the Board and serve as an executive director of the Company."
Fiat shares were marked 2.8% lower by mid-day in Amsterdam and changing hands at €15.96 each by mid-afternoon in Amsterdam while the stock's U.S. listing fell 3% at the opening bell to $18.74 each, a move that takes it into negative territory for the year.
Ferrari NV (RACE) - Get Ferrari N.V. Report , which was spun off of Fiat in 2016 and is still 24% owned by Fiat's founding Agnelli Family, was marked 5.4% lower in Milan and changing hands at €113.35 each.
Agnelli family member John Elkann will replace the sixty-six year old Marchionne as Ferrari chairman, the company said, while currency board member Louis Camilleri will serve as CEO.
"It is with great sadness that I have to tell you that our CEO Sergio Marchionne, who recently underwent surgery, unfortunately experienced complications that have worsened in recent hours and will prevent his return to FCA, Elkann said in a statement.
Marchionne who assumed the role of Fiat Chrysler CEO when the U.S. division emerged from Chapter 11 bankruptcy in 2009, has been widely credited with steering the group into profitability thanks to shift towards larger vehicles in the U.S. market and a focus on group cost cuts.
However, investors balked at the $52 billion in costs associated with Marchionne's new five-year business strategy,  detailed last month, that included boosts to JEEP, Alfa Romeo and Maserati brand production over the next five years that, along with RAM truck and commercial fleet sales, will comprise around 80% of group revenues.
The $10 billion billion costs associated with a long-term effort to invest in electric and hybrid cars, however, as well as plans to create a captive financing unit in the United States, has some investors concerned that the offsetting $11.7 billion in savings and cost-cuts might not materialise as quickly under a new group CEO.
Marchionne said at the time that Fiat will earn between $15.2 billion and $18.8 billion in 2022, when the new five year plan expires, a figure that's more than double the $7.7 billion the company earned in 2017.
The charismatic CEO also targeted a profit margin of between 9% and 11%, up from the current 6.3%, and said he wants to see a dividend payout ratio of 20% once the company gets its investment grade credit rating back after meeting a milestone of eliminating its debt pile by the end of the second quarter.