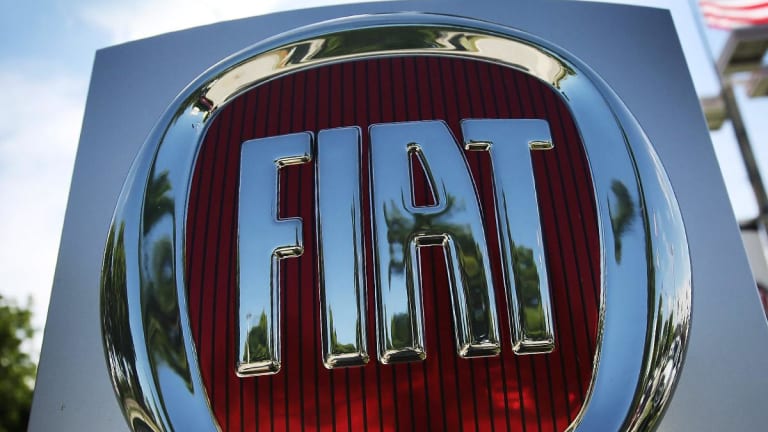 Fiat Chrysler Recalls Over 320,000 Cars
Potential defect could cause automatic Dodge Dart sedans from 2013 to 2016 to roll.
Fiat Chrysler Automobiles  (FCAU) - Get Fiat Chrysler Automobiles N.V. Report  said Friday it's recalling more than a quarter million vehicles in the U.S. and thousands more in Canada, Mexico and elsewhere for repair because of a potential shifting defect that could cause cars to roll away.
The recall applies to 2013-2016 Dodge Dart sedans with automatic transmissions. Fiat Chrysler Automobiles is recalling the estimated 298,439 cars in the U.S. to replace the vehicles' shift-cable bushings.

"An FCA US investigation discovered certain cars are equipped with a cable bushing that may degrade after prolonged exposure to high ambient heat and humidity. Should degradation occur, it may prohibit the driver from shifting gears," said the company in a statement. 
Fiat Chrysler, however, said it's unaware of anyinjuries or accidents caused by the problem, but that the degraded cable brushing could raise the risk of "unintended vehicle movement."
The company is asking anyone with the affected vehicles to shut off the engine and engage the parking brake when stopped.
The recall also applies to around 20,000 vehicles in Canada, 3,389 in Mexico and other markets.
Shares of Fiat Chrysler closed down 1% on Thursday to $16.48, and were slightly up, by about .40%, in after-hours trading. 
Recall information can be obtained by calling 800-853-1403.
This story has been updated. A headline earlier rounded up too high the total number of recalls.