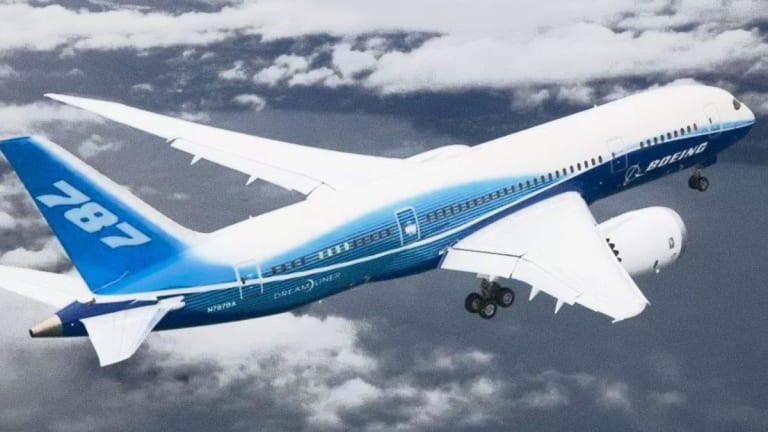 Feds Now Investigating Boeing's 787 Dreamliner as well as 737 MAX: Report
Report says officials have subpoenaed records from Boeing relating to Dreamliner production.
Just a day after the FAA said it found yet another issue with Boeing's 737 MAX software, federal prosecutors reportedly have subpoenaed records from Boeing relating to the production of the 787 Dreamliner in South Carolina, a published report said Friday.
According to a story in the Seattle Times Friday afternoon citing sources familiar with the investigation, the subpoena was issued by the Department of Justice and relates to what the paper called "allegations of shoddy work" at the Dreamliner production plant in North Charleston, S.C.
Representatives from Boeing could not be reached for comment late Friday. The Seattle Times report said officials at both the DOJ and at Boeing declined to comment.
It is unknown if the reported investigation into the 787 Dreamliner is connected to the probe of the 737 Max. The Boeing 787 is a long-haul, mid-size wide-body, twin-engine jet airliner that carries 242 to 335 passengers and has been in use since about 2011.
Federal prosecutors have been investigating the development and production of 737 MAX, after two deadly crashes led to the grounding of the aircraft.
On Thursday, the FAA said it found a "potential risk" in Boeing's MCAS software, reportedly during simulator tests last week, that will require additional fixes for the 737 MAX from the planemaker and delay its official testing date until at least July 8, according to a Reuters report. Bloomberg reported later in the session that the fix may take until at least September, noting that U.S. government test pilots discovered the glitch as the system became overloaded with flight data.
The FAA also said the testing and procedures were following a process, not a prescribed timeline, for the 737 MAX's recertification, while the International Air Transport Association called for additional training requirements for crews flying the 737 MAX.
Boeing shares closed regular trade Friday unchanged at $364.01.
Save 57% with TheStreet's July 4th Sale. Join Jim Cramer's Action Alerts PLUS investment club to become a smarter investor. Click here to sign up.