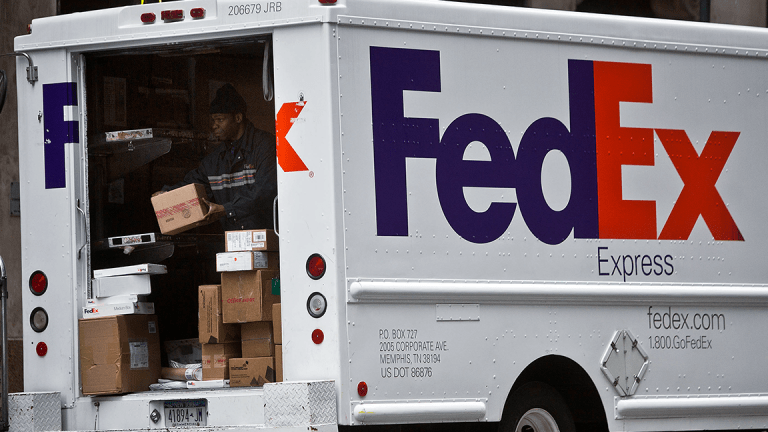 FedEx Boosts U.S. Deliveries to Six Days a Week as E-Commerce Grows
The package delivery company will add a sixth day to its ground operations.
The package delivery company will add a sixth day to its ground operations.
FedEx is ramping up its capabilities as the holiday season approaches. 
FedEx Corp. (FDX) - Get Report rose on Wednesday, Sept. 12, after announcing that the package delivery company will expand its U.S. ground operations to six days per week year-round in response to growing e-commerce demand and record influx of volume expected during this holiday season.
The Memphis, Tenn.-based company will add Monday service on a permanent basis in January, a company spokesperson told TheStreet.
Presently, the company's home delivery schedule is Tuesday through Saturday, and only adds six-day and even seven-day delivery schedules during peak holiday season, which typically starts on Black Friday in November -- although some retailers have expanded Black Friday shopping deals to Thanksgiving Day.
FedEx expects a record amount of volume this holiday season. The company will increase hours for some existing employees and plans to hire 55,000 temporary employees to help meet demand.
"The rise in demand for e-commerce goes beyond peak," Raj Subramaniam, FedEx's chief marketing and communications officer, said in a statement. "It's a year-round phenomenon and we are ready to meet that demand. FedEx Ground has operated six- and seven-day operations during the holidays for several years as e-commerce has grown, and thanks to strategic investments in our network, we are now well-positioned to operate six days a week in the U.S. all year to best serve the rapidly growing demand."
The rise in demand and volume has been growing over the last decade. Ten years ago, the record volume day was 12 million shipments; today, FedEx handles more than 14 million shipments on an average day.
FedEx, however, anticipated that the growth of e-commerce would increase demand, and the company invested in new technology and new facilities, Subramaniam said. In the past five years, FedEx Ground has opened nine new hubs and 58 automated stations.
"These significant facility and automation investments have been taking place for many years but are now largely complete," said Subramaniam. "This expanded capacity and increased efficiency will create margin and profitability benefits at the same time that FedEx Ground capital investment will be decreasing."
Shares of FedEx rose 1.5% to $253.06 at 10:10 a.m. New York time.
Meanwhile, rival United Parcel Service Inc. (UPS) - Get Report is preparing to unveil its transformation plan on Thursday in New York City. The company aims to create greater efficiency throughout its back office and administrative areas and generate savings through global procurement, which includes streamlining internal systems and processes as well as better aligning resources to new and emerging growth opportunities.
"UPS has broadly outlined direct cost initiatives (procurement and labor) and new business opportunities (Ware2Go) which will likely be further defined at the conference," Goldman Sachs analyst Matt Reustle wrote in a Sept. 10 research note.
UPS shares climbed 0.6% to $123.77.
-- This story has been updated to reflect FedEx's confirmation that Monday home deliveries will begin in January.