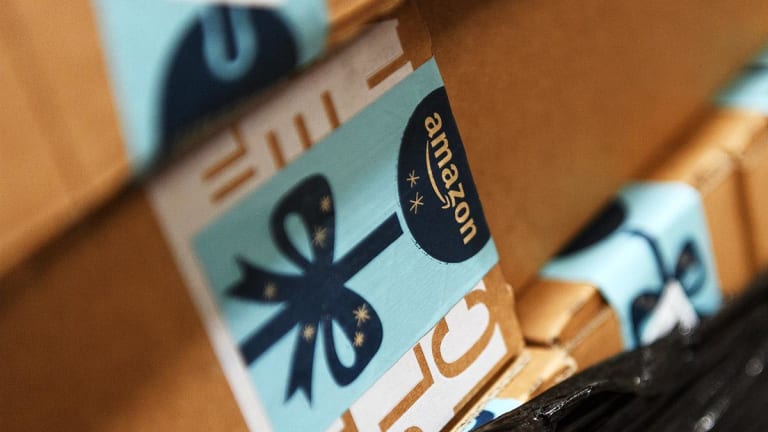 Federal Reserve, Shoppers Might Have Amazon to Thank for Low U.S. Inflation Rate
The U.S. unemployment rate is at 3.6%, its lowest since December 1969, but a scarcity of workers hasn't translated to a surge in consumer prices. But a top Federal Reserve official in Dallas suggests that the slow pace of increases might be due to rising competition from online businesses, not to mention the extra transparency on pricing.
Stubbornly low U.S. inflation readings over the past decade have confounded economists from Wall Street to the Federal Reserve.
Explanations have ranged from the trillions of dollars of freshly printed money pumped into the global financial system after the 2008 financial crisis to short-term price wars that sometimes occur in isolated marketplaces and should ostensibly soon dissipate.  
But on Wednesday, a Fed top official floated a novel theory: Maybe it's the internet.
Rob Kaplan, president of the Federal Reserve Bank of Dallas, said that the internet may bring consumers so much transparency -- on the cost of flights, sweaters, mutual funds or even a bocce-ball set -- that businesses have to perpetually match or even discount prices to win sales.
"It may be that business pricing pressure has been fundamentally reduced as a result of technology," Kaplan told a conference at the regional central bank's headquarters in Dallas. 
Consumer prices have risen over the past decade, on average, by about 1.5% per year, below the Fed's target of 2%. Officials at the central bank said that a small amount of inflation is healthy for the economy because it prevents a vicious cycle of price deflation. 
The unusually low inflation rate is especially confusing given the current economic scenario: President Donald Trump's late-2017 tax cuts have stimulated U.S. economic growth and pushed the nation's unemployment rate to a half-century low of 3.6%.
Typically that brew would produce fast inflation, since businesses would theoretically have to pay higher wages to attract workers and then raise prices to recoup the extra labor costs. 
But that's not happening, and there's little prospect of that happening in the near term. 
James Bullard, president of the Federal Reserve Bank of St. Louis, said separately on Wednesday in a speech in Hong Kong that U.S. inflation is again likely to undershoot the Fed's 2% target in 2019 "following seven years of inflation mostly below target." 
"My baseline case here is leaning toward another low-side miss," Bullard said.
Such a scenario would be good for consumers, of course, because their dollars go further. But it also means the Fed may be able to keep benchmark U.S. interest rates in their current, historically low range between 2.25% and 2.5% -- allowing businesses and households alike to enjoy low payments on loans and credit cards. 
Federal Reserve Chair Jerome Powell told reporters at a press conference earlier this month that technology might be advancing so rapidly that workers have become more productive, allowing each employee to generate more value per hour for their employers, in turn leaving them room to increase wages and still keep profits up -- without raising the end prices charged to consumers.
But the internet has also led to vicious price competition that helped online retailers like Amazon.com (AMZN) thrive at the expense of now-bankrupt store chains like Sears.
"It's driven to some extent by technological developments and really the diffusion of technology through the economy," Powell said.
In the financial industry, investors have benefited from lower costs for trading and investing in stocks, thanks to the innovation of exchange-traded funds that promise cut-rate fees and, increasingly, zero commissions from the likes of Vanguard and TD Ameritrade (AMTD) . 
Craig Boyan, president of the San Antonio-based grocery chain H.E. Butt, known as HEB, said at the Dallas Fed conference that his company has added new shopping "channels" to avoid losing sales. Those include curbside pickup as well as delivery -- all, of course, facilitated by web-based orders.
"There's no question that the amount of competition is going up, and therefore margins have to go down," Boyan said. 
Richard Baraniuk, an electrical- and computer-engineering professor at Rice University, said he has worked on a project to make textbooks widely available on the internet -- for free.
"Any market that we are in, the publishers have had to lower their price," Baraniuk said. 
Considering that the textbooks are available on the World Wide Web, that's a lot of markets. 
Amazon is a holding in Jim Cramer's Action Alerts PLUS member club. Want to be alerted before Jim Cramer buys or sells AMZN? Learn more now.