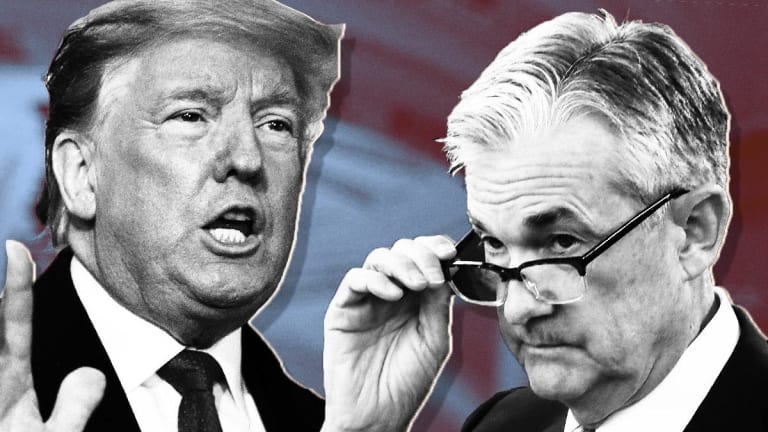 Federal Reserve Nears Key Decision on U.S. Economy as Trump Alleges Incompetence
A lot of monetary policy is guesswork, but it's become even harder in the modern era, where key data sets look inconsistent under traditional economics. The Federal Reserve is poised to cut interest rates this week to stimulate a slowing U.S. economy. President Donald Trump has called for such a move but says the central bank is incompetent.
President Donald Trump isn't alone when he says the Federal Reserve doesn't know what it's doing: A growing number of economists and investors agree.
But even they can't agree on what the central bank should do.
Fed Chairman Jerome Powell and other central bank officials are meeting Tuesday and Wednesday in Washington, and the event is shaping up as the most momentous -- and contentious -- monetary-policy decision thus far during Trump's two-and-a-half-year-old presidency.  
Pricing in Chicago futures markets reflect a near-certainty among traders that the central bank will use the opportunity to cut interest rates for the first time since the financial crisis of 2008.
Yet there's little consensus among economists on the likely size of the reduction, or even whether the Fed should cut rates at all. 
"What they should do is probably nothing," Rich Sega, global chief investment strategist at the $145 billion money manager Conning, said in a phone interview. "But I don't think they'll do nothing."
In a series of tweets over the past month, Trump has declared the 2019 economy to be the "greatest" in U.S. history. Even so, he's repeatedly called for the "incompetent" Fed to slash official U.S. interest rates -- a step typically only taken when growth is faltering.
Some economists explain the juxtaposition by asserting that the president just wants the central bank to juice growth ahead of next year's presidential elections -- by making it cheaper and easier for businesses and households to take on more debt. But under U.S. law, the Fed is supposed to be free from White House directives. 
Powell, whom Trump appointed to the post in early 2018, has insisted repeatedly that Fed officials are data-driven in their analysis, and immune from political pressure. But they've acknowledged the struggle to reconcile economic data that seem to conflict based on traditional criteria. 
The national debt, already at a lofty $22 trillion, is growing by nearly $1 trillion a year under swollen federal budget deficits, yet yields on 10-year U.S. Treasury are trading at historically low levels around 2% -- hardly a sign of investor distress. And while unemployment is close to a half-century low, inflation has been tame, mostly staying below the Fed's target of 2%; usually, these data move in opposite directions. 
And the U.S. economy has now been growing for a record 10 years, which alone has sparked anxiety among some investors and business executives.
"We are now in deeply unconventional times," Karen Petrou, managing partner at the Washington-based advisory firm Federal Financial Analytics, wrote last week in a report to clients. 
The likeliest scenario for Wednesday's decision, based on the futures market, is for a rate cut of 0.25 percentage point, from the current range between 2.25% and 2.5%. But there's a possibility the Fed could go further, with a deeper cut of 0.5 percentage point. 
The theory is that a Fed cut now would work like "insurance" -- a decisive act to keep growth on track before a recession has a chance to develop.
Trump tweeted last month the U.S. could be seeing 4% growth if the Fed had just cut interest rates sooner and not acted "like a stubborn child." Instead, the economy is projected to expand by just 2.5%, down from 2.9% last year.
It would still be a respectable growth rate by the standards of recent decades, but it falls short of the 3% long-term rate that Trump pledged to achieve in 2017, when he was campaigning for his $1.5 trillion of tax cuts. 
Scott Anderson, the San Francisco-based chief economist at Bank of the West, a unit of the giant French bank BNP Paribas (BNPQY) , wrote last week that an apparent second-quarter slowdown in U.S. growth makes it clear the tax law was "a complete dud in boosting our long-term economic growth rate."    
"Trump would be quite happy to see rates go much lower, as he needs an economy in strong growth mode to win reelection in 2020," Scott MacDonald, chief economist at Smith's Research and Gradings, wrote on Monday in a report.
On Monday, Trump tweeted that a "small rate cut is not enough, but we will win anyway." 
A lot of economists don't see the need for a rate cut, especially with U.S. stocks recently charting new record highs and unemployment at 3.7% -- close to the lowest since the late 1960s.
It goes without saying that the current environment looks nothing like the last time the Fed cut rates in 2008 as mortgages were defaulting en masse, the global financial industry was on the brink of collapse, and unemployment was surging to about 10%.
Economists at Bank of America (BAC) , the second-biggest U.S. lender, predicted in early July that the Fed wouldn't cut rates this month; the economy was healthy enough that the justification just wasn't there, they reasoned.
But they backtracked the following week, after Powell said in a speech that Trump's trade war with China and a slowdown in foreign economic growth had created unfavorable "uncertainties." According to the economists, Powell appeared to be hinting he had already made up his mind to push forward with a cut.
This week, the bank's economists wrote that Powell might face dissent at this week's meeting from members of his own monetary-policy committee: those who believe interest rates should remain at their current level.
Sarah Bloom Raskin, a monetary-policy expert who served alongside Powell as a Fed board member in the early 2010s, wrote Monday in e-mailed comments that the case for a rate cut is so confusing that people might start drawing their own conclusions. 
"If Americans don't understand exactly what is happening and why, they may think that Chair Powell is caving in to presidential bullying," she wrote.
Peter Schiff, a gold and silver investor at Euro Pacific Capital, said additional rate cuts will just encourage further government borrowing, eventually imperiling investor confidence in U.S. Treasury bonds. At that point the central bank probably would have to print trillions of dollars to sop up the government's extra debt sales, spurring inflation.  
"More rate cuts now will just make the problem worse," Schiff told TheStreet in a phone interview. 
The extreme range of views might be a symptom of just how bizarre the economic data have looked in the years since the 2008 financial crisis -- they've been tough for policymakers to read, and next-to-impossible to square.  
Michael Reynolds, investment strategy officer at the $40 billion money manager Glenmede in Philadelphia, said in an interview that "people are a little worried at this stage of the economic cycle."
"It's almost become a sort of, tick-tock, tick-tock," he said. 
But he doesn't see how a rate cut now could hurt -- especially with inflation currently posing little visible threat.  
"They don't have to do this, but it's a good environment to take advantage of," Reynolds said. 
In an economic environment so different from those of prior eras, it might be hard to argue otherwise. 
Save 76% with our Summer Break Sale. Subscribe to our premium site Real Money and become a smarter investor! Click here today to sign up!