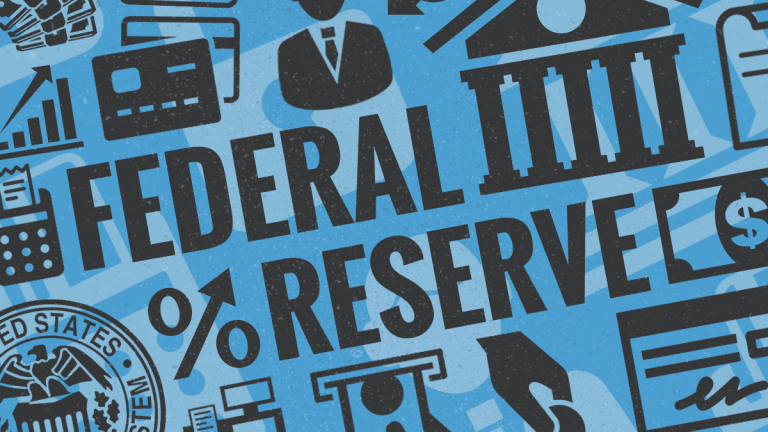 Federal Reserve Minutes Show 'Significantly Increased' Economic Concerns in June
FOMC found deepening economic issues when it met June 18-19, according to minutes released the same day Fed Chairman Jerome Powell signaled dovishness during congressional testimony.
Federal Reserve officials perceived economic risks as having "increased significantly" at their latest interest-rate meeting in June even as they voted nearly unanimously to keep benchmark U.S. interest rates at their current low level but not cut further, minutes released Wednesday showed.
"Many participants noted that they viewed the risks to their growth and inflation projections, such as those emanating from greater uncertainty about trade, as shifting notably over recent weeks and that risks were now weighted to the downside," according to minutes from the Federal Open Market Committee's June 18-19 meeting.
The FOMC voted 9-1 at the two-day session to leave its key Federal Funds rate unchanged at a 2.25%-to-2.5% range despite growing calls to lower the rate in a bid to goose U.S. economic growth and prevent a recession. St. Louis Fed President James Bullard dissented, calling for a rate cut instead.
The release of the minutes came amid intense investor speculation over whether Federal Reserve members will cut official interest rates at their next monetary-policy meeting, scheduled for July 30-31.
The June meeting marked the first time since Chairman Jerome Powell took over as the central bank's chief in early 2018 that he has faced a dissent from a member of the Fed's monetary-policy committee, which he leads. Bullard said after the meeting that he voted against the majority decision because he favored a rate cut as "insurance" against the risk of a steep economic downturn.
"The idea of 'insurance' rate cuts may be a difficult proposition for some policy makers to grasp, but markets are signaling that a decline in policy rates is required in order to sustain the current economic expansion," Charlie Ripley, senior investment strategist for the money manager Allianz Investment Management, said in e-mailed comments. 
Investors peruse the FOMC's closely edited minutes -- which come out a few weeks after the committee meets -- to get a better sense of the rationale for interest-rate decisions that the group announces in the press release immediately following its session. Transcripts revealing the FOMC's full discussions aren't released until years later.
However, some traders might have seen the minutes as less dovish than expected. The Standard & Poor's 500 Index retreated to about 2,991 in New York trading as of 2:43 p.m. on Wednesday, down from 2,996 just prior to the 2 p.m. ET release. However, the gauge was still up 0.4% on the day after investors paid close attention to what Powell said earlier Wednesday during his semiannual appearance before the U.S. House of Representatives.
The Fed chief said the U.S. economy looks "solid," but that he sees risks from an apparent slowdown in the global economy and an inflation rate that has stayed stubbornly below the central bank's 2% target.  The remarks were seen by investors as an indication that the central bank is leaning toward cutting official U.S. interest rates at a meeting later this month, in what would be the first such reduction since the financial crisis and ensuing recession of 2008-2009.
Powell also cited the ongoing threat of an escalation of President Donald Trump's trade dispute with China, despite a recent truce between the nations that forestalls the imposition of further tariffs. 
"The bottom line for me is that the uncertainties for global trade continue to weigh on the outlook," Powell said under questioning, while "inflation continues to be muted." 
The Fed chair's comments came at a time of intense speculation among traders and economists over whether the central bank will move later this month to cut interest rates from their current range of 2.25% to 2.5%.