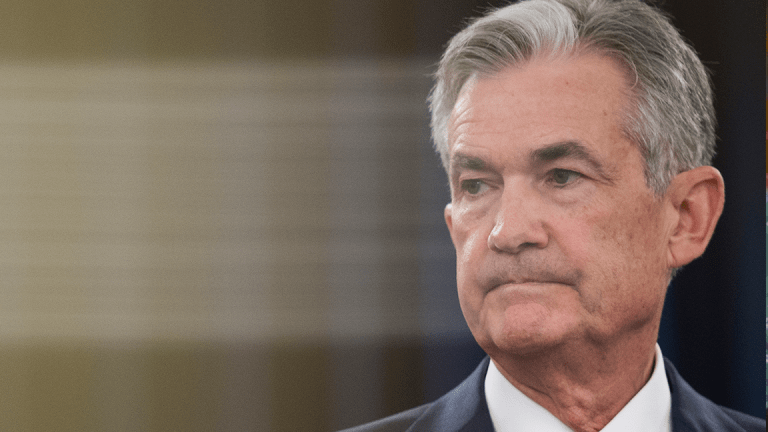 Federal Reserve Signals Easier Path on Monetary Policy as Economy Slows
The Federal Reserve, led by Chairman Jerome Powell, said it will hold interest rates steady in their current range from 2.25% to 2.5%, while waiting for signs that the economy is stabilizing.
The Federal Reserve said Wednesday it would hold official U.S. interest rates at their current level pending signs that the economy can stabilize as the stimulus fades from President Donald Trump's late-2017 tax cuts. 
The Fed will keep its target for short-term interest rates in their current range of 2.25% to 2.5%, according to a communique the Federal Open Market Committee issued following its latest interest-rate meeting.
The decision had been widely anticipated after central-bank officials led by Chairman Jerome Powell signaled in January they would pause their three-year campaign to tighten monetary policy as the U.S. economy slows.
But in a sign of the Fed's heightened fears of risks to the economy, the central bank announced measures to reduce potential obstacles to growth, including an ongoing campaign to shrink its $4 trillion balance sheet.
The Fed also released a chart showing that top officials cut their average forecast for further interest-rate increases this year to zero after estimating in January that at least two hikes would be needed.  
Stocks reacted positively to the announcement, with the Dow Jones Industrials index moving from a 150-point loss earlier in the day to a slight gain before sliding back down 76 points near the close.
In a press conference after the decision was announced, Powell said that officials see a "modest slowdown with overall conditions remaining favorable." 
"The labor market remains strong, [but] growth of economic activity has slowed from its solid rate in the fourth quarter," the Fed's monetary-policy committee said in its communique.
Powell said the Fed's balance sheet would end up around $3.5 trillion, well above the sub-$1 trillion level prior to the financial crisis of 2008. 
Yields on 10-year U.S. Treasury bonds slipped to about 2.5%, from about 2.6% prior to the 2 p.m. ET announcement, as traders priced in the likelihood that interest rates might be lower in the future than previously expected.
The Standard & Poor's 500 Index of large U.S. stocks was up 0.1% in New York trading to 2,836. 
Since 2017, the central bank has been partially liquidating its massive holdings of Treasury bonds and mortgage-backed securities, accumulated following the 2008 crisis as former Fed Chairman Ben Bernanke sought to flood markets with new money to help revive financial markets and economic growth. 
Under a new plan announced Wednesday, the Fed will reduce its cap on monthly reductions of Treasury bonds to $15 billion starting in May, from the current cap of $30 billion. The Treasury reductions will come to an end in September. 
And starting in October, the Fed will allow up to $20 billion of mortgage-backed securities to mature, but those proceeds will now be reinvested in Treasuries instead of new mortgage bonds. 
"This is an economy that does not need a further tightening of monetary policy," said Ed Al-Hussainy, senior interest rate and currency analyst at Columbia Threadneedle Investments, a $431 billion money manager. 
The U.S. unemployment rate, currently at 3.8%, is close to its lowest level in a half century. Often, when workers are scarce, businesses have to pay higher wages, and in turn they try to pass along those costs -- in the form of higher consumer prices.
But Powell noted that Fed officials see core inflation readings remaining close to the central bank's 2% over the next three years, allowing for patience while waiting for further indicators of the economy's trajectory.
In essence, officials are signaling they can afford to keep interest rates at a relatively low level without worrying about a rapid spike in consumer prices.
"That gives us the ability to be patient and not move until we see that our target goals are being achieved," Powell said at the press conference. "We don't see data coming in that suggests we should move in either direction." 
Read what Real Money's Jim "Rev Shark" has to say about how the stock market usually reacts to Fed announcements here.
How Much Money Will I Need to Retire?
Want to learn about retirement planning from some of the nation's top experts? Join TheStreet's Robert "Mr. Retirement" Powell live in New York on April 6 for our Retirement Strategies Symposium. For a limited time, tickets are available for $99 for this full-day event. Check out the agenda, learn about the speakers and sign up here.