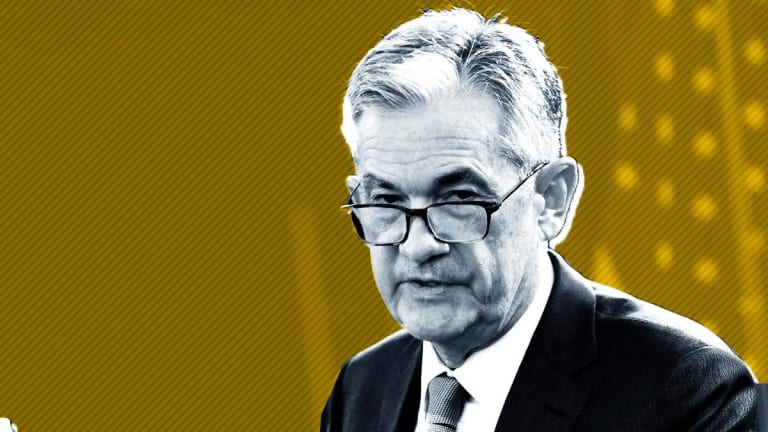 Federal Reserve Holds U.S. Interest Rates Steady, Sees 'Sustained Expansion'
The Federal Reserve, led by Chair Jerome Powell, voted Wednesday after a two-day meeting in Washington to hold official U.S. interest rates steady in their current range of 2.25% to 2.5%.
Federal Reserve officials on Wednesday voted to hold official U.S. interest rates at their current level, pledging to be "patient" while awaiting clearer signs on the future direction of the job market and inflation.
The Fed's key rate will remain in a range of 2.25% to 2.5%, according to a statement from the Fed's monetary-policy committee, led by Chair Jerome Powell. The move was widely expected by traders. 
Just months ago, Wall Street traders were gripped by fears that a steep slowdown was coming in household and business spending, with one survey showing that at least half of economists saw a recession as likely by next year. But recent data have shown the economy expanding at a faster-than-expected 3.2% pace, with unemployment close to its lowest in a half century.
"Risks have moderated somewhat," Powell said during a nationally televised press briefing after the statement was released.
And a report last week showed that there was literally zero increase last month in consumer prices (excluding volatile food and energy items), an indication that the Fed has no immediate need to increase borrowing costs -- typically the method used by the central bank to cool economic activity and thus to keep inflation in check.
Over the past year, consumer prices have climbed just 1.6%, well below the Fed's 2% target. 
"The committee continues to view sustained expansion of economic activity, strong labor market conditions and inflation near the committee's symmetric 2% objective as the most likely outcomes," the statement read. "In light of global economic and financial developments and muted inflation pressures, the committee will be patient as it determines what future adjustments to the target range for the federal funds rate may be appropriate."
Stocks were volatile after the announcement. The news briefly sent stocks higher. The Dow Jones Industrial Average rose some 40 points from 26,622.70 just prior to the Fed's 2 p.m. announcement to 26,649.93 five minutes later. As Powell commented during a press conference following the decision, stock indexes lost ground.  In recent action, the Dow was down 30 points, or 0.11% to 26,563.  The S&P 500 was also modestly lower.
(This is a developing story, Check back for updates.)