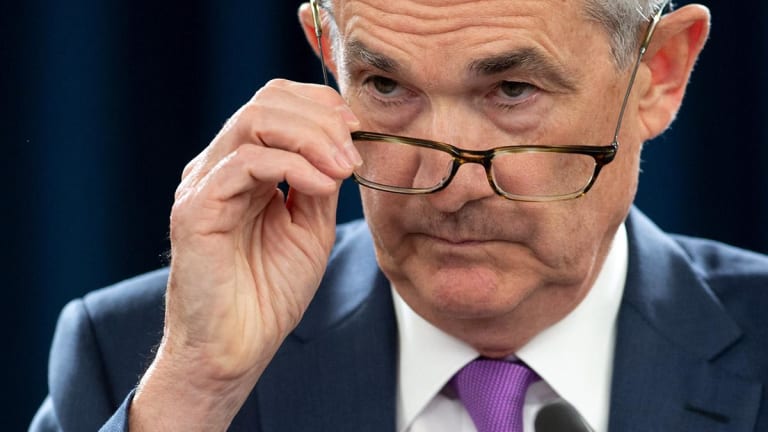 Fed's Powell Embraces Reality of 'Untried' Monetary Policies in New Era
Federal Reserve Chairman Jerome Powell told economists that none of the central bank's efforts to 'normalize' monetary policy over a decade after the 2008 financial crisis had been previously tested.
Please be patient with the Federal Reserve officials who are trying to guide the future of the U.S. economy: They're making it up as they go along.
That was a key takeaway from a speech late Friday by Federal Reserve Chairman Jerome Powell at an economic conference in California.
"There is no real precedent for the balance-sheet normalization process, and we have adapted our approach along the way," Powell said.
In the wake of the 2008 financial crisis, the U.S. central bank took unprecedented steps to shore up an economy in tatters and a banking system on the verge of collapse. Those steps included purchasing some $3.7 trillion of U.S. Treasuries and mortgage-backed bonds, to push down long-term interest rates; the strategy was devised and implemented under Powell's predecessors, former chairs Ben Bernanke and Janet Yellen; nothing like it had ever been done. 
The Fed has now started shrinking its roughly $4 trillion balance sheet, part of a process described as the "normalization" of monetary policy. But those efforts, too, are untested, and the stock market's swoon in late December pushed officials to reconsider a return-to-normal plan they had implemented just one year prior.
Powell's speech was notable partly because it's expected to be among the last public comments by Fed officials prior to the next monetary-policy meeting, scheduled for March 19-20, though he is slated to appear on CBS's "60 Minutes" program this weekend.
In an acknowledgment of how dramatically conditions have changed since the financial crisis, the 105-year-old central bank recently began a year-long review of longstanding monetary policies and its ever-evolving communication strategy.
The effort includes a series of town-hall-style events -- dubbed "Fed Listens" sessions -- held around the country.
The review "may or may not produce major changes," Powell said in California.
"We live in a time of intense scrutiny and declining trust in public institutions around the world," Powell added. "We are committed to working hard to build and sustain the public's trust."
Indeed, the scrutiny of the Fed is particularly intense, since big Wall Street economists have few historical precedents to evaluate their effectiveness. 
Even President Donald Trump has put pressure on the Fed by routinely criticizing Powell -- his own appointee to the post -- for raising interest rates too quickly and snuffing out the economic stimulus from the tax cuts. 
Fed officials say they haven't even determined how big the central bank's balance sheet should be once the normalization process is complete.
According to Powell, total assets held by the central bank now represent about a quarter of gross domestic product, up from 6% in 2006, before the financial crisis hit.
"We will adjust the details of our normalization plans if economic and financial conditions warrant," Powell said. "We expect to announce further details of this plan reasonably soon."
New regulations established the wake of the crisis require banks to keep more cash and other readily-accessible liquidity on hand -- to reduce the likelihood of a debilitating run on deposits.
Many of those banks have chosen to simply deposit the extra cash at the Fed, which is currently paying an attractive interest rate on the savings of 2.4%.
"Because of both new liquidity regulations and improved management, banks now hold much higher levels of high-quality liquid assets than before the crisis," Powell said in the speech. 
Powell also addressed the growing debate about whether the Federal Reserve would let the economy run hot for a while -- by keeping interest rates low -- even if the U.S. inflation rate rose above the central bank's target of 2%. In monetary-policy jargon, it's known as a "makeup strategy." 
Such strategies "deserve serious attention," Powell said. "They are largely untried, however, and we have reason to question how they would perform in practice."