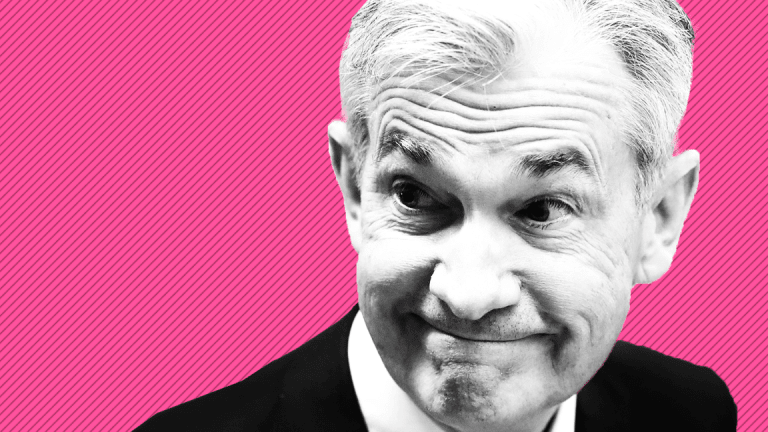 Fed Holds Rates Steady; Powell Says 'We Are Prepared to Move'
The Fed's monetary-policy committee voted to keep the benchmark U.S. interest rate at 2.25% to 2.5%, but warned of risks to the U.S. economy and dropped a pledge to remain 'patient' on future rate cuts.
Federal Reserve officials on Wednesday voted to hold the benchmark Federal Funds rate at its current level while signaling that action might be needed soon amid signs of growing risks to the economy
"We are prepared to move and use our tools as needed to sustain the expansion," Fed Chairman Jerome Powell said during a televised press conference after the decision was announced.  He added that the case "has strengthened" for more "accommodative" monetary policy.
For now the Fed's key rate will remain in a range of 2.25% to 2.5%, according to the statement from the Fed's monetary-policy committee.
One member of the committee, James Bullard, president of the Federal Reserve Bank of New York, dissented from the decision, voting for a quarter point rate cut immediately, according to the statement.
The Fed's move was widely expected by traders, but the committee warned of "downside" risks to the current decade-old economic expansion -- one of the longest in U.S. history. And officials dropped a pledge in their closely followed post-meeting communique to be "patient" on monetary policy.
Traders had seen use of the word "patient" in previous Fed post-meeting communiques as indicating that the central bank wasn't planning any imminent changes to interest rates.  But in Wednesday's statement, the Fed's rate-setting Federal Open Market Committee wrote that the central bank "continues to view sustained expansion of economic activity, but uncertainties about this outlook have increased."
The statement acknowledged what many economists have been warning about for months: that the economy is slowing as business executives worry about the fallout from  President Donald Trump's trade war with China and as the impact fades from $1.5 trillion of tax cuts approved in late 2017. The Fed's official pronouncement also served as a reminder of how quickly the central bankers have changed their views on the economic outlook.
"We'd like to see if these risks continue to weigh on the outlook," Powell said during the press conference.
Economists expect growth in U.S. gross domestic product -- a broad measure of business and household activity -- to slow to 2.4% this year and 1.9% in 2020 compared with 2.9% in 2018, according to a survey by the data provider FactSet. And an increasing number of economists have warned that a recession could occur in the next few years.
According to FactSet, futures markets as of early Wednesday were implying 83% odds that the Fed's monetary-policy committee will cut interest rates by at least a quarter percentage point during its next meeting on July 30-31. And on Wednesday, the committee said in its statement that officials "will closely monitor the implications of incoming information for the economic outlook and will act as appropriate to sustain the expansion."
Still, Scott Kimball, a bond-fund manager at Bank of Montreal, thinks it's possible the Fed could keep rates at their current level for the rest of this year if the economy stabilizes and signs of higher inflation start to emerge. "What they really did with today's statement is that they've created more uncertainty about the future path, which gives them more options," Kimball said in a telephone interview. 
Tony Bedikian, head of global markets at Citizens Bank in Boston, added that the July meeting's outcome will turn on what signals come from economic data released between now and then.  
"The Fed has always said their rate moves are data-dependent and the data have been mixed," Bedikian said in e-mailed comments. "We'll have to see if the next month of data changes the picture."
(This is a developing story, Check back for updates.)