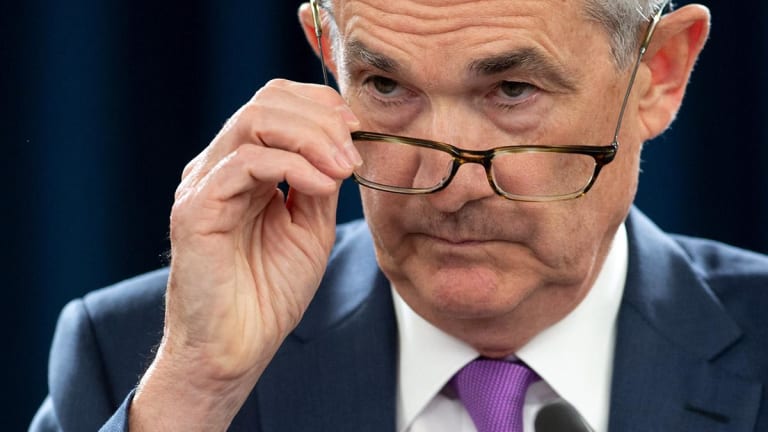 Fed Raises Interest Rates While Signaling Hiking Campaign May Slow
The Federal Reserve raised U.S. interest rates on Wednesday for the fourth time this year, but officials signaled that they might pause or halt the rate-hiking campaign early next year.
The Federal Reserve raised U.S. benchmark interest rates for the fourth time in 2018 in a bid to keep inflation in check, but officials signaled that they might slow the three-year-long rate-hiking campaign early next year amid signs of a looking economic slowdown.  
The central bank's monetary-policy committee, led by Chairman Jerome Powell, voted on Wednesday to raise the benchmark rate by 0.25 percentage point to a range between 2.25% and 2.5%. 
In a press release accompanying the decision, Fed officials said that "some further gradual" rate increases were needed, a slight softening of a pledge included in previous communications that "further gradual" hikes were warranted. The shift could be seen by traders as a sign that the Fed is turning more dovish, which means officials are more inclined to slow down rate increases, giving borrowers a break on their debt payments while accepting the risk that the economy might heat up, causing inflation to accelerate out of control.
Powell said at a press conference on Wednesday that "overall financial conditions have tightened," in that they had "become less supportive of growth."
"Financial market volatility has increased over the past couple of months," Powell said, adding: "These developments have not fundamentally altered the outlook."
U.S. stocks fell on the report, with the Dow Jones Industrial Average down about 250 points at 3:00 p.m. The yield on the 10-year Treasury note fell 2 basis points to 2.80%.
"They softened up the language a bit, but some participants probably viewed the statement and the outcome as not as dovish as they might have been expecting," said Charlie Ripley, senior strategist at the money manager Allianz Investment Management.
Watch below Jim Cramer: The Fed Was Wrong in 2007, the Fed Could Be Wrong Again
The median projection for the year-end 2019 Fed rate dropped to 2.9% from 3.1%, which means the median projection went down to two hikes from almost three hikes.
The Committee judges that risks to the economic outlook are roughly balanced, but will continue to monitor global economic and financial developments and assess their implications for the economic outlook.
"This still points to quite a bit of confidence at the Fed in the ability of the US economy to withstand a few more rate hikes," Brian Coulton, chief economist at Fitch Ratings, said in e-mailed remarks.
President Donald Trump has blamed Powell for raising rates too quickly, saying that the Fed's campaign is undermining the health of the U.S. economy. It's possible that the president is just seeking to deflect the blame away his own economic policies -- especially now that the stimulus is fading from his $1.5 trillion of tax cuts, which have caused the federal government's budget deficit to widen and contributed to the rapidly ballooning national debt. 
Asked at the press conference if Trump's criticism had played a role in the monetary-policy committee's deliberations, Powell said that "political considerations have played no role whatsoever in our discussions or decisions."
"We have the independence which is essential to do our jobs in a non-political way," the chairman said.
Although the Fed is supposed to set rates in a way that maximizes employment and keeps inflation in check, the central bank also monitors what's happening in global markets. That's because lower stock prices can affect business leaders' decision on whether to invest in new factories and equipment, while also hurting confidence among individual investors who have suffered declines in their stock portfolios and retirement accounts -- and by extension, their wealth.
The fear is that a bunker mentality develops, hampering economic activity and slowing growth. The Standard & Poor's 500 Index of large U.S. stocks has tumbled 12% in the past three months, even though the unemployment rate is at a half-century low of 3.7% and inflation isn't showing any signs of spiking.
The stock decline has been fueled by concerns that the president's trade battle with China could lead to a global slowdown, but also by speculation that the economy may not be strong enough to handle higher borrowing costs. Gross domestic product is forecast to slow in 2019 to 2.5%, from an estimated 2.9% this year, according to a FactSet survey of economists.