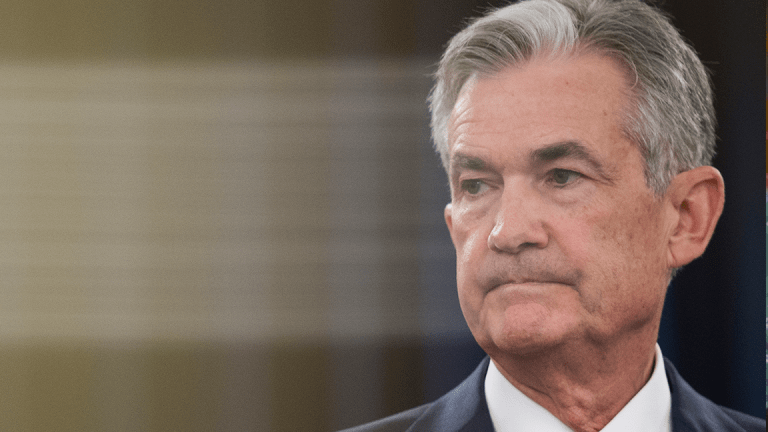 Fed Poised to Keep Rates on Hold, Awaiting Signs on Trump Economy
The Federal Reserve is expected to hold rates steady at a meeting this week, though many economists expect the central bank will raise borrowing costs at least twice more this year. Trump says he's "not happy" about Fed officials putting the brakes on his tax-cut-fueled growth.
Every Federal Reserve meeting these days is, in a way, a referendum on President Donald Trump.
While the Fed is expected to hold interest rates steady at a two-day meeting that concludes today, officials at the central bank led by Chairman Jerome Powell have a lot to talk about.
Whether Trump's tax cuts are driving businesses to invest in new plants and equipment. Whether Trump has provided a enough of a boost to consumer confidence to fuel more spending. Whether Trump's threatened trade war against China has the potential to disrupt the current economic expansion.
Powell and his colleagues have to sort through it all. According to analysts at Bank of America Corp. (BAC) - Get Report , there's a 95% chance that the Fed will raise rates by 0.25 percentage point at a meeting next month from the current range of 1.75% to 2%. Coming at a time when central banks in Europe and Japan have kept rates low, an increase would make U.S. assets more attractive, attracting foreign investment and thus strengthening the dollar - something Trump says he doesn't want.
There's also the issue of the Treasury yield curve, essentially the difference between rates on long-term and short-term U.S. government bonds. Economists watch the indicator because a so-called inverted slope - when short-term rates rise above the long-term rates -- often portends a looming recession. The gap between the yields on two-year and 10-year notes is currently just 0.3 percentage points - leaving little room for the Fed to maneuver.
"The main focus will likely be on the Committee's thinking around the importance of the slope of the yield curve and the Fed's estimate of the neutral rate," the Bank of America analysts wrote.
As with all things Trump, the answers aren't clear. At a press briefing last week, Trump said that the economy is growing at an "amazing rate," and that third-quarter growth will be "outstanding," though he added: "I won't go too strong, because then if it's not quite as good, you'll not let me forget it."
A report last week showed that the economy rose at an annualized 4.1% clip in the second quarter, doubling from the prior quarter's pace to the fastest in almost four years. The U.S. unemployment rate rose to 4% in June from 3.8% in May but remains close to an 18-year low. The stubbornly low inflation of recent years - a sign of a stagnant economy - has accelerated under Trump and is now close to the Fed's 2% target.
But, among economy watchers, there's substantial doubt over whether the current pace of growth is sustainable. A survey by data provider FactSet shows that most economists expect the pace of expansion to fall below 3% in second half of the year and slow further in 2019 and 2020. The theory is that Trump's tax cuts are providing only a temporary boost to growth - even as they've widened the federal deficit and ballooned the national debt past an already-high $20 trillion.
A report Tuesday from the Commerce Department's Bureau of Economic Analysis showed that personal-consumption spending rose by 0.4% in June, a slowdown from May's 0.5% pace and 0.6% in April. And analysts at the loan-offer website LendingTree say that consumers are piling on credit-card debt - suggesting that Trump's tax cuts haven't necessarily put a lot more cash in their pockets.
But there's also the possibility that consumers are spending more because they're more confident in their economic future - under Trump. A separate report Tuesday from the Conference Board, a business group, showed that one gauge of consumer confidence - how they feel about current conditions -- rose in July to the highest since the dot-com era in the early 2000s. The same report showed consumers' outlook for the future ebbed slightly.
Economists at forecasting firm TS Lombard argue that a key driver of growth will be spending by businesses on new equipment, which leads to higher employee productivity and output. And so far, there are few signs that companies are rushing to invest their tax savings in new equipment. TS Lombard analyzed railcar loadings of cargo that typically rises and falls with the economic cycle - things like chemicals, metal, nonmetallic and forest products. Such loadings have narrowed to prior-year levels.
"We suspect that no great expenditure boost is in the offing," the economists wrote.
Another worry for Powell, the Fed chairman: Trump told CNBC in a July 20 interview that he was "not happy" about rising interest rates. It was a remarkable departure from a tradition of U.S. presidents avoiding commenting directly on interest rates, out of respect for the central bank's independence.
"I'm not thrilled because we go up and every time you go up, they want to raise rates again," Trump said.
It may turn out to have been a crucial miscalculation by Trump and his Treasury Secretary Steven Mnuchin when they pushed for big tax cuts last year: neglecting to account for the fact that the Fed might raise interest rates to cool down the fiscally stimulated economy.
With the Fed unlikely to move at this week's meeting, Trump's economy will catch a break. But Bank of America expects the Fed to continue raising rates, at least for a little while, including at least one more hike this year following September's expected increase.
The Fed is likely to reiterate that it remains "data-dependent," according to economists at the German lender Deutsche Bank.
Too bad the data aren't more clear.