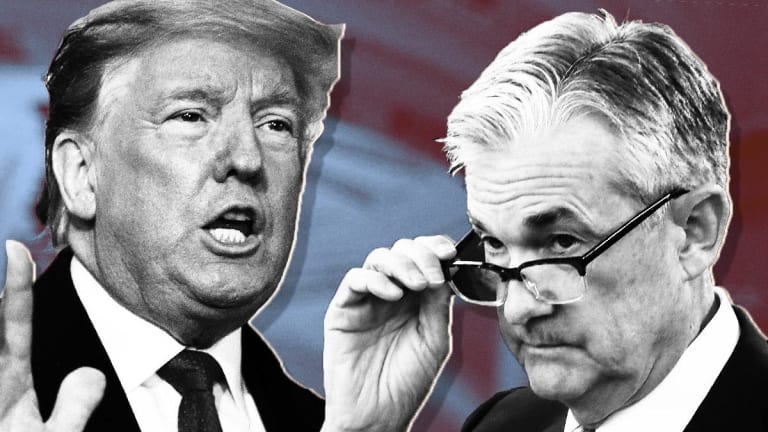 Most Fed Members See Interest Rates on Hold for All of 2019, FOMC Minutes Show
The central bank says the U.S. jobs market remains strong, but overall economic growth has slowed from 'its solid rate in the fourth quarter.'
Most Federal Reserve monetary-policy officials believe the current pace of U.S. economic expansion warrants leaving the key Federal Funds rate at its current level for the rest of this year, minutes released Wednesday from the latest Federal Open Market Committee meeting show.
"Participants agreed that information received since the January meeting indicated that the labor market had remained strong, but that growth of economic activity had slowed from its solid rate in the fourth quarter," minutes from the central bank's March 19-20 session said. 
The Fed and Chairman Jerome Powell have signaled an intent to pause their campaign to boost the key Fed Funds rate from near 0% in late 2015 to the current range between 2.25% and 2.5%. Powell and his colleagues have been criticized by President Donald Trump for raising interest rates too far too fast, allegedly jeopardizing the economy's strength in the process. Forecasts tracked by FactSet show that experts believe U.S. economic growth will slow to 2.4% this year, falling from 2.9% last year as the stimulus fades from Trump's late-2017 tax cuts.
The central bank has previously characterized its current view on interest rates as "patient," essentially waiting for the economy to break one way or the other before making more changes on monetary policy. But in Wednesday's minutes, the central bank said that "several participants observed that the characterization of the committee's approach to monetary policy as 'patient' would need to be reviewed regularly as the economic outlook and uncertainties surrounding the outlook evolve. A couple of participants noted that the 'patient' characterization should not be seen as limiting the committee's options for making policy adjustments when they are deemed appropriate."
Some traders and economists have predicted that far from raising rates, the Federal Reserve might reverse course and actually cut the Fed Funds rate this year to stimulate growth, especially with the central bank's key inflation gauge running at about 1.4% -- well below the Fed's 2% target.
Steven Chiavarone, a portfolio manager at the $460 billion mutual-fund firm Federated Investors (FII) - Get Federated Investors, Inc. Class B Report , said in a phone interview that the key takeaway from Wednesday's minutes is that investors should pay close attention to any shifts in Fed officials' use of the word "patient."
"They absolutely view that word as an important element of guidance," he said. "So if we see a change in that word, we absolutely need to take note."
Chiavarone added that in his view, U.S. economic growth looks likely to accelerate over 2019 to about a 2.9% rate by the fourth quarter. "We share the Fed's view that the economy is going to do well -- in fact, re-accelerating," he said. "We don't see any hikes this year -- and also, importantly, no cuts. Nothing in these minutes changes that view."
(This article has been updated.)