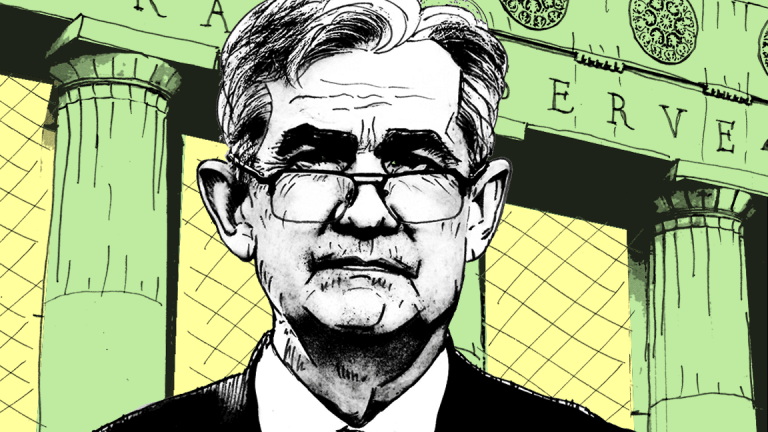 Fed Keeps Rate on Hold, Sees Risks to Economy as 'Balanced'
The Federal Reserve kept interest rates steady at a range between 1.5% and 1.75%, according to a statement Wednesday following a two-day closed-door meeting.
The U.S. Federal Reserve said Wednesday it would hold interest rates at their current level at least through June, saying that the economic outlook looks "balanced" as inflation climbs and the unemployment rate stays low. 
The target for benchmark overnight borrowing rates will remain in a range between 1.5% and 1.75%, according to a statement issued at the conclusion of a two-day closed-door meeting of the central bank's monetary policy committee. The bank last raised rates at a meeting in March, and Fed officials have projected at least two more quarter-percentage-point increases this year.
The Fed's decision, which was expected by most economists and investors, comes as a growing number of economists say the central bank may have to raise rates three more times in 2018 to keep inflation in check. Inflation, using the Fed's preferred measure, jumped in March to 2% versus a year earlier, hitting the central bank's target. 
"The committee expects that, with further gradual adjustments in the stance of monetary policy, economic activity will expand at a moderate pace in the medium term and labor market conditions will remain strong," according to the statement. 
The Standard & Poor's 500 Index of large U.S. stocks was up 0.3% in New York trading on Wednesday after the report. 
The Fed committee, led by Chairman Jerome Powell, noted that job gains have been strong, on average, in recent months, while economic activity is expanding at a "moderate rate." Unemployment is already at a 17-year low of 4.1%.
High inflation is considered bad for the economy, but persistently low inflation is usually seen as a sign of a sluggish economy. Low interest rates encourage more borrowing, helping to stimulate the economy and job gains. Higher rates, on the other hand, help to put the brakes on the economy so prices of goods and services don't spiral out of control.     
Brian Coulton, chief economist at Fitch Ratings, noted that the Fed's statement was more notable for what it didn't include: a phrase used in recent statements from that officials were "monitoring inflation closely."
"This had been there as a reference to earlier concerns about low core inflation, but these are now diminishing quite swiftly," Coulton said in an in e-mail. 
Recent data suggest that household spending is moderating from a strong fourth-quarter pace, though business investment is growing "strongly," according to the Fed's statement. 
"The committee expects that economic conditions will evolve in a manner that will warrant further gradual increases in the federal funds rate," the committee said. "Inflation on a 12-month basis is expected to run near the committee's symmetric 2 percent objective over the medium term."
According to Greg McBride, chief financial analyst at BankRate.com, the committee's choice of the word "symmetric" signals that there is some "wiggle room" for inflation to run slightly above the 2% target. 
But he thinks the acceleration in price increases will push the Fed to raise interest rates three more times this year -- for a total of four in 2018. 
"The movement in inflation will squarely shift the outlook to four rate hikes, rather than just three, by the time 2018 draws to a close," McBride said in e-mailed remarks.