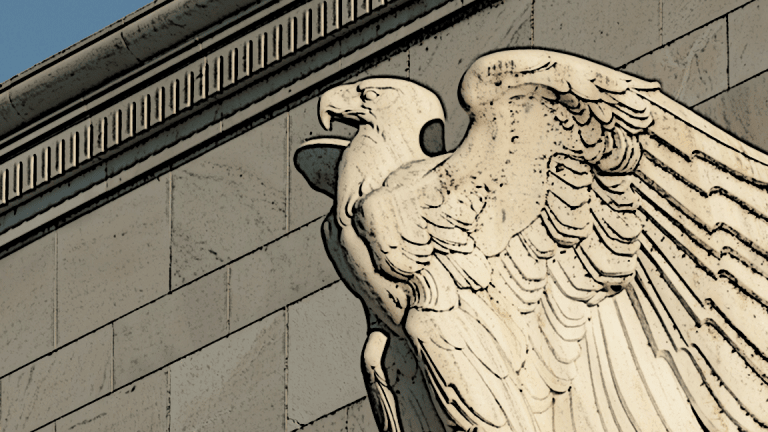 Federal Reserve Cuts Rates by Quarter-Point
In a widely expected move, the Federal Reserve lowered its benchmark interest rate by 25 basis points Wednesday to a range of 1.75% to 2%.
A divided Federal Reserve on Wednesday lowered the country's benchmark interest rate by 25 basis points -- the second rate cut this year -- as ongoing uncertainty about the global economy and the economic fallout from the China-U.S. trade war overrode continued evidence of solid U.S. growth.
The Fed's rate-setting Federal Open Market Committee ended its two-day meeting at 2 p.m. ET with a vote to lower the so-called fed funds rate -- the rate at which commercial banks and other institutions lend to one another overnight -- by a quarter point to a range of 1.75% to 2%.
"In light of the implications of global developments for the economic outlook as well as muted inflation pressures, the committee decided to lower the [fed funds rate]," the FOMC said in a communique announcing the move.
The decision brought prompt criticism in a tweet from President Donald Trump who has been calling for sharp cuts in interest rates to stimulate the economy.
In his post-meeting news conference, Powell said the Fed is poised to act "more aggressively" in the future if necessary, but maintained that current conditions didn't warrant a bigger cut.
Same, But Different 
The committee's language was almost exactly the same as it used on July 31 when it announced an earlier rate cut, with two exceptions. First, the FOMC said Wednesday that household spending "has been rising at a strong pace," whereas in July the group merely said that such spending had "picked up from earlier in the year."
Second, the Fed wrote on Wednesday that business fixed investment and exports "have weakened," whereas it said in July that those economic measures were "soft."
Even with the unemployment rate near a 50-year low, consumer spending solid and inflation percolating, economists were widely expecting the cut as insurance against what many see as an increasingly high wall of worries that could bring down the 10-year-strong U.S. economic expansion. 
"U.S. economic data has been stabilizing, but the risks around trade and slowing global growth are still in play," said LPL Financial Chief Investment Strategist John Lynch. "Fed Chair Jerome Powell will have to steer a careful course between reassuring markets and recognizing an economy still exhibiting record low unemployment, fairly steady growth, and signs of a small but meaningful uptick in inflation."
Wednesday's decision also came amid heightened anxiety over the Fed's New York branch injecting billions into intrabank lending markets over the past two days following abnormal spikes in overnight borrowing costs.
The New York Fed offered $75 billion in cash to broader markets on Wednesday, in exchange for eligible collateral such as U.S. Treasury bonds or mortgage-backed securities, in order to hold the Fed's key rate inside its target range of between 2% and 2.25% after overnight repo rates surged to as high as 8.5%, while the benchmark fed funds rate traded at 2.25%, the top end of the central bank's target range. 
The so-called "repo move" resulted in a repurchase operation that ultimately involved $53 billion worth of securities.
In the press conference following the rate-cut announcement, Powell acknowledged the New York Fed's actions, but said that "funding pressures have no implication on monetary policy stance."
Difficult Judgements, Disparate Perspectives
With respect to the rate cut itself, Powell also acknowledged stronger opinions among the Fed's voting members. "This is a time of difficult judgments, and, as you can see, disparate perspectives," Powell told reporters.
The vote to cut rates was 7-3.
Two Fed regional presidents dissented from Wednesday's decision -- Esther George of Kansas City, Eric Rosengren of Boston voted in favor of leaving the benchmark target rate unchanged. James Bullard of St. Louis advocated for a half-point cut.
Markets responded negatively to the rate-cut announcement as well as Powell's post-decision remarks, with the Dow Industrial Average, down 57 points just prior to the announcement, falling by triple digits before recovering. As of 3;25 pm ET, the Dow was down 0.23%, or 63 points, at 27,048.27. The S&P was down 0.33%, while the Nasdaq dropped 0.51%.
"Considering this week's actions by the New York Fed, thus lifting the benchmark rate to 2.3% (above the 2-2.5% target), along with the recent deteriorating manufacturing data tells us Powell should have announced -- at a minimum -- a 50-basis-point cut today," said Todd Schoenberger, director of research with Wellington & Co.
"Equity traders will run-and-hide this afternoon as investors will head for the exits and send stocks much lower on this disappointing news."