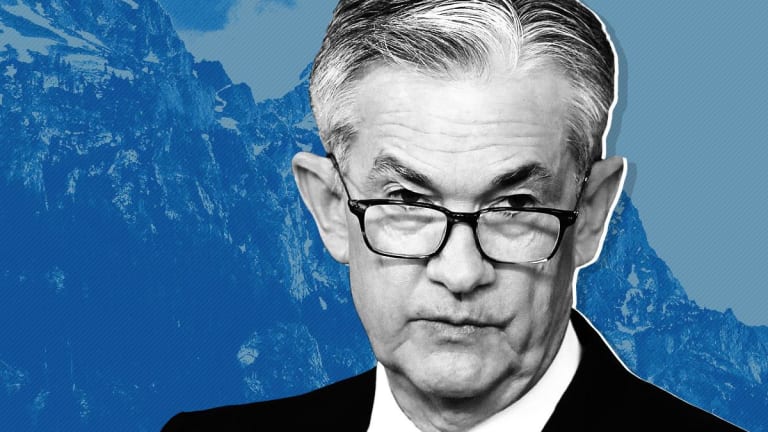 Fed Chief Pledges to Aid Economy as Trump Calls Him an `Enemy'
Federal Reserve Chairman Jerome Powell delivers a highly anticipated speech on 'monetary policy challenges' at an annual economic conference in the Jackson Hole valley of Wyoming. The speech comes amid criticism from President Donald Trump that the central bank has set interest rates too high.
Federal Reserve Chairman Jerome Powell reiterated his pledge to "act as appropriate" to sustain the longest U.S. economic expansion in U.S. history, even as he faced renewed criticism from President Donald Trump that the central bank isn't acting aggressively enough as the administration's trade war with China intensifies. 
"We are carefully watching developments as we assess their implications for the U.S. outlook and the path of monetary policy," Powell said, according to prepared remarks published on the Fed's website.
The central bank moved last month to cut interest rates for the first time in more than a decade, amid signs that the trade war with China and slowing global growth might spill over to the U.S., triggering a recession.
And investors read Powell's speech as validating the likelihood of a rate cut at the Fed's next meeting, scheduled for next month. Chicago futures market reflect a near-certainty that the central bank will cut rates from the current range between 2% and 2.25% by at least 0.25 percentage point at the September meeting.
Powell's comments "suggest that a rate cut in September is still very much on the table," said Ed Keon, chief investment strategist for global multi-asset solutions at the $123 billion money manager QMA.
But the heavily anticipated speech was overshadowed by China's announcement earlier in the day that it was planning tariff hikes on $75 billion of U.S. products, in retaliation for the Trump administration's recent escalation of the dispute.  
And shortly afterward, Trump tweeted that "the vast amounts of money made and stolen by China from the United States, year after year, for decades will and must STOP." Trump wrote that "our great American companies are hereby ordered to immediately start looking for an alternative to China, including bringing your companies HOME and making your products in the USA."
He wrote that he will "be responding to China's Tariffs this afternoon."  
The tit-for-tat sent stocks sharply lower on Friday, with the S&P 500 sliding 2.6% in New York trading, reversing gains notched earlier in the week.
Trump also used Twitter on Friday to attack Powell after his speech.   
"As usual, the Fed did NOTHING!" Trump tweeted. "It is incredible that they can `speak' without knowing or asking what I am doing, which will be announced shortly. We have a very strong dollar and a very weak Fed. I will work `brilliantly' with both, and the U.S. will do great."
Trump, who is running for reelection in 2020, has called on Powell and his colleagues to cut interest rates deeply, arguing that the central bank isn't giving him enough "support" for the trade war, especially since foreign central banks have cut their benchmark rates to historically low levels. He has accused Powell, his own appointee, of possessing a "horrendous lack of vision." 
Such barbs have been countered by a growing number of economists who say that Trump is just using the Fed as a scapegoat for economic policies that aren't working as designed. 
In another tweet Friday, Trump said his "only question" was whether Powell or Chinese President Xi Jinping is "our biggest enemy."
"That can't be a good feeling," said QMA's Keon. "But Powell seems to have broad shoulders and has handled the criticism so far with great aplomb." 
In the speech, Powell acknowledged that the central bank is closely tracking the trade issues for implications for the global economy that in turn might spill over to the U.S. 
Despite slowing growth in foreign countries, U.S. unemployment is close to its lowest in a half-century, and inflation is tracking well below the Fed's target of 2% -- essentially pristine economic conditions.  
"Anything that affects the outlook for employment and inflation could also affect the appropriate stance of monetary policy, and that could include uncertainty about trade policy," Powell said. "There are, however, no recent precedents to guide any policy response to the current situation."
Fed policymakers voted 8-2 on July 31 to cut the benchmark U.S. interest rate by 0.25 percentage point to a range between 2% and 2.25%, citing concern that the trade war with China was casting a pall over the global economy.
In his speech Friday, Powell didn't repeat his assertion at a July press conference that last month's rate cut was part of a "mid-cycle adjustment" -- typically a phrase used to convey the likelihood that any easing of monetary policy would be short in duration. 
That remark disappointed bullish stock investors, who instead wanted to hear that the rate cut marked the beginning of a prolonged easing cycle.   
But the next day, Trump threatened to impose new tariffs on Chinese imports, triggering an escalation of the dispute. The president has called for the Fed to cut rates by a full percentage point. 
And now many traders say that a bigger rate-cutting cycle by the Fed is unavoidable, given the heightened risks to the economy from the dispute with China.
Powell noted that the China trade war was just one of several geopolitical events roiling markets recently, including protests in Hong Kong, the dissolution of the Italian government and the growing possibility that Britain might quit the European Union without a trade deal in place. 
"Geopolitical events have been much in the news," Powell said. "Financial markets have reacted strongly to this complex, turbulent picture. Equity markets have been volatile. Long-term bond rates around the world have moved down sharply to near post-crisis lows."
Investors looking for clues on the Fed's thinking say that, increasingly, economic data may not matter as much as Trump's tweets.