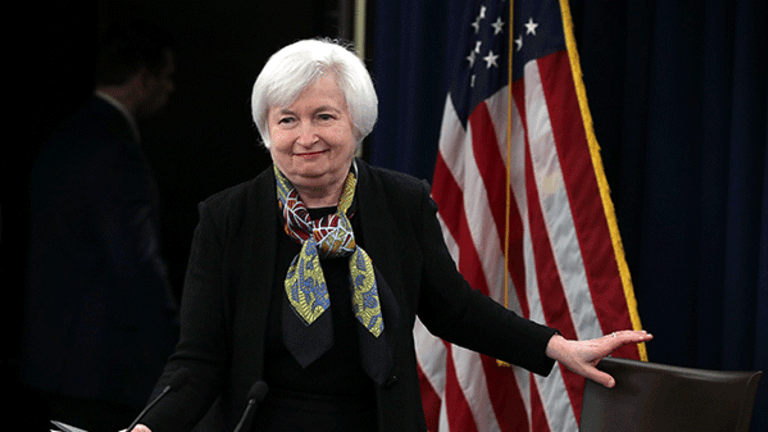 Fed Chair Yellen Explains Rate Hike Decision, Expects Economy to Perform Well
The FOMC decided to increase interest rates by 0.25%.
On Wednesday afternoon the Federal Reserve announced a unanimous decisions to increase interest rates by 0.25%, based on recent positive economic data. Fed chair Janet Yellen explained the FOMC ruling at a press conference this afternoon, the conference was aired on BloombergTV.
"My colleagues and I are recognizing the considerable progress the economy has made toward our dual objectives of maximum employment and price stability," Yellen said. "Over the past year two and a quarter million net new jobs have been created, unemployment has fallen further and inflation has moved closer to our longer run goal of 2%."
The Fed expects that the economy will "continue to perform well" as the job market continues to grow stronger and inflation rising to 2% over the next few years.
"Economic growth has picked up since the middle of the year," Yellen continued. "Household spending continues to rise at a moderate pace, supported by income gains and by relatively high levels of consumer sentiment and wealth."
Despite a stabilization in the energy sector, Yellen noted that business investment is still soft, but overall the economy is expected to expand at a moderate pace over the next several years.
Yellen highlighted some key economic figures, noting an average of 180,000 jobs created per month for the past three months. Which continued the "solid pace" started at the beginning of the year. There have been more than 15 million jobs added to the economy since the depths of the great recession. In November, unemployment fell to 4.6%, its lowest level since 2007.
"Looking ahead we expect job conditions will strengthen somewhat further," Yellen added.