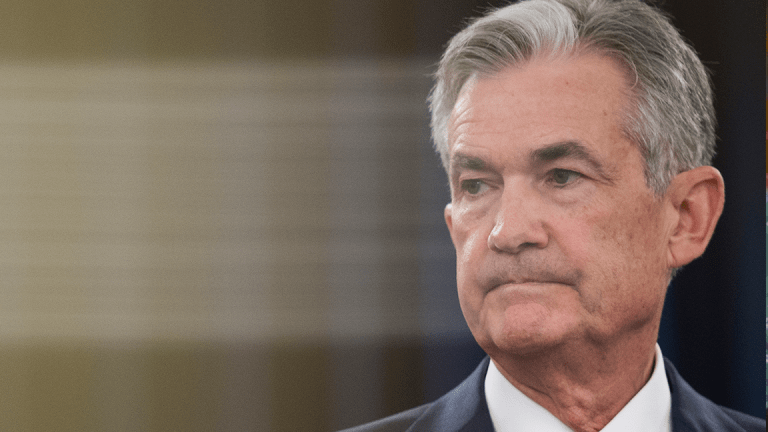 Federal Reserve's Powell Reiterates 'Gradual' Rate Rises Appropriate
Federal Reserve Chairman Jerome Powell spoke at the Federal Reserve Bank of Kansas City's annual economic symposium in Wyoming.
The Federal Reserve's monetary-policy officials believe a "gradual process" of rate increases "remains appropriate" as the U.S. economy heats up and the labor market tightens, Chairman Jerome Powell said Friday. 
The economy is poised to maintain its recent strength, especially with the U.S. unemployment rate, now at 3.9%, close to an 18-year low. President Donald Trump's tax cuts have stimulated the economy and extended what has become the longest bull market in U.S. stocks in history, though at the expense of a national debt that's rapidly ballooning past $21 trillion.   
"Most people who want jobs can find them," Powell said Friday in prepared remarks for a speech at the Federal Reserve Bank of Kansas City's annual economic symposium in Jackson Hole, Wyoming. "With solid household and business confidence, healthy levels of job creation, rising incomes, and fiscal stimulus arriving, there is good reason to expect that this strong performance will continue."
Powell's speech comes just days after the release of minutes from the Fed's monetary-policy meeting earlier this month, where officials voted to keep rates steady while planning further "gradual" hikes to prevent a surge in inflation. 
The Federal Open Market Committee, which Powell heads, voted at the meeting in Washington on July 31 and Aug. 1 to hold borrowing costs steady in a range of 1.75% to 2%. The central bank has been raising rates since late 2015, after holding rates near zero for years in the aftermath of the 2008 financial crisis. Two more interest rate increases are expected by the end of the year. 
Minutes from the recent two-day meeting showed that officials saw signs that wages are poised to accelerate, typically a precursor of broader price rises.
The officials saw tightening labor-market conditions, supported by data on the number of job openings and elevated quit rates, as an indicator that employees are comfortable leaving positions because of the availability of alternatives. The officials also were encouraged by data showing that previously discouraged workers are reentering the workforce.