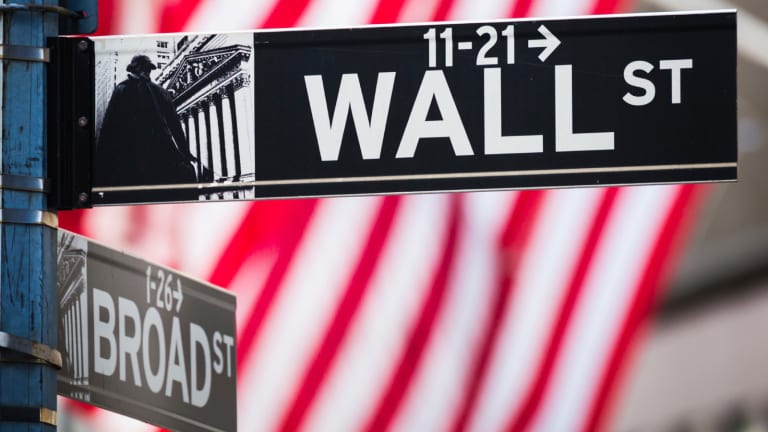 Publish date:
Feb. 29 Premarket Briefing: 10 Things You Should Know
U.S. stock futures are lower but pare earlier losses after China's central bank reduces the reserve requirement for the nation's banks.
U.S. stock futures are lower but pare earlier losses after China's central bank reduces the reserve requirement for the nation's banks.
Here are 10 things you should know for Monday, Feb. 29:
1. -- U.S. stock futures were pointing lower Monday but pared earlier losses after China's central bank reduced the reserve requirement for China's banks.
European stocks traded lower Monday while Asian shares ended the session in the red. China's move to trim the reserve requirement came after the markets closed.
Oil prices in the U.S. early Monday were down 0.4% to $32.65 a barrel.
2. -- The economic calendar in the U.S. Monday includes Chicago PMI for February at 9:45 a.m. EST, and Pending Home Sales for January at 10 a.m.
3. -- U.S. stocks finished mixed on Friday but oil's weekly rise drove equities higher for the week, pushing the S&P 500 to close with weekly gains for only the fourth time this year.
For the week, the S&P 500 added 1.6%, the Dow Jones Industrial Average increased 1.5%, and the Nasdaq rose 1.9%.
4. -- China cut the amount banks are required to hold on reserve in an attempt to inject more money into its slowing economy, the world's second-largest.
The People's Bank of China said it was reducing the reserve requirement by half a percentage point to ensure adequate liquidity in the financial system and free up more funds for lending. The rate was last cut on Oct. 23.
China's economic growth fell last year to a 25-year low of 6.9%, down from 7.3% in 2014. 
5. -- Bank of America (BAC) - Get Report is preparing for significant job cuts across its global banking and markets business, Business Insider reported, citing people with knowledge of the matter.
The cuts are likely to be more than 5% of staff, the people said. Some business lines will face deeper cuts than others, Business Insider reported. The details haven't been finalized.
Employees could be told of the cuts as soon as March 8, one of the people said
Business Insider said aspokesman for Bank of America declined to comment.
Bank of America is a holding in Jim Cramer's Action Alerts PLUS portfolio.
6. -- Boeing (BA) - Get Report said it's considering layoffs of airplane engineers, a plan that it said may cause the aerospace giant to reorganize or consolidate its engineering teams, according to an internal memo seen by Reuters.
Boeing said in a memo to employees that the company is deciding whether to make voluntary layoffs available to those workers, according to the document.
The company also said it does not intend to replace higher-level employees who leave, except in rare situations, Reuters reported.
7. -- Warren Buffett's Berkshire Hathaway (BRK.A) - Get Report , which reported 2015 earnings that topped analysts' expectations, will be among the beneficiaries of significant per-capita economic growth in the next quarter-century, the billionaire predicted.
"Candidates can't stop speaking about our country's problems, which, of course, only they can solve," Buffett wrote in his annual letter to shareholders. "As a result of this negative drumbeat, many Americans now believe that their children will not live as well as they themselves do. That view is dead wrong: The babies being born in America today are the luckiest crop in history."
Even with today's slower growth of 2% in the U.S. economy, the world's largest, per-capita gross domestic product will increase by $19,000 over the next quarter-century to about $75,000, Buffett wrote.
"All families in my upper middle-class neighborhood regularly enjoy a living standard better than that achieved by John D. Rockefeller Sr. at the time of my birth," said the CEO of Omaha, Neb.-based Berkshire Hathaway. "His unparalleled fortune couldn't buy what we now take for granted, whether the field is -- to name just a few -- transportation, entertainment, communication or medical services."
Pearson had taken medical leave from the troubled drug company in December after being hospitalized. Howard Schiller, the company's former finance chief and a board member, was appointed interim CEO. Schiller will be stepping down as CEO immediately but remain on the company's board.
Pearson's illness came as Valeant was dealing with fallout from a relationship with drug distribution company, Philidor. The Canadian company cut ties with Philidor last fall amid allegations that Philidor helped steer pharmacy benefit managers toward Valeant's more expensive drugs over cheaper alternatives. Valeant also was criticized for raising prices on drugs it acquired.
9. -- Lumber Liquidators (LL) - Get Report swung to a fourth-quarter loss of 73 cents a share from year-earlier profit of 64 cents.
Analysts were expecting a loss of 23 cents ar share.
The hardwood floors retailer posted revenue of $234.8 million in the period, which also missed Wall Street forecasts.
The U.S. government said last week that people exposed to some types of Lumber Liquidators' laminate flooring were more likely to get cancer than it originally predicted.
10. -- The newspaper drama Spotlight took best picture at a 88th Academy Awards.
Tom McCarthy's film about the Boston Globe's investigative reporting on sexual abuse by Roman Catholic priests won over the favored frontier epic The Revenant.