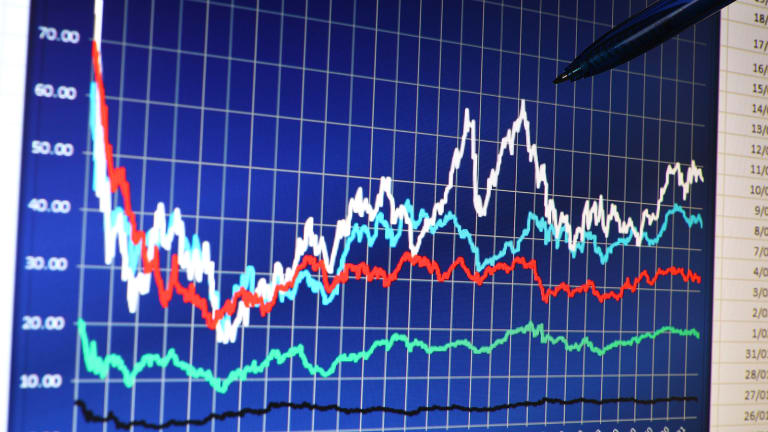 Publish date:
Feb. 24 Premarket Briefing: 10 Things You Should Know
U.S. stock futures are falling and European and Asian shares trade lower as oil prices in the U.S. decline.
U.S. stock futures are falling and European and Asian shares trade lower as oil prices in the U.S. decline.
Here are 10 things you should know for Wednesday, Feb. 24:
1. -- U.S. stock futures were falling and European and Asian shares traded lower as oil prices in the U.S. were dropping by more than 3% to $30.91 a barrel.
Oil slumped by 5% on Tuesday after Iran's oil minister called a proposal by Saudi Arabia and Russia to freeze oil production "ridiculous."
2. -- The economic calendar in the U.S. Wednesday includes New Home Sales for January at 10 a.m. EST, and Crude Inventories for the week ended Feb. 20 at 10:30 a.m.
3. -- U.S. stocks on Tuesday fell to session lows in the final hour of trading. 
The S&P 500 declined 1.3%, the Dow Jones Industrial Average fell 1.1%, and the Nasdaq slid 1.5%. Benchmark indexes had surged more than 1% on Monday. 
4. -- Donald Trump claimed a third straight commanding victory in the race for the Republican presidential nomination with a win in Nevada on Tuesday.
Trump sounded confident Tuesday that the GOP nomination was within reach.
"It's going to be an amazing two months," he told a crowd at a Las Vegas casino. "We might not even need the two months, folks, to be honest."
Marco Rubio took second in Nevada while Ted Cruz came in third.
5. -- Federal Reserve Vice Chairman Stanley Fischer said Tuesday that the recent slump in financial markets could be a sign the global economy is slowing, which would affect U.S. growth.
But Fischer said similar market gyrations have had little impact in the past on the overall economy, so it's too early to tell at this point.
Fischer made the comments in a speech at a global energy conference in Houston.
The Fed raised its benchmark interest rate from record lows in December and signaled the possibility of four more hikes in 2016. But volatile financial markets and indications of global weakness have cast doubt on the outlook for more rate increases.
"If the recent financial market developments lead to a sustained tightening of financial conditions, they could signal a slowing in the global economy that could affect growth and inflation in the United States," Fischer said. "But we have seen similar periods of volatility in recent years -- including in the second half of 2011 -- that have left little visible imprint on the economy, and it is still early to judge the ramifications of the increased market volatility of the first seven weeks of 2016."
6. -- Honeywell (HON) - Get Report said it believes regulators wouldn't be a big obstacle to a merger with United Technologies .
Honeywell said consumers would benefit from a merger because the combined company would have a broader range of products. It also said it thinks the companies could cut $3.5 billion in costs after a merger and that they would be in a stronger financial position than their competitors. Honeywell said it and United Technologies have discussed a deal over the past year.
Shares of United Technologies soared on Monday following reports the companies had discussed a merger. But while confirming it had talked to Honeywell about a deal, United Technologies also said a deal wasn't feasible because regulators wouldn't let two of the largest aerospace and commercial building companies combine.
7. -- Lowe's (LOW) - Get Report posted a fourth-quarter profit of 1 cent a share, but adjusted for asset impairment charges earnings were 59 cents a share, meeting analysts' expectations.
Revenue in the quarter was $13.24, which beat Wall Street forecasts. 
Lowe's said Wednesday it expects full-year earnings of $4 a share.
Lowe's competitor Home Depot on Tuesday reported better-than-expected fourth-quarter profit and revenue.
The sale could generate proceeds of up to $1 billion for the Tulsa, Okla.-based pipeline operator, according to the person. In Canada, Williams processes the off-gas produced by oil-sands upgraders into natural-gas liquids and olefins and operates associated pipeline facilities, according to the Journal. Williams said the off-gas processing reduces carbon dioxide emissions in Canada's oil patch.
9. -- DreamWorks Animation (DWA) posted fourth-quarter adjusted earnings of 55 cents a share, easily surpassing Wall Street estimates of 16 cents.
Revenue in the quarter rose by 36.3% to $319.3 million, which also topped forecasts.
Revenue from the company's feature film segment, which released films such as How to Train Your Dragon 2, rose by 11.5% to $146.4 million.
10. -- Earnings are expected Wednesday from Target (TGT) - Get Report , TJX Cos. (TJX) - Get Report and HP Inc. (HPQ) - Get Report .
Target is a holding in Jim Cramer's Action Alerts PLUS portfolio.