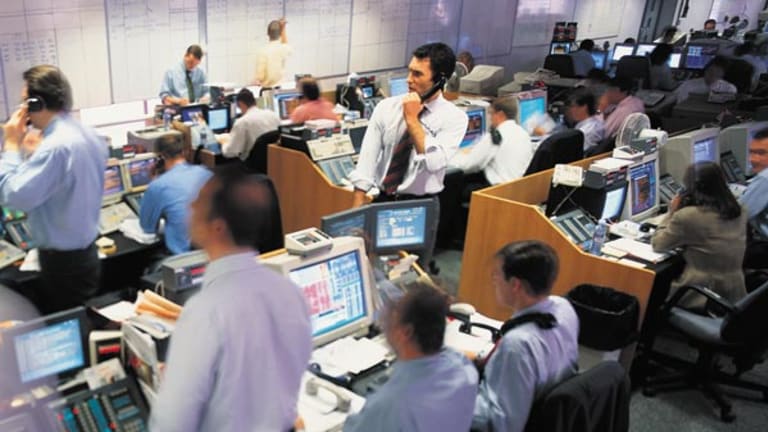 FDIC Red Cards Regional Banks
With their stocks hot in a cooling housing market and lending-leverage high, now's the time to sell.
This column was originally published on RealMoney on April 28 at 3 p.m. EDT. It's being republished as a bonus for TheStreet.com readers.
The red-hot real estate market has fueled tremendous growth for community banks across the country, but this trend appears ready to turn, and they could be left with portfolios riddled with bad real estate loans. With the shares of many trading at or near all-time highs, the prudent investor should book profits now.
Community banks are heavily dependent on fees and interest income from real estate loans. As the housing market slows, fee income will decrease and the risks associated with nonperforming loans will increase.
Furthermore, the Federal Deposit Insurance Corporation is waving warning flags -- many banks' balance sheets have exceeded key capital ratios that measure real estate risks.
Long-term investors should use strength to liquidate holdings in case the real estate market deteriorates more than expected. Why take the risk when you can book profits at or near all-time highs?
Regional banks were buoyed Thursday by
Federal Reserve
Chairman Ben Bernanke's hints that the FOMC would pause in its rate-hike policy after raising the funds rate to 5% on May 10. This led to a breakout in the Philadelphia Banking Index, or BKX, which tracks the regional bank industry, and the
Bank HOLDRs Trust
(RKH)
, an ETF that is a proxy for the industry.
CNBC
reported Friday that several brokerage firms raised their ratings on regional banks on the theory that they will benefit six months after the FOMC stops raising rates. I say they are wrong: The FOMC may pause, but that does not mean that the rate hikes are over.
My strategy questions the ability of these indices to sustain their breakout. One reason is that the homebuilders are developing cracks in their foundations. It will be difficult for the banks to sustain earnings growth, given the warnings from the
homebuilders. Furthermore, the risk of balance-sheet damage now at the regional banks from their exposure to the real estate market should not be ignored.
The Federal Deposit Insurance Corporation, the Office of the Comptroller of the Currency, the Board of Governors of the Federal Reserve, and the Office of Thrift Supervision are beginning to address this with a jointly issued interagency guidance on risk management of commercial real estate lending.
Bank Lending Ratios Raise Red Flags
The FDIC monitors two ratios on a quarterly basis:
The CD loans ratio is a measure of construction lending vs. total risk-based capital; when this ratio exceeds 100% it's a bad sign.
The CRE loans ratio is a measure of the total of construction, multifamily and commercial real estate lending vs. total risk-based capital; the danger threshold is when this ratio exceeds 300%.
Current ratios are very high -- the leverage has ballooned recent earnings, but now that fee income is drying up and there is a higher risk of loan defaults, the FDIC is increasing its vigilance.
According to an A.M. Best Co. review of FDIC data from Dec. 31, 22.1% of the 8,832 FDIC-insured financial institutions had a CD loans ratio over 100%, and 29.4% had CRE loan ratios over the 300% threshold. (FYI: Owner-occupied properties are excluded from the definition of commercial real estate. The FDIC compiles this data on a quarterly basis, and first-quarter data will not be finalized until late May.)
California, Georgia and Florida have the heaviest concentration of banks above the 100% and 300% thresholds.
With the help of Jack Phelps, regional manager of the FDIC Division of Insurance & Research in Atlanta, I've built a spreadsheet of loan ratios for 82 publicly traded banks for which ValuEngine has enough financial data to calculate a fair value and provide a rating. Of the 82, 29 had ratios at the end of 2005 that were above the 100% threshold for CD loans, and 42 exceeded the 300% threshold for CRE loans.
When real estate last peaked in the late 1980s, more than 20% of community banks exceeded the 100% CD loan-capital ratio in some states, and a banking crisis ensued. Current underwriting guidance makes a repeat of this breakdown less likely, but nonetheless, my advice is to book long-term profits now while share prices are on the rise.
Most of the companies in the sector are small caps and micro caps -- liquidity could become an issue on share-price weakness. The stocks in the table below are just a sampling of the community banks that have ratio red flags.
All these stocks have positive weekly chart profiles, with
Citizens First
(CTZN)
,
PFF Bancorp
undefined
,
Sterling Financial
(STSA)
and
Willow Grove
undefined
showing overbought momentum.
Due to liquidity issues, I don't recommend using sell stops, as those orders could get triggered well away from your desired price level. All seven of these stocks have traded to new highs since April 20 with three setting new highs Friday:
Banner
(BANR)
, Citizens First and Sterling.
Do you own a regional bank? If readers email me the names of their regional or community bank holdings, I will respond with profiles. It would help if you describe the housing market within the region you live.
Please note that due to factors including low market capitalization and/or insufficient public float, we consider all of the issues discussed in this article to be small-cap stocks. You should be aware that such stocks are subject to more risk than stocks of larger companies, including greater volatility, lower liquidity and less publicly available information, and that postings such as this one can have an effect on their stock prices.
Richard Suttmeier is president of Global Market Consultants, Ltd., and chief market strategist for Joseph Stevens & co., a full service brokerage firm located in lower Manhattan. Early in his career, Suttmeier became the first U.S. Treasury Bond Trader at Bache. He later began the government bond division at L. F. Rothschild. Suttmeier went on to form Global Market Consultants as an independent third-party research provider, producing reports covering the technicals of the U.S. capital markets. He also has been U.S. Treasury Strategist for Smith Barney and chief financial strategist for William R. Hough. Suttmeier holds a bachelor's degree from the Georgia Institute of Technology and a master's degree from Polytechnic University.