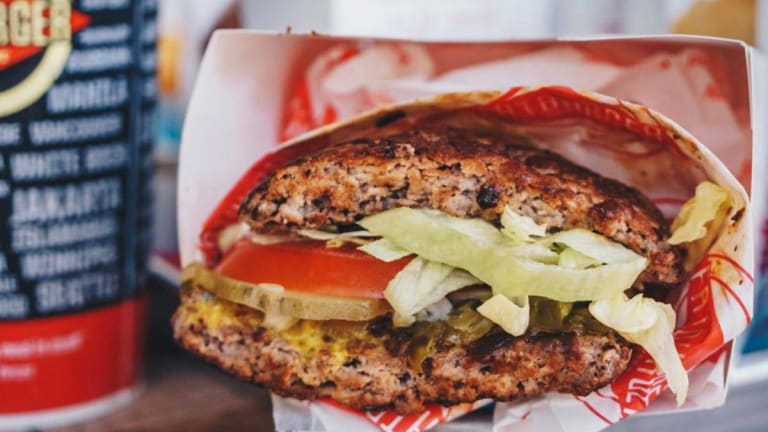 Fatburger Pulls Fast One: April Fools' Joke Was Good Branding Strategy
Fatburger's joke was a good idea, a brand expert says, as the hoax attracted a fair amount of attention.
FAT Brands (FAT) - Get FAT Brands Inc. Report was rallying Monday after the owner of the Fatburger chain announced the name change it made last week was really just a pre-April Fools' Day joke. 
The stock was up 3.31% to $5.30 a share Monday, after the company announced its change to Skinnyburger wasn't real. 
Fatburger said in a press release Monday that the name change to Skinnyburger, which it announced March 27, was actually an April Fools' Day joke. The company's name will remain Fatburger.
"April Fools! Fatburger Is, and Always Will Be, Fatburger," the company said in the press release. 
"We are indebted to our fans for so passionately joining in on the joke this past week," said Thayer Wiederhorn, chief marketing officer of FAT Brands. "Reactions to our announcement were strong, and we had a lot of fun."
The joke may have actually been a good idea, said Bill Corbett, Jr., president of Corbett Public Relations. "The concept is creative and it is doing what they want it to do," Corbett said. "Attract attention and get people talking about their brand, food and franchise."
He added, "Remember the press today [that Fatburger is getting] will be relevant perhaps for years to come." He also mentioned that management's sense of humor, and its marketing "stunt" could gain social media traction with younger customers. 
At the time the company announced the fake name change to Skinnyburger, it was clear Fatburger wanted customers to be aware of its less-fattening menu options, which includes the "Skinnyburger," a bun-free burger that contains a 1/3 lb. lean beef patty cut in half with lettuce, tomatoes, cheese and condiments wedged between the meat. 
Company name changes with branding in mind have been a fad among consumer food companies. Dine Brands Global's (DIN) - Get Dine Brands Global, Inc. Report  IHOP changed its name to IHOB in the summer of 2018 for a short time to communicate to consumers that it had burgers on the menu. The switch back to IHOP was made in July 2018. 
Fat Brands stock is up 3.7% this year. 
Will You Have Enough Money to Retire?
Want to learn about retirement planning from some of the nation's top experts? Join TheStreet's Robert "Mr. Retirement" Powell live in New York on April 6 for our Retirement Strategies Symposium. For a limited time, tickets are available for $99 for this full-day event. Check out the agenda, learn about the speakers and sign up here.