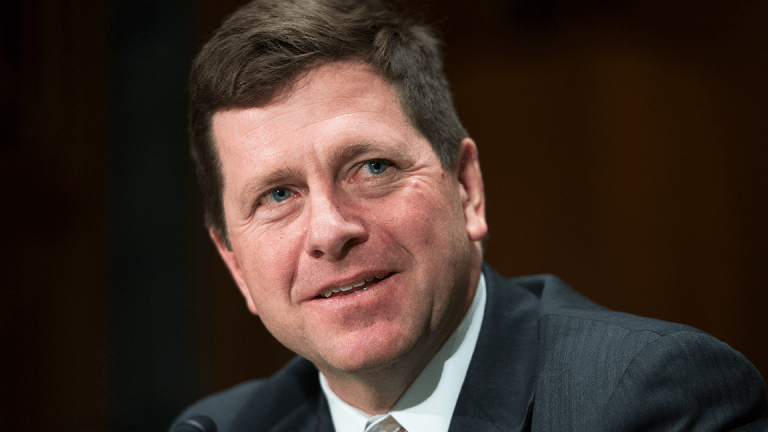 Fat CEO Pay Packages Lurk Behind Fight Over Shareholder Advisers
Proxy advisory firms are in the crosshairs as CEOs seek to preserve pay packages that average 300 times as much as their typical workers'.
For all their riches and power, many CEOs are a thin-skinned lot. They can't stand being second-guessed - especially when it comes to how much they get paid.
That's been happening with increasing frequency since 2011, when the U.S. Securities and Exchange Commission enacted a "say-on-pay" rule requiring publicly-traded companies to let shareholders vote on executive-compensation plans. Some powerful companies have faced criticism over their pay packages, including the world's biggest publicly traded oil company, Exxon Mobil Corp. (XOM) - Get Free Report , led by CEO Darren Woods.
Now, the executives are pushing back. In a series of advertisements, press releases, reports and regulatory filings, industry groups including the U.S. Chamber of Commerce and National Association of Manufacturers have attacked the process of corporate elections as distracting from executives' pure motives of creating jobs and economic growth.
And they're making headway - or at least succeeding in getting a hearing from regulators. SEC Chairman Jay Clayton, a former banking-industry lawyer appointed last year by President Donald Trump to run the agency, has scheduled a full day of "roundtable discussions" on the shareholder voting process on Thursday, Nov. 15, in Washington.
The matter is crucial given the prevalence of publicly traded stocks in American workers' retirement accounts, via pension plans as well as big mutual-fund companies like BlackRock Inc. (BLK) - Get Free Report .
For industry CEOs, it's a once-in-a-generation opportunity to push back against the increasing power of shareholders, who for decades had few avenues to complain about poor management other than voting in Soviet-style, unopposed corporate elections - or selling their shares.
Investors gained more rights following public outcry over soaring CEO compensation in the 1990s, the Enron Corp. and dot-com debacles of the early 2000s and the financial crisis of 2008. The SEC's say-on-pay rule made it easier for shareholders to publicly rebuke a CEO for poor performance or outlandish pay packages.
More than 70% of companies in the Standard & Poor's 500 Index reported engagement with shareholders in 2017, compared to just 6% in 2010, the SEC's Clayton said in July when he announced plans to host the roundtable discussions. "We have seen a dramatic increase in the number of U.S. companies reporting shareholder engagement," Clayton said. 
Here's the context: According to the Economic Policy Institute, the average CEO among the 350 largest companies got an 18% raise in total compensation last year to $18.9 million. That amount was roughly 312 times the pay for the typical worker, up from 20 times in 1965 and 58 times in 1989.
The CEOs, of course, control their companies' purse strings, so they have the wherewithal to decide how to allocate crucial corporate expenditures on legislative and regulatory priorities.
With little hope of overturning the say-on-play rule, which was mandated by law as part of the 2010 Dodd-Frank Act, the industry groups have instead turned their sights on so-called proxy-advisory firms like Institutional Shareholder Services and Glass, Lewis & Co.
Such firms provide recommendations to investors on the fairness of pay packages along with analysis of the qualifications of director candidates and other matters on corporate ballots. Those could include pro-investor resolutions to eliminate "poison pills" that CEOs use to keep their lucrative jobs by deterring would-be corporate suitors, as well as more debatable calls for management teams to consider the financial risks stemming from climate change.
Until recently, the SEC had allowed funds to rely on proxy advisers when deciding how to vote their shares - leaving more time for portfolio managers to analyze such things as revenue growth and price-to-earnings ratios.
But a couple months ago, under Clayton, the SEC withdrew a series of letters from 2004 that had formalized the policy.
Chris Netram, vice president for tax and domestic economic policy for the National Association of Manufacturers, applauded the move in an Oct. 30 filing with the SEC.
"These unregulated firms have enormous influence over the corporate-governance policies of U.S. public companies," Netram wrote. "The recommendations produced are often problematic in a variety of ways."
Such problems are, more often than not, simply complaints over CEOs' pay packages, based on a compilation by the Chamber of Commerce of specific disputes companies have had in recent years with proxy advisers. Of the 62 cases disputes cited for 2017, some 34 stemmed from the advisers' disapproval of executive-pay plans; most of the rest related to negative recommendations on specific board members.
Gary Retelny, CEO of Institutional Shareholder Services, told the SEC in a filing that his firm's recommendations are just "one of many different inputs" that money managers use when deciding how to vote their shares.
"They often vote in accordance with our recommendations because those recommendations are tailored to their own views on corporate governance, not because they follow our advice without thought or intention," Retelny wrote. He added that proxy advisers are already regulated by the SEC, and subject to the same fiduciary - i.e. pro-investor -- standards as money managers.
The Council of Institutional Investors, an association of pension funds, foundations and endowments with about $4 trillion of assets under management, said in a filing that many members "voluntarily contract with proxy-advisory firms to obtain cost-effective independent research."
"Excessive regulation of proxy research firms could impair the ability of institutional investors to promote good corporate governance and accountability at the companies in which they own stock," according to the council. "Voting decisions will be worse, not better."
For the CEOs' paychecks, it might be the other way around.