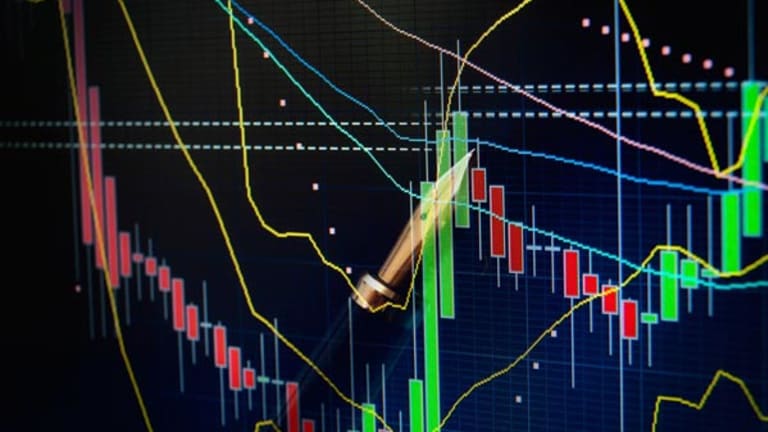 Fade the Microsoft Haters
Microsoft may be in the doghouse, but there's too much good going for it not to take a look.
Microsoft may be in the doghouse, but there's too much good going for it not to take a look.
This is an excerpt from James Altucher's newsletter, TheStreet.com Internet Review. It was originally sent to subscribers on May 8 at 9:35 a.m. EDT. It's being reprinted as a bonus for TheStreet.com readers.
I don't think I need to remind anyone that
Microsoft
(MSFT) - Get Report
has been in the doghouse. Media outlets everywhere have documented the recent lopping off of billions of dollars of market capitalization and the delay in Vista.
But in this week's newsletter, I'm going to go against the grain and explain exactly why I believe Microsoft, which is already in the portfolio, is a buy at current levels.
But before I do that, let's take a quick look at how the Internet Review portfolio has been doing vis-à-vis our benchmark, the Nasdaq. Our average stock has recorded a 10.8% return since we added it to the portfolio, while the average Nasdaq return during comparable periods has been 6.7%. That means the portfolio has outperformed the Nasdaq by about 400 basis points (or 4%) per pick. But since our average holding period has been about four months, the portfolio is beating the benchmark by about 12% on an annualized basis.
Most of this outperformance has come from the great returns of our small-cap stocks. Standouts include
Provide Commerce
(PRVD)
, which
Liberty Media
(L) - Get Report
purchased at a 50% premium to what we paid, activist play
iPass
(IPAS) - Get Report
, which has gained 64% and China play
Global Sources
(GSOL)
, which is up 54%.
I like small-cap stocks like these because it's possible to get an edge with them. Many of them are not widely covered by Wall Street, leaving us to do original work on them and piggyback on the work done by some of the good hedge funds I follow.
I typically hate big-cap plays like Microsoft because it's next to impossible to get any sort of knowledge advantage with them. No matter how much you and I argue over the merits of Microsoft while sipping lattes at our favorite WiFi hotspot, we won't know more or less than the 10,000 other pundits who are pontificating about the company.
That said, I believe we are starting to see a mob-panic situation with Microsoft that bears fading. In the fourth quarter of last year, many of the larger funds started dumping their Microsoft shares.
Fidelity
alone sold 88 million, bringing its year-end position to "just" 315,000,000 shares.
I put "just" in quotes not as a point of humor, but to emphasize that the fund still had 315 million shares left to sell. It's probably been selling some of them with a fervor since the beginning of the year. Other sellers include
Smith Barney Asset Management
(which sold 11 million shares in the fourth quarter) and
Goldman Sachs Asset Management
(which sold 21 million shares). My guess is all these institutions are now at 10-year lows in terms of their percentage of assets allocated to Microsoft.
Meanwhile, every publication from
BusinessWeek
to
Barron's
has been arguing whether Microsoft is a growth or value stock. With each camp attempting to push Microsoft into the other category, Microsoft is left with no fans.
It all reminds me of a play I saw the other night titled "Awake and Singing" in which a character, after being cuckolded, exclaims, "Nobody loves me," then walks off the stage never to return.
On one level, you really can't blame people for giving up on Microsoft. After all, its stock has been a dog in recent years.
Here's why shares are at three-year lows:
Top-down: The general sluggishness of large-cap stocks. People have been shunning market leaders given the macro risks to the market, like interest-rate spikes, inflation, Iran, terrorism and oil shocks.
Bottom-up: Growth has slowed. Microsoft was the big growth stock of the '90s. Growth seekers have been migrating out of the shares in droves, and the motto "I love Microsoft" is now being taken up by the value funds. But with Microsoft's recent announcement that it's accelerating spending by $2 billion, the value guys are worried Microsoft is biting off more than it can chew when it comes to competing with Google (GOOG) - Get Report.
Specific operational problems: The delay in Vista. While people are irritated that the consumer version of Vista was delayed from the fourth quarter of 2006 to the first quarter of 2007, the more important question is, "Why is it delayed?" And the subtext to that question is, "Isn't there anybody competent working over there in Redmond?" (I happen to believe there is.)
But I believe there are several important reasons to buy the shares now:
Vista
: I don't care that it was delayed. I recommend people read about the improvements it will have over Windows when it is released -- the difference will be much greater than the one between Windows 2000 and Windows XP. From the standpoint of business customers, the most important change will be the beefed-up security and anti-spyware mechanisms.
These will be so significant, in fact, that every large enterprise that takes security seriously will decide it must upgrade. Note that the Enterprise Edition was not delayed. Additionally, there are significant performance enhancements. I believe the market, by erasing $50 billion of Microsoft's capitalization since it announced the delay in Vista, is significantly undervaluing the importance of the new operating system.
There's another point that bears mentioning here. The main challenger Microsoft faced in software for networked sharing of business data was
IBM's
(IBM) - Get Report
Lotus Notes. Well, guess what. The developer of Notes, Ray Ozzie, is now the most important member of Microsoft's technology team and has probably been instrumental in making last-minute improvements to Vista.
Advertising
: People assume, somewhat correctly, that Microsoft's ad-related business is worthless, while Google has come to dominate this space online. But Microsoft has been taking steps to correct this. It's launching AdCenter to compete with Google's AdSense. With an audience of 99.3 million users in March across its sites (compared with Google's 93.2 million), it's not fair to pronounce Microsoft down for the count in online advertising.
The market in general has valued subscribers (which are declining for Microsoft and AOL) more than it has valued users because subscribers generate predictable cash flows. But forget business models that are on their way out. Microsoft will monetize its 99.3 million visitors to its site with AdCenter.
It's not just online advertising that Microsoft will attempt to dominate, but also online gaming ads, an arena where Google can't compete. With its built-in audience of Xbox users, Microsoft is ready to grab this sector, which is larger than the combined movie and TV industries, and take advertising there to the next level. Now that it's bought Massive, the leader in in-game advertising, I believe we're going to start to see Microsoft's advertising cash flows resemble Google's. And none of this growth is built into Microsoft's current stock price.
Which brings me to...
The Basic Metrics
: Microsoft has a market cap of $242 billion, and net cash of $32 billion, giving it an enterprise value of $210 billion. I expect cash flows from operations next year to be somewhere between $20 billion and $25 billion. (Analysts expect revenue of $50 billion. I'm guessing $53 billion to $55 billion, with a 40% profit margin.) At the low end of that range, the company is trading for 10-times cash flows, or an earnings yield of 10%. Although Microsoft is not quite as stable as the government, it's still a fairly reliable company. A spread of 500 basis points between Microsoft's earnings yield and the government's is too much. Not to mention that the earnings yield will keep growing if the stock remains at these levels.
There, I've said why I believe Microsoft is a buy. The next question is how the stock fits into a portfolio. There are several reasons to own a stock:
Because you think it's going to double.
Because you think it will not go down any further.
Because you think it will offer a steady 10% return.
Microsoft is worth owning for the second reason and partially for the third. By the fourth quarter, at the latest, Microsoft will be back up to $27. If not this year then next, it will be over $30, and Fidelity will rush to get its position back.
I also believe downside here is probably $22 at the lowest. So we're looking at 5% to 10% downside and 40% upside over the next 12 months. If I had to go to a desert island (with Kate, Claire, Jack, Hurley and the other characters on
Lost
) for a year and not think about stocks, I'd put all my money in Microsoft and never think twice about it.
At the time of publication, Altucher and/or his fund was long MSFT, although positions may change at any time.
James Altucher is a managing partner at Formula Capital, an alternative asset management firm that runs several quantitative-based hedge funds as well as a fund of hedge funds. He is also the author of
Trade Like a Hedge Fund
and
Trade Like Warren Buffett
. Under no circumstances does the information in this column represent a recommendation to buy or sell stocks. Altucher appreciates your feedback;
to send him an email.
Interested in more writings from James Altucher? Check out his newsletter, TheStreet.com Internet Review. For more information,
.
TheStreet.com has a revenue-sharing relationship with Trader's Library under which it receives a portion of the revenue from purchases by customers directed there from TheStreet.com.