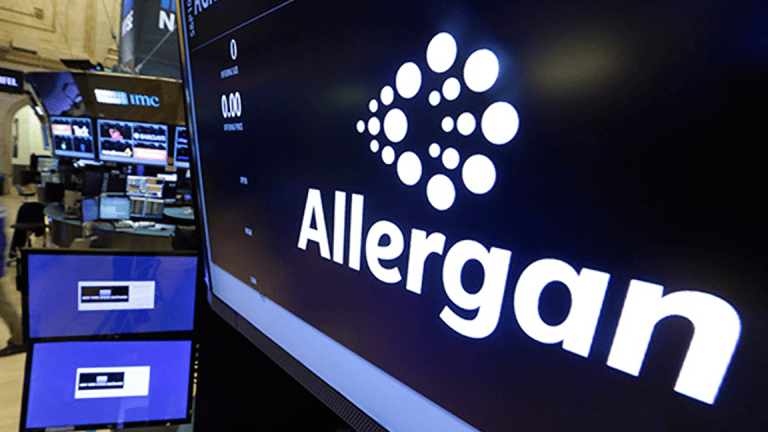 Facebook Directors Face New Challenges; Allergan Talks Botox Competitors--ICYMI
Here's what you need to know now for Thursday, May 17.
Markets turned to the red on Thursday amid the last big push of earnings for the second quarter, and while global energy markets remained hot as oil prices continue to rise, for better or worse.
Facebook (FB)  proved many investors wrong after its first quarter earnings, but as its annual meeting approaches the company is again feeling the heat. The two major investor advisory firms this week urged Facebook shareholders to vote against several of the company's directors at its May 31 annual meeting. In a report obtained by The Street's sister publication The Deal, Institutional Shareholder Services recommended that investors vote no in an uncontested election against five of nine Facebook directors, including the company's founder, Mark Zuckerberg, who holds the CEO and chairman positions. The other major proxy advisory firm, Glass Lewis, urged investors to vote no against four Facebook directors, but it noted that one of the directors it was urging to leave had announced he won't stand for re-election. It's hard to say there will be any real changes despite the sentiment from ISS and Glass Lewis, but the campaigns serve to put public pressure on the company to make moves at the top.
Amid Walmart's (WMT)  2 cents-a-share earning beat something else was underway that may be more enlightening about the company's plans going forward. Walmart said it is reviewing its Brazilian business in a quarterly report Thursday, May 17. The decision comes as Walmart seems to be rethinking its retail operations at home and abroad. The Bentonville, Ark.-based retailer last week confirmed its biggest-ever acquisition with details of a $16 billion deal with India's Flipkart that vaults the world's biggest retailer into the world's second-biggest country by population. Meanwhile, Walmart and J Sainsbury plc agreed on April 30 to a combination of Walmart's U.K. unit, Asda, and Sainsbury. Moral of the story is that Walmart is setting itself up for a major showdown with Amazon (AMZN)  while also battling some macro trends such as the aforementioned rise in oil prices and the threat of inflation that could weigh on margins.
Allergan (AGN)  is facing some pressures to its Botox franchise. But as a competitor to Allergan's Botox faces a regulatory delay in getting to market, Allergan is anything but frozen. "Of course, it's always interesting when a company takes more time to get to market," Allergan chief commercial officer William Meury said at the Bank of America healthcare conference in Las Vegas on Thursday, May 17. "It doesn't hurt our business, but to be fair we have to be focused on something bigger, which is market expansion." Meury's appearance at the conference came a day after competitor Evolus (EOLS)  said it had received a complete response letter (CRL) from the U.S. Food and Drug Administration regarding its application for a drug to treat frown lines. A CRL indicates that a company's application is not ready to be approved. Allergan has other competitive advantages, including Botox's brand equity, Meury said. Botox is "in many respects equivalent" to Coke (KO)  , Nike (NKE)  and Rolex of aesthetics brands, he said.
This is an excerpt from "In Case You Missed It," a daily newsletter brought to you by TheStreet. Sign up here.
Photo of the day: Profiting from pipelines
Here comes $100 oil. Well, not exactly. But on Thursday Brent crude hit above $80 per barrel for the first time since November 2014. Also on Thursday lots of movement in the rather unglamorous, but valuable world of pipelines. Houston-based Williams Cos. (WMB) and Cheniere Energy Inc. (LNG) as well as Canadian midstream company Enbridge Inc. (ENB) announced transactions to simplify their structure after about a decade of financial engineering themselves into complex institutions. The history of pipelines traces back just about to the beginning of the U.S. oil industry in Titusville, Pa. The long tubes quickly became the most efficient way to move oil from point A and point B and their popularity has spread. Above a team of workers construct a pipeline near Philadelphia circa 1890. Read More
Read more from "In Case You Missed It." Sign up here.