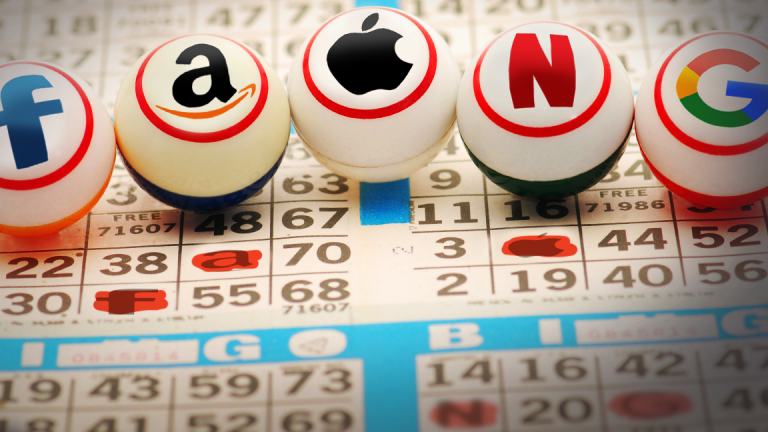 FAANG and the Fed: Trump's Rate Hike Concern Could Add to Tech Performance
Tech stocks have dominated the U.S. market this year, with the top five S&P 500 companies equal in value to the bottom 282 stocks in the benchmark index, and President Trump's comments on Fed rate hikes could add even more to their 4 trillion-plus in value.
"Until investors fear the Fed there is little fear of FAANG stocks," - BAML

President Donald Trump's admission that he's "not thrilled" with the Federal Reserve's signalling on rate hikes could support the ongoing strength of so-called FAANG complex, which has been responsible for more than 80% of the S%P 500's year-to-date gains, as the country's biggest tech stocks race to become the trillion dollar company. 
Trump said he wasn't happy to see "all of this work that we're putting into the economy and then I see rates going up", adding that the concurrent strength of the U.S. dollar on foreign exchange markets puts the country at a disadvantage. The dollar index responded to the President's comments in overnight trading, falling 1.5% from yesterday's July 17 high against a basket of six global currencies while investors modestly reduced bets of Fed rate hike December, according to the CME Group's FedWatch tool.
The larger impact of the President's remarks, and the rare public intervention on central bank policy from the White House, might be seen in the so-called FAANG stocks, which can be sensitive to interest rate increases if they result in slowing consumer purchases of products such as Apple Inc. (AAPL) iPhones and Nexflix Inc. (NFLX) subscription packages. 
Bank of America Merrill Lynch, however, notes that "until investors fear the Fed there is little fear of FAANG stocks", given the fact that myriad central bank and government-led stimulus programs, including near-zero interest rates and billions in tax cuts, have only lifted 9 of the 45 MSCI country equity indices into higher year-to-date gains than can be found through risk-fee 3-month Treasury bills.
The NYSE Fang+ index, an equal weight index which tracks the moves of ten of the biggest and most active tech stocks in the world, is up 32.27% so far this year, compared to a 4.88% advance for the S&P 500 undefined and 4.19% rise for the Nasdaq Composite Index. undefined
Last week, BAML noted that tech stocks remain the favorite trade in their benchmark survey of global fund mangers who control more than $630 billion in assets.
The survey said the so-called "long FAANG+BAT" trade -- a reference to a group of stocks that includes Action Alerts Plus holdings Facebook Inc. (FB) , Amazon Inc. (AMZN) , as well as Apple and Netflix, Google parent Alphabet (GOOGL) as well as Asia tech giants Baidu Inc (BIDU) , Alibaba Group Holding (BABA) and Tencent Holdings Ltd. (TCEHY) -- topping the survey for a sixth consecutive month.
Microsoft may have also gate-crashed the FAANG+ party last night, as well, with blowout fourth quarter earnings built from a surge in Cloud computing sales that are pushing the stock to an all-time high this morning that values the Redmond, Wa.-based group at more than $830 billion.
That's just a few million more than Google parent Alphabet, at $828 million, and just shy of the $880 billion market value of online shopping titan Amazon. Apple, of course, remains the most-valuable tech company (and, in fact, of any sector in the world) at $930 billion.
Much of the near-term market performance, however, will likely come from earnings expected to be reported of the next two weeks, starting with Alphabet on Monday. Facebook and Amazon follow on Wednesday while Apple will report its fiscal third quarter earnings on July 31.
Earlier this month, Samsung Electronics (SSNLF) forecast its slowest profit growth in a least a year as global smartphone demand slows and competition from low-cost rivals intensifies, suggesting the Apple rival may miss full year sales targets.
Strategy Analytics, a closely-watched industry benchmark, sees global handset sales only rising by 1.4% by the end of the year to 1.49 billion units, although 5-G network rollouts in 2019 and beyond should reignite appetite in the near-term.
Apple investors are looking for the Cupertino, Calif.-based group to meet or beat its $51.5 billion to $53.5 billion revenue guidance with a gross margin of between 38% and 38.5%. Apple shifted 52.2 million handsets in it previous quarter, a figure which translated into $61.1 billion in revenue and a $728.30 average selling price.