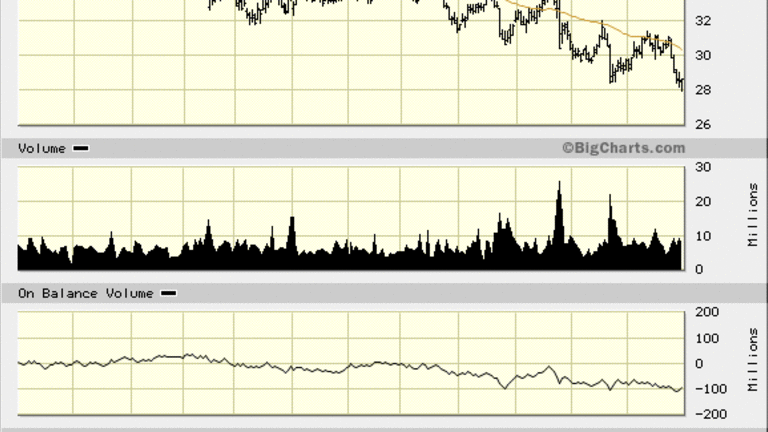 Exelon (EXC) Stock Looks for a Bottom, Not Yet a Short or Buy
The stock's technicals are not encouraging.
NEW YORK (TheStreet) -- Though the better price action from the major averages this past month has been encouraging to the bulls, not every stock is participating. Exelon (EXC) - Get Free Report is still looking for a bottom.
In this chart of EXC, above, we can see it has been declining all year. Most of the time EXC has been below its 50-day simple moving average. The On-Balance-Volume (OBV) line is in a downtrend which tells us that volume was been heavier on days when EXC closes lower -- a sign of selling and distribution. EXC made a new 52-low even when the senior averages rallied smartly this month.
In this chart, above, we can see that a 2014 rally for EXC couldn't break much over the 2013 high and is now back down to the 2014 low. The OBV line is pointed down and prices are below their declining 40-week moving average. This is not encouraging. Because the lows of late 2013 and early 2014 represent potential support, we would not press the short side of this name, but EXC needs to prove itself with some signs that it wants to base. We'll come back and revisit EXC in a few months.