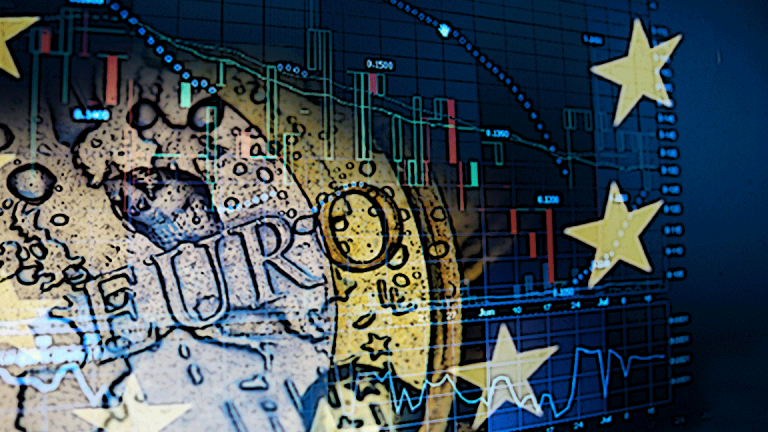 Eurozone Inflation Slows, But ex-Energy Gains Suggest Pressure Building
An unexpected rise in core Eurozone inflation last month could signal a potential turn in the European Central Bank's rate path.
Eurozone inflation slowed last month, according to the region's official statistics office, but a stronger-than-expected reading of core consumer prices suggests pressures are finally starting to build in the recovering currency area economy.
Headline inflation eased to 1.4% in December, Eurostat said Friday, down from a November reading of 1.5% and well shy of the European Central Bank's "just below 2%" target for price stability. However, so-called core inflation, which strips out volatile prices for food, energy, alcohol and tobacco products, accelerated to a faster-than-expected 1.1%.
The euro booked modest gains against a rebounding U.S. dollar in the wake of the release, rising to 1.2054 as investors be the increase could signal the start of an upward trend in headline inflation that will compel the ECB to accelerate the withdraw of some of its extraordinary stimulus -- including its €2.55 trillion program of quantitative easing -- in the region's now-booming economy.
The Eurozone economy capped its best year for private sector growth in more than a decade, according to data published Thursday, and the pace of new orders and job creation in the region's biggest business sectors look to carry that momentum well in to 2018.
IHS Markit's benchmark survey of several thousand business leaders around the single currency area was pegged at 58 points, well above the 50-point mark that generally separates growth from contraction and rounding out the best quarterly reading since 2011 while the overall average annual trend level was the best since 2006. The figures suggest an annual GDP growth rate of around 3.2%, which would be the best in around 11 years.
"While not accelerating in December, price pressures are running at the highest for over six years as solidifying demand nurtures improved pricing power," said IHS Markit's chief economist, Chris Williamson. "Based on past experience, the extent to which demand appears to be outstripping supply for many goods and services suggests that inflationary pressures could continue to build in the coming months."
More of What's Trending on TheStreet:
2018 Resolutions? Learn About Bitcoin and Max Out Your 401k