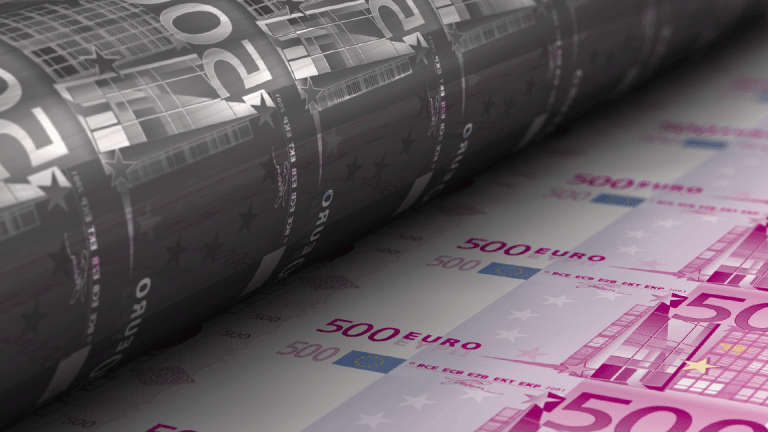 Eurozone Inflation Nears ECB Target, But Italian Uncertainty May Limit Reaction
Eurozone inflation is starting to test the ECB's 'just below 2%' target, but the ongoing market turmoil linked to Italy's political chaos could limit any near-term reaction from President Mario Draghi.
Eurozone inflation accelerated to the fastest pace in more than a year this month, as a weaker euro and rising oil prices added to consumer price pressures around the region, creating a new dilemma for European Central Bank President Mario Draghi amid the financial market turmoil linked to Italy's ongoing political crisis.
Consumer prices around the single currency area accelerated 1.9% in May, according to the initial estimate from Eurostat, the region's official statistics office, topping Street expectations of 1.6%. So-called core inflation, which strips out volatile prices for food, energy, alcohol and tobacco products, rose an estimated 1.1, Eurostat said, also the fastest in more than a year.
The euro, which traded at a six-month low of 1.1513 earlier this week, extended gains against the U.S dollar following the release to trade at 1.1706 while benchmark 10-year German government bond yields eased 5 basis points on the session to 0.39%
The Eurozone reading followed faster-than-expected estimates for consumer price increases in German (+2.2%) and France (+2.3%) that suggested the ECB's efforts to stoke currency area inflation with myriad support tools, including unlimited bank liquidity, record low interest rates and a controversial €2.2 trillion ($2.5 trillion) quantitative easing program are finally starting to bear fruit.
The figures are also likely to intensify calls, particularly in Berlin, for the ECB to signal a slow withdraw from its extraordinary monetary policy, starting with the slowing -- or cessation -- of the €30 billion in government, agency and corporate bonds it purchases each month under the QE program.
That program, known by as the PSPP, has a soft expiry date in September of this year, although Draghi has consistently warned it could be extended until he and his Governing Council colleagues see a "sustained path" for inflation towards the Bank's 'just below 2%' target.
"Looking ahead, while our confidence in the inflation outlook has increased, remaining uncertainties still warrant patience, persistence and prudence with regard to monetary policy," Draghi told the International Monetary and Financial Committee of the IMF last month in Washington. "An ample degree of monetary stimulus remains necessary for underlying inflation pressures to continue to build up and support headline inflation developments over the medium term."
Furthermore, the recent volatility in Italian markets, which saw benchmark 2-year yields rise the most in more than 25 years earlier this week amid concerns that any new elections in Europe's third largest economy could be fought on the country's membership in the single currency, could prevent the ECB from taking decisive action until the political situation in Rome is resolved.
"The recent BTP sell-off and a degree of contagion in other peripheral bond markets argue for some ECB caution (at least for now) and against any premature signal of the exit from (quantitative easing or the -0.4% charge on the Bank's deposit rate)," wrote ING rate strategist Petr Krpata.