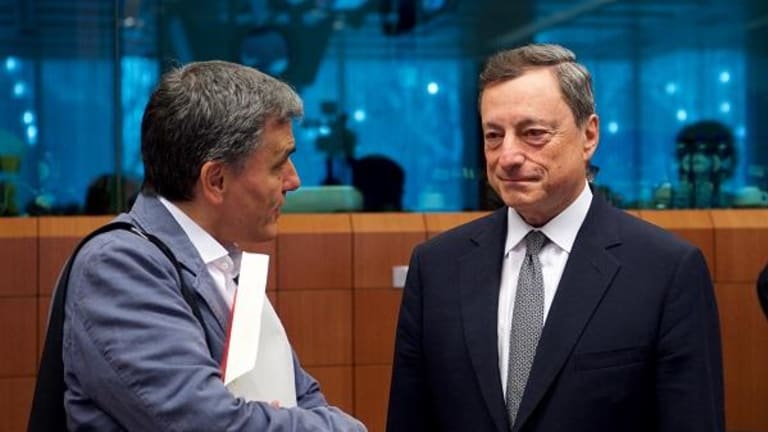 Eurozone Inflation Has Ground to a Halt -- Here's How That Complicates Life for Mario Draghi
Eurozone inflation slowed more than expected in May, according to the region's statistics office.
Eurozone inflation slowed more than expected in May, according to a preliminary estimate from the region's statistics office, potentially complicating efforts by the European Central Bank to signal an early withdraw of its extraordinary stimulus.
Headline consumer prices accelerated at a 1.4% pace this month, Eurostat said, slower than the 1.5% rate forecast by economist and notably lower than the 1.9% pace recorded in April, well below the ECB's "just below 2%" target for medium-term price stability. So-called core inflation, which strips out volatile price increases in food, energy alcohol and tobacco products, also slowed to 0.9% from a 1.2% pace in April Eurostat said.
The euro was marked modestly lower against the U.S. dollar immediately following the release, changing hands at 1.1175 by 10:15 BST. 
Investors have been increasing bets on a change in tenor from the ECB in terms of the pace of the €60 billion in monthly asset purchases that make up its quantitative easing program and the future direction of interest rates, particularly the -0.4% charge it applies to its overnight deposit facility.
However, ECB President Mario Draghi assured European lawmakers earlier this week that "despite a firmer recovery, and looking through the volatile readings in HICP inflation over recent months, underlying inflation pressures have remained subdued."
"Domestic cost pressures, notably from wages, are still insufficient to support a durable and self-sustaining convergence of inflation toward our medium-term objective," Draghi said during testimony to an committee of European Members of Parliament in Brussels. "For domestic price pressures to strengthen, we still need very accommodative financing conditions, which are themselves dependent on a fairly substantial amount of monetary accommodation."
Head here for the latest business headlines.