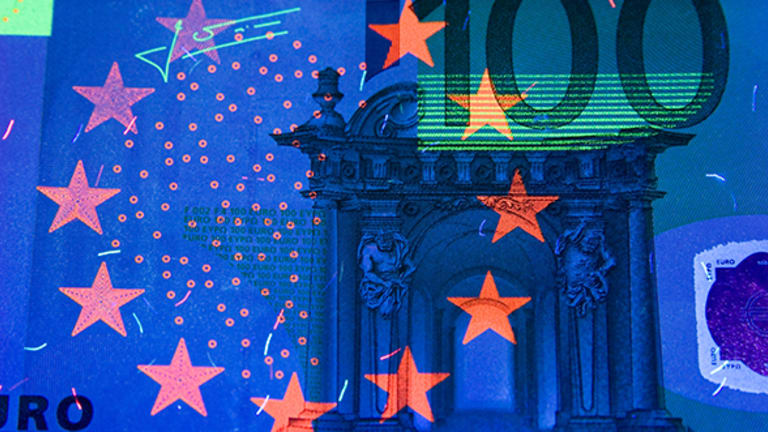 Eurozone GDP Growth Halves, as Expected, to 0.3% in Second Quarter
The data follow news of an unexpected quarterly stagnation in France.
The pace of Eurozone economic growth halved, as expected, in the second quarter, with earlier news from France painting a bleaker-than-forecast picture of the region's second-largest economy.
The first estimate from the European Union's statistics agency put eurozone GDP growth at 0.3%, down from 0.6% in the previous quarter. On the year growth slowed to 1.6% from 1.7%. In the wider 28-nation European Union growth slowed to 0.4% from 0.5% in the first quarter as the economy expanded by 1.8% on the year.
Eurostat provides no breakdown of growth drivers in its initial GDP report, and may revise its estimates in an Aug. 12 bulletin. Its report follows news out earlier this morning of an unexpected economic stagnation France, instead of the 0.2% growth predicted, and of 0.7% quarterly growth in Spain, down from 0.8% in the previous quarter.
"The +0.3% quarterly gain in GDP came as something of a relief after this morning's very weak GDP data for France. But it has put paid to suggestions that Q1's 0.6% rise in GDP was the start of a strong recovery," said Capital Economics.
Initial inflation data released at the same showed that the eurozone inflation rate had doubled to 0.2% in July from 0.1% in June.
The figure was above initial expectations for a steady 0.1% inflation rate but followed better-than-forecast German price data on Thursday, which put the annual rate of price growth in Europe's largest economy at 0.4% in July, up from 0.3%.
Eurostat said food, alcohol and tobacco prices rose at an annual pace of 1.4%, while services rose by 1.2% and non-energy industrial goods rose by 0.4%. Sectors holding price growth back were led by energy, which was down 6.6% year-on-year.
Eurostat will issue full July consumer price data on Aug. 18.
Eurostat also said the June unemployment rate held steady at 10.1%, as expected. That keeps the unemployment rate at its lowest  since June 2011.
Capital Economics said the data, taken together, strengthen the case for easing in Sepember by the European Central Bank.
"We have pencilled in a cut to the deposit rate from -0.4% to -0.5% and an increase in the monthly pace of asset purchases from €80bn to €90bn," it noted.
Eurozone stock indices were mixed after the data, with the Cac 40 little changed but the Dax up 0.45% at 10,321.37.
The yield on the benchmark German 10-year government bond was recently up 2 basis points at minus 0.07%.