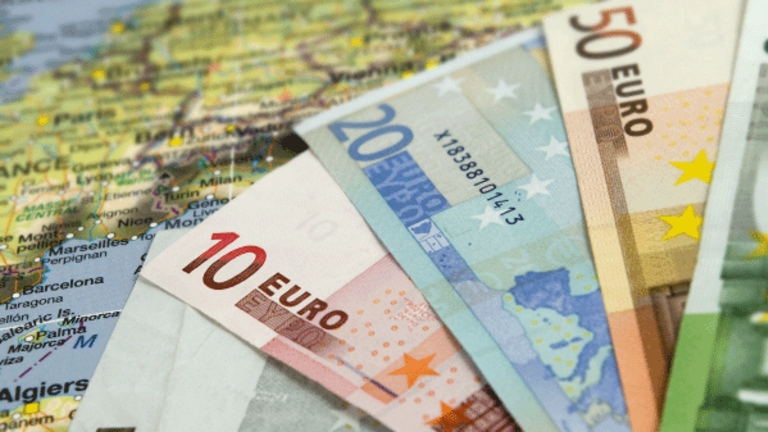 European Stocks Turn Positive, FTSE Leads Gainers as Pound Stumbles
European stocks turned positive Tuesday as bullish U.K. retail data and solid blue-chip gains in Germany helped boost benchmarks around the region.
European stocks turned positive Tuesday as bullish U.K. retail data and solid blue-chip gains in Germany helped boost benchmarks around the region.
The Stoxx Europe 600 Index edged 0.04% higher by 11:00 GMT while Britain's FTSE 100 swung into the green with a 20 point advance that lifted the benchmark to another all-time intraday high of 7,260 points. The index was boosted by stronger-than-expected retail sales data from Wm Morrisons (MRWSY) , Britain's fourth largest grocery store chain, which revealed better-than-expected Christmas trading Tuesday, sending the stock to a two-year high.
In the nine weeks to Jan. 1, Morrisons saw same-store increase 2.9%, analysts were expecting a growth rate of 1%, according to consensus estimates compiled by FactSet. Morrisons shares gained 3.2% to 245.1 pence, extending its 52-week gain to 64%. The FTSE 350 General Retailers Index was down 0.33% at 2,493.99 in the first hour of trading. Rival Tesco Plc jumped 4.5% to 210.0 pence each after unveiling a restructuring of its distribution network that would reduce its workforce by around 500.
The pound continued its two-day decline to trade a two-month low of 1.2119 against the U.S. dollar before rebounding to 1.2150 while the euro edged 0.13% higher to 105.87 against the greenback.
Mining shares also outperformed, with Anglo American plc (NGLOY) leading the advance after much-faster-than-expected factory gate inflation prices from China lifted global metals prices. 
Germany's DAX index also turned positive Tuesday, rising 20 points, or 0.17%, thanks to a solid gain for Siemens (SIEGY)  , which rose on views the engineering company could post stronger-than-expected earnings in the coming years thanks to its record backlog with favorable margin potential.
The Munich-based manufacturer advanced 1.84% to €118.11 by 11:00 GMT and was the biggest gainer among the DAX constituents in Frankfurt. The company's shares have rallied about 40% in the past 12 months.
France's CAC-40 added 7 points, or 0.15%, to 4,894, even as L'Oreal  (LRLCY) shares traded 0.13% lower after the luxury group bought three skincare lines from Valeant Pharmaceuticals  (VRX) for $1.3 billion in a bid to expand its skincare portfolio.
The Paris-based beauty and hair care product manufacturer entered an agreement to buy the skincare brands CeraVe, Acne Free and Ambi from Valeant.
Overnight in Asia, the broadest measure of share performance, the MSCI Asia ex-Japan Index, added around 0.47% even as the major closing prices of the session came in on the downside. A weaker U.S. dollar, which fell 0.04% to 101.75 against a basket of global currencies, lifted the yen higher and held down gains for the Nikkei 225, which eased around 0.8% into the close. South Korea's KOSPI and Australia's S&P/ASX indices also closed in the red.
Metals prices gained in Asia on the back of the weaker dollar, with copper rising 1% to $5,644.5 per pound in early European trading as investors bet that solid producer price inflation data from China published Tuesday -- which showed factory gate prices rose 5.5%, the most in more than five years, last month -- would support demand.
Global oil prices edged modestly higher in Asia trade, after a tough U.S. session which saw prices fall more than 4% on supply concerns. WTI futures for March delivery were marked at $52.32 per barrel by 11:00 GMT, up around 38 cents from Monday's New York close. Brent contracts for the same month, the global benchmark, added 42 cents from Monday's final trade to change hands at $55.30 per barrel.
Monday's selloff in crude oil proved another roadblock in the Dow Jones Industrial Average's pursuit of 20,000 on Monday in the U.S. as the benchmark slid 0.34% to 19,895, though remained one rally away from clinching its next milestone. The S&P 500 was down 0.32%.
The Nasdaq was the only index in the green on Monday, rising 0.15% and reaching another intraday record of 5,541. Deals-related rallies in health care helped to boost the index.
Indications from U.S. futures prices suggest a potentially bullish start to the session, with the Dow gaining 13.5 points at the bell, the S&P 500 1.2 points and the Nasdaq 3.7 points.