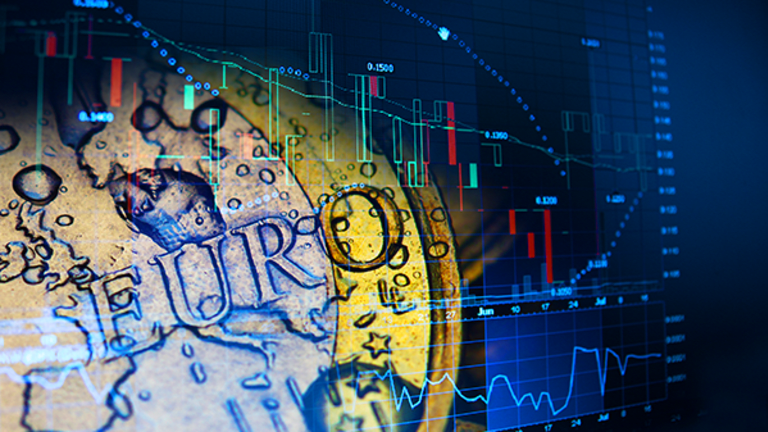 European stocks fell sharply in early Monday trading as the U.S. dollar stumbled to a four-month low following President Donald Trump's failure to push through healthcare reform legislation last week.
The region-wide Stoxx Europe 600 index was marked 0.78% lower at 373.59 in the opening 30 minutes of trading, with mining and banking sector shares driving the declines. That dynamic left Britain's FTSE 100 most vulnerable as the session kicked into gear, with the benchmark falling 66 points, or 0.90% to 7,272.6 points. Germany's DAX index fell 107.6 points, or 0.9%, to around 11,956.50 points in the opening half hour while France's CAC-40 dipped 42 points, or 0.67% to 4,978.72 points .
U.K. stocks were hit not only by falling commodity prices, with China steel and iron ore futures falling to a six-week low in overnight Asia trade, but also by a rising pound, which gained 0.7% against a weaker dollar to trade at 1.2597.
The dollar index, a measure of the greenback's strength against a basket of six global currencies, fell to 98.85 by 08:30 GMT, the lowest level since the immediate aftermath of Trump's election in early November. Benchmark 10-year U.S. Treasury notes gained as investors moved cash into safer securities, driving yields 5 basis points lower to 2.36%.
The move boosted currencies around the region, including and especially the yen, which rose to 110.38 amid 'safe haven' flows into the Japanese currency. That held down any chance for the Nikkei 225 to eat in to last week's declines, with the benchmark falling 1.5% by the close of trading to 18,985.59 points.
Oil prices were also active overnight, with benchmark WTI futures for May delivery falling nearly 1% to $47.49 per barrel from Friday's closing price while Brent contracts for the same month were marked 0.8% lower at $50.80 each.
U.S. equity futures currently suggest an extension of Friday's late-session declines on Wall Street, with the Dow Jones Industrial Average poised to fall 137 points at the opening bell, the S&P 500 20 points and the Nasdaq 41.5 points.