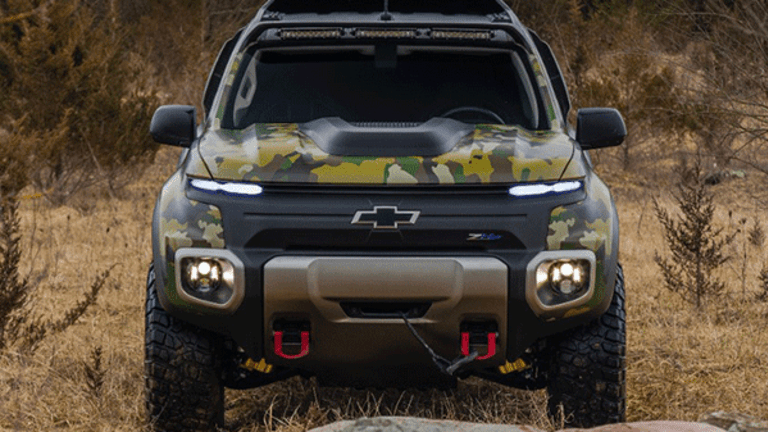 A Sales Warning by General Motors Has Been Heard Around the World -- European Stocks Get Hit
Automakers in focus.
European stocks fell across the board Tuesday as investors pulled back from all-times highs amid concerns over the pace of car sales in the United States, even as the single currency surged on the back of a bullish regional outlook from European Central Bank President Mario Draghi.
The region-wide Stoxx Europe 600 index, the broadest measure of share prices, was marked 0.86% lower in the opening 90 minutes of trading thanks in part to a slump in auto stocks in France and Germany and a retreat in healthcare and pharmaceutical stocks in Switzerland and elsewhere. 
Europe's carmakers were under pressure following a downgrade in U.S. sales expectations from General Motors (GM) - Get Report CFO Chuck Stevens, who told analysts on a conference call that "challenging pricing" dynamics will likely see 2017 sales in the "low 17 million" range following last year's record tally of 17.55 million.
France's Peuget SA (PUGOY) and Renaut SA (RNLSY) led decliners on the CAC-40, falling 2.6% and 2.2% respectively, while parts supplier Continental AG led Germany's DAX performance index lower with a 3.45% fall. Volkswagen AG (VLKAY) (-1%), BMW AG (BMWYY) (-1.3%) and Daimler AG (DDAIY) (-1%) were also notable decliners on Europe's biggest market. The Stoxx Europe 600 Automobiles & Parts subindex was marked 0.68% lower at 545.91 points.
Britain's FTSE 100 fell 0.5% in the opening 90 minutes of trading with domestically-focused retailers propping up the bottom of the benchmark after consumer confidence in the U.K. fell to the lowest levels since last year's Brexit referendum, according to data published by the polling group YouGov and the Centre for Economics and Business Research.
Away from equities, the dollar index, a measure of the greenback's strength against a basket of six global currencies, fell 0.4% to 97.02 in early European trading as investors prepared for a key speech in London from Federal Reserve Chairwoman Janet Yellen.
The dollar had edged marginally higher overnight in Asia, changing hands on an index basis at 97.34 despite a rally in U.S. Treasuries during Monday trading as investors adjust to slowing inflation and a pause in the pace of growth in the world's biggest economy.
The Treasury rally pushed the yield gap between 5-year notes and 30-year bonds narrowed to 94.6 basis points, the least since November 2007, suggesting the market is expecting continued interest rate hikes but less-than-expected longer-term growth.
The adjustment sets up an interesting backdrop for Yellen's address at the London Royal Academy, with some investors betting she may signal only one more rate hike between now and the end of the year as Fed officials wait for inflation to stabilise over its 2% target before offering further policy tightening.
However, a speech from Draghi Tuesday in Portugal lifted the euro to its highest level in 10 days after gaining 0.55% against the dollar to 1.1240 after the ECB President said "deflationary forces have been replaced by reflationary ones" in the Eurozone economy. 
There is little likelihood of inflation support from crude markets, even with prices rising for a fourth consecutive session in overnight trading, given that consistent U.S. supply increases have offset OPEC's agreed production cuts for most of the first half of this year.
West Texas Intermediate crude futures for August delivery added 0.6% in early European trading to change hands at $43.67 per barrel while Brent contracts for the same month, the global benchmark, were seen 0.75% higher at $46.16 per barrel.
Early indications from U.S. equity futures point to a pullback on Wall Street, with the Dow Jones Industrial Average set to fall 25 points, or 0.11%, at the opening bell, similar slippages priced for the broader S&P 500 and the Nasdaq.
Visit here for the latest business headlines.
More of What's Trending on TheStreet:
The Federal Reserve Is Scared, So It's Hiking Interest Rates: Market Recon