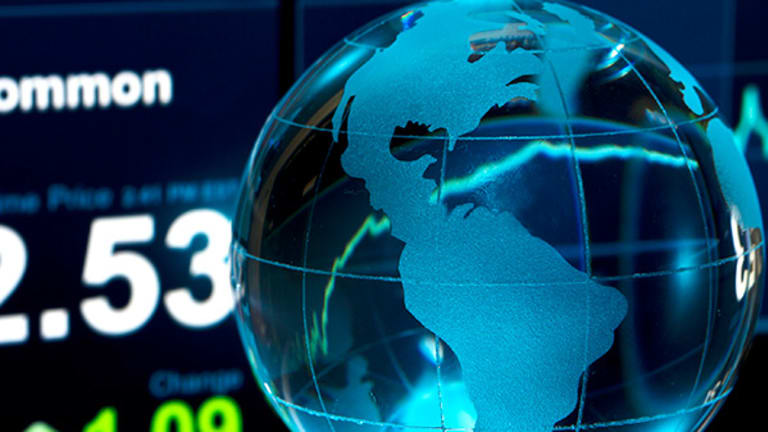 European Stocks Trade Sharply Lower Following Asia Declines
European markets open the year with a resounding thud Monday, following the lead from Asia.
LONDON (The Deal) -- European markets opened the year with a resounding thud Monday, following the lead from Asia. Traders were spooked as the tension rose between Saudi Arabia and Iran in the Gulf, and China showed more worrying evidence of an economic slowdown. 
Even the better-than-expected outturn of the majority of eurozone manufacturing purchasing managers' indices released Monday by Markit -- which indicated an acceleration of the region's manufacturing growth in the final quarter and a recovery even in Greece -- could not lighten the mood. China's markets had gone limit down and closed early, in the first test of the country's new circuit breaker rule, while the central bank set the exchange rate of the currency lower for the fifth straight day. The Caixin Markit PMI for China once again showed a contraction, although the index is considered more volatile than the state-sponsored version.
In London, where the Markit PMI bucked the European trend to show manufacturing sentiment was down and below expectations in the final quarter, the FTSE 100 was down 1.95% at 6,120.43, while in Frankfurt, the DAX was down 3.48% at 10,368.73. In Paris, the CAC40 was down 2.19% at 4,535.48. 
Tokyo's export led Nikkei 225 was off 3.06% at 18,450.98 on fears of a slowdown in regional trading as China cools, and the TOPIX index was off 2.43% at 1,509.67. In Hong Kong, the Hang Seng finished the day down 2.68% at 21,327.12, reflecting the slump in prices across the border in mainland China, where the Shanghai Shenzhen Composite index CSI300 closed down 7.02% at 3,469.07, triggering the market closure. 
Irish pharma company Shire (SHPG) - Get Shire PLC Sponsored ADR Report  was down 2.6% at 4,576 pence on a Bloomberg story that it is in advanced talks to buy U.S. drugmaker Baxalta (BXLT)  for $32 billion, or between $46.5 and $48.0 a share. 
London-listed housing group Grainger rose 2.88% to 239.5 pence when it announced the sale of its equity release business, Retirement Solutions, to private-equity groups Electra Partners and Patron Capital. 
But the biggest mover on the London market was the mining group Anglo American (AAUKY) , down 8.2% at 274.95 pence, only the worst performer of a badly damaged mining sector. Glencore (GLNCY)  was down 6.21% at 84.86 pence and BHP Billiton (BHP) - Get BHP Group Ltd. Report was down 3.5% at 733.4 pence. 
New York listed sports car maker Ferrari (RACE) - Get Ferrari NV Report  shifted down a gear to accelerate carefully away on its first day of trading on the Italian stock exchange in Milan, completing its spinoff from its parent Fiat Chrysler Automobiles. The share opened at €43, but by mid-morning had recovered from an early slide when it went limit-down and was briefly suspended to prevent a car-crash, and was trading at €43.25. It closed at $48 in New York on Thursday. The Milan listing reflects FCA's distribution of a substantial stake in Ferrari to its own shareholders -- increasing the free float from 10% to 67%, while a further 10% remains in the hands of the founding Ferrari family. FCA's own share fell over a third to €8.51, even though the spinoff puts $4 billion back onto its own balance sheet. 
Irish paper and packaging group Smurfit Kappa (SMFKY)  slipped 2.25% to 23.06 pence, after the company announced the acquisition of two integrated paper-based packaging businesses, Industria de Embalagens Santana and Paema Embalagens, based in Brazil, for a total consideration of R$805 million ($203 million). Dublin-based Smurfit said the deal will build on its leadership position as the largest pan-regional corrugated packaging supplier in Latin America and improve its packaging offering to multinationals operating throughout the Americas. 
In Paris, construction, property and infrastructure group Bouygues (BOUYF)  was up 1.42% after a French Sunday newspaper report said it was in advanced talks to sell its telecoms unit to Orange (ORAN) - Get Orange SA Report. Orange's own shares slumped nearly 2.7% to €15.07.